News
Brothers In Valor: Living Medal Of Honor Heroes Walk In The Footsteps Of Their Civil War Counterparts
The American Battlefield Trust joins three living Medal of Honor recipients as they visit Medal of Honor battlefields of the Civil War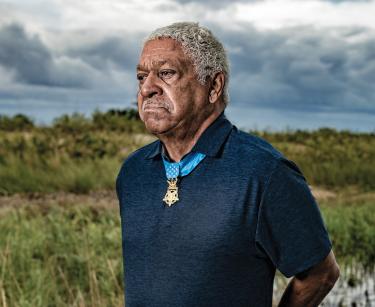 (Washington, D.C.) — Earlier this month, the American Battlefield Trust debuted "Brothers in Valor," a multi-faceted project recognizing past and present recipients of our nation's highest military decoration for heroism:  the Medal of Honor.  The project features three living Medal of Honor recipients who traveled to Civil War battlefields to walk in the footsteps of Civil War Medal of Honor awardees.  They explain in a moving series of interviews their own experiences on the battlefield, while relating the stories of Medal of Honor recipients who fought at Gettysburg, Pa., Fredericksburg, Va., and Morris Island, S.C.  
"Too often, we feel removed from the events of the past, forgetting that those who lived through earlier eras were individuals just like us, with hopes, dreams and fears," said Trust president James Lighthizer. "Brothers in Valor reminds us of that fundamental truth in dramatic fashion.  There is an incredible spirit that unites these heroes, past and present, and our hallowed grounds play an important role in honoring them."
Brothers in Valor highlights three living Medal of Honor recipients: Hershel "Woody" Williams, the last living Medal of Honor recipient from Iwo Jima in World War II; Vietnam War recipient Melvin Morris; and Britt Slabinski, who fought in the War in Afghanistan.  Reflecting on their own service, as well as the heroism of a Civil War soldier who fought in circumstances similar to their own, these American heroes discussed the importance of battlefield preservation and the role hallowed grounds play in our understanding the sacrifices made to forge the nation we are today.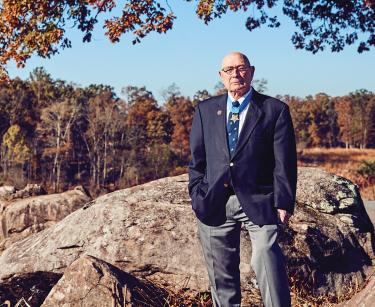 "Being at a battlefield where you know that individuals sacrificed their lives is a profound experience," Hershel "Woody" Williams said. "We need these places to keep reminding us of those who gave more than any of us."
Brothers in Valor was unveiled at a special event on Capitol Hill on March 5.  The debut was attended by two Medal of Honor recipients, "Woody" Williams and Brian Thacker, a veteran of combat during the Vietnam War who served in the 92nd Field Artillery Regiment and whose heroic efforts assisted in his base's defense.   Speakers included Reps. Elise Stefanik (R-N.Y.) and Ron Kind (D-Wis.), chair of the Congressional Battlefield Caucus.
Among the project's offerings are inspirational videos of all three featured living Medal of Honor recipients, produced by Kansas City-based studio Wide Awake Films.  The Trust has also launched a digital database that brings together biographical information on all 1,522 Civil War-era recipients of the Medal of Honor in a searchable format for the first time.  Finally, a special edition of the Trust's Hallowed Ground magazine outlines the medal's design evolution, the process for issuing each citation as well as background on the Badge of Military Merit — prelude to the modern Purple Heart created by George Washington during the Revolutionary War. This issue of Hallowed Ground also includes an essay by Jack Jacobs, Medal of Honor and Purple Heart recipient for actions above and beyond the call of duty during the Vietnam War.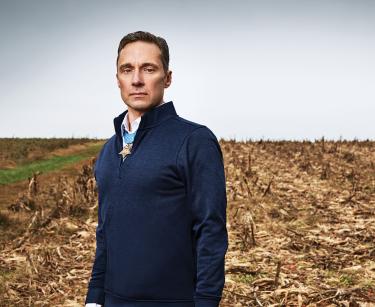 "The stories of the brave men — and one woman — who have been awarded the Medal of Honor should be a source of inspiration for all Americans," said Lighthizer. "Preserving our hallowed grounds is one small, yet incredibly powerful, way to honor their profound courage and recognize the lives of countless American soldiers."
This exciting project was made possible through the invaluable partnership of the Congressional Medal of Honor Society, the nonprofit organization that supports and represents living recipients of the medal and honors the memory of those who have passed.  The decoration was created in 1862 and has been awarded some 3,520 times since.
The Medal of Honor recipients featured in Brothers in Valor are:
Hershel "Woody" Williams, World War II, who explored the Valley of Death on the Gettysburg Battlefield, an area where six members of the Sixth Pennsylvania Reserves volunteered to clear a sniper's nest.  Like the members of the Mears Party, Williams put himself at considerable risk in order to clear a path forward for his comrades.
Melvin Morris, Vietnam War, who traveled to Morris Island, S.C., where the 54th Massachusetts — an African American regiment — attacked Fort Wagner against incredible odds.  Like Civil War recipient William Carney, Morris was severely wounded, but pressed forward to continue his mission.
Britt Slabinski, War in Afghanistan, who visited the Trust's Slaughter Pen Farm property on the Fredericksburg Battlefield, a 208-acre site where five Medals of Honor were earned. Like Civil War recipient George Maynard, Slabinski chose to return to an active battlefield to seek out and recover a wounded comrades.
The American Battlefield Trust is dedicated to preserving America's hallowed battlegrounds and educating the public about what happened there and why it matters today.  The nonprofit, nonpartisan organization has protected more than 50,000 acres associated with the Revolutionary War, War of 1812 and Civil War.  Learn more at www.battlefields.org.