American Battlefield Trust Unveils Mobile App to Help Visitors Explore Richmond's Civil War History
The Trust's latest smartphone app empowers heritage tourists to visit battlefields, historic sites and other attractions in and around Virginia capital
(Richmond, Va.) — People keen on learning more about Civil War Richmond, long the prize sought by Union commanders, have a new helpmate at their fingertips.
It's a smartphone app just released by the American Battlefield Trust that enables visitors to explore the 1862 and 1864 campaigns fought for the Confederacy's wartime capital. This GPS-enabled tool packs plenty of battle action into a convenient mobile format, providing images, videos, maps, tours, a chronology, a quiz and visitor tips.
Users are provided with in-depth tours of each military campaign plus a tour of the city of Richmond that provides 22 points of interest, including both historic sites and modern attractions. Historians describe the campaigns' places and military action in embedded videos.
The Richmond Battle App is among the many mobile-device apps for Virginia Civil War sites funded through a partnership between the American Battlefield Trust and Virginia Department of Transportation. It is available free, in iOS and Android versions, from Apple's App Store and Google Play.
Developed for the Trust by Neotreks of Castle Rock, Colo., the app helps users navigate across historic ground and follow the military maneuvers, whether walking on-site or reclining on a sofa at home. 
"The latest offering in our Battle App series will whet people's appetite to learn, see and do more in and around Virginia's lively and historic capital," Trust President James Lighthizer said. "With this app in hand, visitors will be introduced to a fascinating and multifaceted region that has much to teach us today. Its engaging multimedia guides visitors across time and distance to great stories and the places that world-changing history happened."
Richmond played a major role throughout the Civil War, as the seat of the Confederate government and a manufacturing and military center. Northern newspapers urged "On To Richmond!" in 1861, and from then on, the Northern public hoped for the city's capture. Maj. Gen. George B. McClellan sought that end in the spring of 1862, advancing up the Peninsula until his army drew within sight of the city's church spires.
But when Gen. Joseph E. Johnston was seriously wounded in the Battle of Seven Pines defending Richmond, Confederate President Jefferson Davis' advisor, Gen. Robert E. Lee, assumed command, profoundly changing the course of the war.
Lee aggressively went after McClellan, in what became known as the Seven Days Battles, convincing the Union general that his forces were outnumbered and persuading him to withdraw to the safety of the James River. The Confederate army lost battles but won a strategic victory when McClellan ended his offensive. Forty-seven thousand men were killed, wounded and went missing in the 1862 battles for Richmond.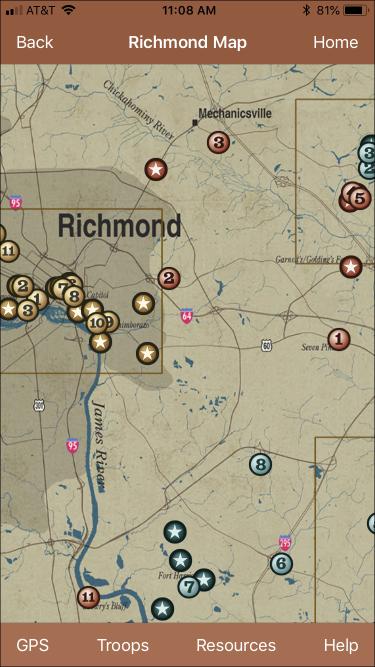 The app covers the 1862 fighting in an 11-stop tour that includes all of the Seven Days battlefields, plus Henrico County's historic Dabbs House, Harrison's Landing and scenic Drewry's Bluff on the James.
Two years later, Lee was still in the fight, but Lt. Gen. Ulysses S. Grant led Union forces in the fast-moving Overland Campaign south from the Wilderness, in a massive and doomed assault at Cold Harbor, and on to the railroad hub of Petersburg. Their armies fought on both sides of the James, with troops to the north covering some of the same ground contested earlier during the Seven Days Battles.
The app's 1864 Campaign tour includes nine stops and 25 miles of driving and walking, covering events from May 1864 to January 1865.
In April 1865, Petersburg fell and Union soldiers entered Richmond, ending the dream of an independent Southern Confederacy.  The app describes African-American soldiers' valor in 1864's Battle of New Market Heights, and notes President Lincoln's surprise visit to the vanquished city on April 4, 1865.
The app also explores the roles of women during the war, noting, for instance, volunteer Phoebe Yates Pember's perseverance in tending wounded soldiers at the enormous Chimborazo Hospital (now part of Richmond National Battlefield Park) and Richmond resident Elizabeth Van Lew's cunning in running a Unionist spy network.
Sites on the app's tours include magnets for visitors such as Tredegar Iron Works, the American Civil War Center, the Virginia Museum of History and Culture, and Richmond National Battlefield Park.
The software also links users to other historical resources on the Trust's website, with information about many battles, their communities and related historic sites, including videos, 360-degree Virtual Tours, Animated Maps, photo galleries, in-depth articles, and preservation opportunities.
The American Battlefield Trust is dedicated to preserving America's hallowed battlegrounds and educating the public about what happened there and why it matters today.  The nonprofit, nonpartisan organization has protected more than 50,000 acres associated with the Revolutionary War, War of 1812, and Civil War. Learn more at www.battlefields.org.