News
American Battlefield Trust Gets Students Out of Classroom to Experience History Where it Happened
Organization's unique Field Trip Fund reaches 20,000-student milestone; encourages students to visit America's most famous battlefields and historic sites
(Washington, D.C.) —  In just four short years, the American Battlefield Trust's Field Trip Fund has helped 20,000 school students experience history at the battlefields and historic sites where our nation was forged.  Thanks to this innovative educational program, students have had the opportunity to travel to some of the most famous places in American history, including Antietam, Chattanooga, Gettysburg, Shiloh and Independence Hall.
Faced with shrinking field trip budgets, K-12 teachers turn to the Trust's Field Trip Fund to help plan and pay for their classes to visit historic sites associated with the Revolutionary War, the War of 1812 and the Civil War.  Since the fund's inception in 2014, the Field Trip Fund has enabled educators to lead students from 200 school districts in 39 states on educational visits to historic sites in 26 states.
The fund's supporters hope that such class trips to the nation's "outdoor classrooms," whether they are battlefields or related sites, spark a lifelong passion for history and preservation.  Childhood exposure to battlefields and historic places prompted some of the nation's best historians — including David McCullough, Drew Gilpin Faust, and Ken Burns — to devote themselves to relating stories about America's past.
"It's great to get kids out onto a battlefield," American Battlefield Trust President Jim Lighthizer said. "Their visits are thought-provoking and can be life-changing.  These colorful, sobering and varied sites are uniquely suited to foster education, contemplation, and commemoration."
The fund was originally intended to "teach future generations about the Civil War and its enduring legacy," Lighthizer noted.  However, when the Trust's mission was expanded to include preservation of Revolutionary War and War of 1812 battlefields, the Field Trip Fund was also broadened to include those conflicts.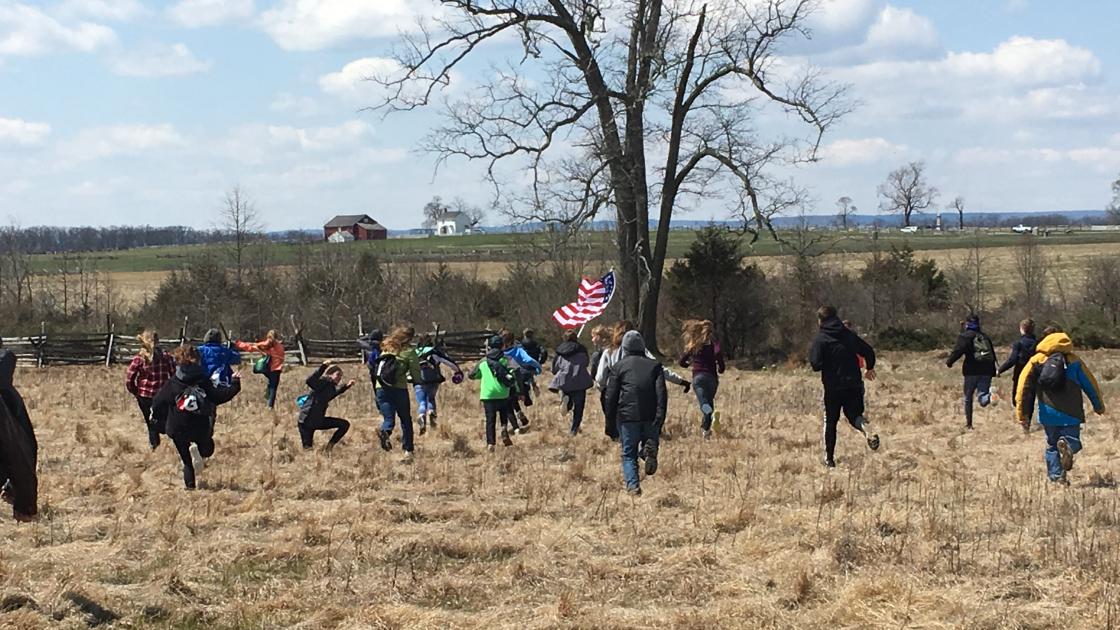 A recent visit to Gettysburg by students from Grand Rapids Christian Middle School in Michigan pushed the fund past the 20,000-student mark.  Their teachers, JoAnne Tousley and Jim Vos, have been leading groups of eighth-graders to Gettysburg, Antietam and Harpers Ferry for the past five years.
"The greatest lesson we can provide our students is taking them to battlefields that have been preserved," Tousley and Vos said. "Seeing our students get so excited about learning about our country's past is one of the most rewarding things that can happen in a teacher's career.  The American Battlefield Trust greatly assisted us in making this happen."
The Grand Rapids students packed many sites and experiences into their two-day visit.  For instance, in one day on the south end of the battlefield, they drilled and maneuvered as infantry soldiers did; shouted the Yankee "huzzah!" and the Rebel yell; learned about military leadership; were taught the impacts of the Battle of Gettysburg on the Civil War, and Civil War on American history; crawled through the cave at Devil's Den; visited places where wartime photographers recorded the dead on the field; and shot a video at the Winfield Scott Hancock monument on East Cemetery Hill.
"We want our students to learn to value our nation's history and the sacrifice that has been given for this nation to be where it is today," Vos and Tousley said.  "Many of our students comment that it is one thing to learn about a battle like Gettysburg in the classroom, but it is 100 percent better to see the battlefield, walk the terrain, and stand where history took place.  They 'get it' when they are there.  They 'get it' so well that something inside them stirs their hearts when they begin to understand that they are on hallowed ground."
In the school year's remaining weeks, 23 class trips — with 2,500 students — are planning to visit historic places such as Shiloh, Boston, Fort Delaware, Gettysburg and Little Bighorn, the site of George Armstrong Custer's famous "last stand."  The students visiting Little Bighorn will also visit Sand Creek in Colorado, the Rock Island (Illinois) Confederate prison camp, and Missouri's Wilson Creek battlefield and Jesse James Home Museum.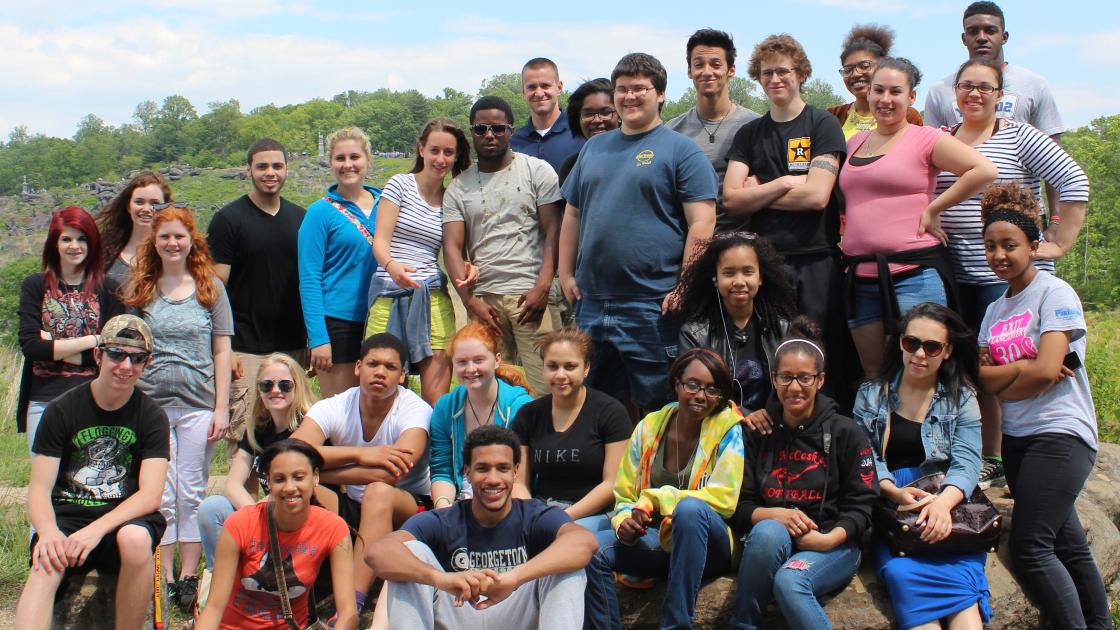 "That our Field Trip Fund is among our most successful programs is gratifying and unsurprising," said Garry Adelman, the Trust's education chief. "There is no substitute for standing on the ground where American freedoms were secured by citizen soldiers.  I don't know whether any of these kids will become the next Bruce Catton or the next James McPherson, but my hope is that they become better citizens by understanding their history and knowing it more personally."
At battlefields, walks, tours and talks can prompt students to realize how warfare and its aftermath affected every aspect of people's lives, whether they were soldiers or civilians, male or female, from all walks of life.
"Experiential learning is a key component of my American Civil War Studies classes, and there is no better way to learn something than to experience it firsthand," said Phil Caskey, a past Trust Teacher of the Year.  "The Trust's Field Trip Fund has had a profound impact on student learning, engagement and success in my classes.  For many of my students, getting to go to vaunted places such as Harpers Ferry, Antietam and Gettysburg is a trip of a lifetime."
For teachers, the Field Trip Fund — and the overarching topic of battlefield preservation — provide opportunities to teach civics, government, economics, and citizenship.  The educational possibilities are many.
"Without the Trust's Field Trip Fund, my classroom could never have made the trip from Wisconsin to Gettysburg and Antietam," said Dave Wege, a teacher at Waucousta Lutheran School in Campbellsport, Wis.  "This 'Best Field Trip Ever' allowed my students to walk hallowed ground and connect in a way that textbooks, videos, and discussions just cannot do.  What an experience for my kids!"
Via the Trust website, teachers apply for a grant for transportation, meals, site admission and/or guide fees.  Applicants maintain "enthusiasm equity" by taking photos, writing an article or participating with their students in Park Day, the American Battlefield Trust's annual site clean-up event.  In addition to the fund, teachers also may utilize the Trust's extensive battlefield maps, historical accounts, references and other educational resources for their history lessons.
The American Battlefield Trust is dedicated to preserving America's hallowed battlegrounds and educating the public about what happened there and why it matters today. To date, the nonprofit, nonpartisan organization has protected nearly 50,000 acres of battlefield land associated with the Revolutionary War, War of 1812, and Civil War.  Learn more at www.battlefields.org.
###