News
American Battlefield Trust Celebrates the "Great American Outdoors Act"
Groundbreaking, bipartisan legislation received support from vast coalition of conservation and stewardship organizations, will facilitate preservation, upkeep of federal public lands
(Washington, D.C.) — The future of America's hallowed ground, the battlefields on which its formative conflicts were decided, is more secure today, after the "Great American Outdoors Act" has become law. This legislation to preserve and restore America's public lands received significant bipartisan support in both houses of Congress and from a vast coalition of conservation and stewardship organizations, including the American Battlefield Trust, the nation's leading battlefield preservation organization, en route to its presidential signature.
"The American Battlefield Trust was thrilled that both the House and Senate demonstrated their overwhelming support for our national parks, our open spaces, and our nation's hallowed battlefields by swiftly and resoundingly passing the Great American Outdoors Act, and even more pleased to see this important legislation complete its journey into law through the president's signature," said American Battlefield Trust President Jim Lighthizer. "This measure will benefit our nation's most beautiful and meaningful landscapes for generations to come. Our children and grandchildren now have a better opportunity to visit those sites, preserved in perpetuity, and appreciate the sacrifices made by our forefathers as we continue their work to create a more perfect union."
The Great American Outdoors Act benefits battlefield preservation in two parallel ways. First, it fully and permanently funds the Land and Water Conservation Fund (LWCF) at the $900 million level annually via revenues from on-shore and off-shore energy development — both fossil and renewable energy operations — that are not already allocated by law to other programs. This large pool in turn funds the Battlefield Land Acquisition Grant Program, a matching grant program that has successfully saved more than 32,000 acres of America's hallowed Revolutionary War, War of 1812 and Civil War battlefields. The Trust and its partner organizations leverage these targeted federal grants against individual donations to create public-private partnerships to protect key portions of battlefields outside National Park Service boundaries.
Further, the bill allocates $9 billion over five years to address the deferred maintenance backlog experienced by federal agencies, including the National Park Service, the National Forest Service, the Bureau of Land Management, U.S. Fish and Wildlife Service and the Bureau of Indian Affairs. Battlefield parks are included in this critical maintenance backlog, with millions of dollars' worth of projects at dozens of battlefield parks, such as Antietam, Gettysburg, Shiloh, Vicksburg, Yorktown. Completion of these projects will materially enhance these outdoor classrooms and ensure they are accessible to the public.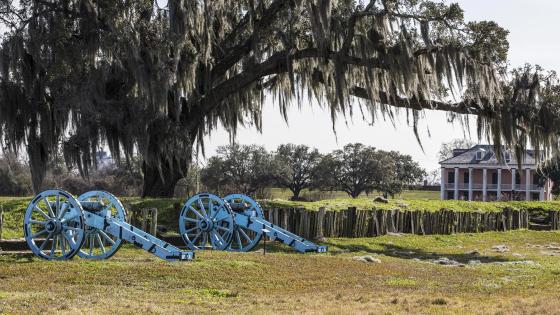 "Passage of major legislation of this scope requires the combined efforts of many champions," said Lighthizer. "And together with the entire conservation community, we are deeply grateful to lawmakers and Congressional staff without whom today's celebration would not have been possible. Moreover, the unwavering support of Interior Secretary David Bernhardt and his team, plus the backing of the President, were driving forces for this measure."
In particular, the following Senators and Representatives deserve recognition for their leading roles: Sens. Corey Gardner (R-CO), Joe Manchin (D-WV), Steve Daines (R-MT), Mark Warner (D-VA), Rob Portman (R-OH), Angus King (I-ME), Lamar Alexander (R-TN) and Lisa Murkowski (R-AK); Speaker of the House Nancy Pelosi (D-CA) and House Minority Leader Kevin McCarthy (R-CA), plus Reps. Joe Cunningham (D-SC) and Mike Simpson (R-ID).
The American Battlefield Trust is dedicated to preserving America's hallowed battlegrounds and educating the public about what happened there and why it matters today. The nonprofit, nonpartisan organization has protected more than 50,000 acres associated with the Revolutionary War, War of 1812, and Civil War. Learn more at www.battlefields.org.