William Barksdale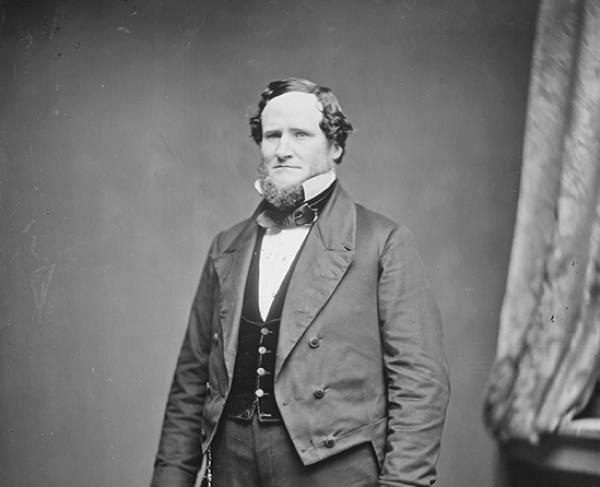 TitleBrigadier General
War & AffiliationCivil War / Confederate
Date of Birth - DeathAugust 21, 1821 - July 3, 1863
William Barksdale earned a reputation among his fellow Confederates for his vehement support of slavery and his eagerness to whip the Yankees, standing out even in a sea of fire-eaters, with his superior General Lafayette McLaws referring to him as "The fiery impetuous Mississippian." Barksdale led the men of his brigade with his fire and energy, as one soldier noted, Barksdale stood at the front of the line on horseback, his white hair shining like a beacon for his men and blowing in the wind, "like the white plume of Navarre."
William Barksdale was born in Smyrna, Tennessee on August 21, 1821, to William Barksdale and Nancy Hervey Lester Barksdale. After graduating from the University of Tennessee, he studied in Columbus, Mississippi, and started practicing law at the age of 21. He quickly became a vocal proslavery advocate as the editor of the Columbus Democrat and as a States' Rights Democrat and member of the U.S. House of Representatives. Barksdale allegedly stood beside Representative Preston S. Brooks as he violently attacked antislavery Senator Charles Sumner with a cane on the floor of the Senate on May 22, 1856.
With the outbreak of the Civil War, Barksdale resigned his congressional seat and took a position as the quartermaster general of the Mississippi army until he entered the Confederate service in May 1861 as colonel of the 13th Mississippi. He was commissioned brigadier general on August 12, 1862, after his brigade engaged in a valiant, yet futile charge at the Battle of Malvern Hill.
 "Barksdale's Mississippians," consisting of the 13th, 17th, 18th, and 21st Mississippi regiments in McLaws's division of James Longstreet's First Corps, distinguished themselves in many of the engagements of the Army of Northern Virginia, including Antietam, Fredericksburg, Chancellorsville, and Gettysburg. Barksdale's men guarded the Rappahannock River and slowed Union crossings at Fredericksburg; counterattacked into the West Woods at Antietam, smashing advancing Union force; and retook the high ground lost the day before at the Battle of Chancellorsville.
At Gettysburg Barksdale both met his end and established his lasting legacy. At 5:30 p.m. on July 2, 1863, Barksdale was itching to get into the fight and when he did his Mississippians smashed into the Union Third Corps at the Peach Orchard. His men crushed the Union defenses and even captured Union General Charles Graham. Then, his brigade split in twain and continued the assault. During this remarkable assault, Barksdale was hit by shot and shell, first in the knee, then in his left foot, and finally in the chest. Wounded and a prisoner, he was taken to the Joseph Hummelbaugh farmhouse, where he died from his wounds the next day.