Wade Hampton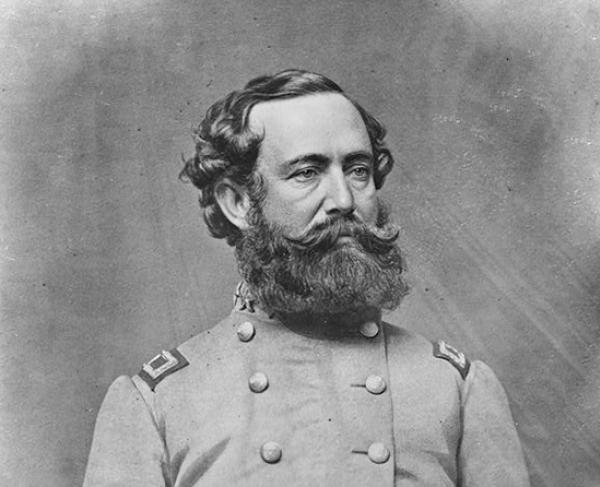 TitleLieutenant General
War & AffiliationCivil War / Confederate
Date of Birth - DeathMarch 28, 1818 – April 11, 1902
 Wade Hampton was born in Charleston, South Carolina, on March 28, 1818. He grew up in a wealthy family, receiving private instruction and was known in his youth for being an avid bear hunter, killing as many as 80 bears. In 1836 he graduated from South Carolina College and was trained for the law, although he never practiced. Hampton's father died in 1858 and the son inherited a vast fortune, the plantations, and one of the largest collections of slaves in the South.
Hampton first enlisted as a private in the South Carolina Militia; however, the governor of South Carolina insisted that Hampton accept a colonel's commission, even though he had no military experience at all. Hampton organized and partially financed the unit known as "Hampton's Legion." They first saw combat in July 1861, at the First Battle of Bull Run, where he deployed his Legion at a decisive moment, giving the brigade of Thomas J. "Stonewall" Jackson time to reach the field.
Hampton was promoted to brigadier general on May 23, 1862, while commanding a brigade in Stonewall Jackson's division. At the Battle of Seven Pines on May 31, 1862, he was severely wounded in the foot, but remained on his horse while it was being treated, still under fire. Hampton returned to duty in time to lead a brigade at the end of the Seven Days Battles. During the winter of 1862, around the Battle of Fredericksburg, Hampton led a series of cavalry raids behind enemy lines, earning a commendation from General Robert E. Lee.
In the Gettysburg Campaign, Hampton's brigade participated in Stuart's wild adventure to the northeast, swinging around the Union army and losing contact with Lee. Stuart and Hampton reached the vicinity of Gettysburg, Pennsylvania, late on July 2, 1863. In the remainder of the battle, Hampton was wounded three separate times, twice by saber and the final a piece of shrapnel to the hip which left him recuperating until November of that year. 
During the Overland Campaign of 1864, Stuart was killed at the Battle of Yellow Tavern and Hampton was given command of the Cavalry Corps on August 11, 1864. He distinguished himself in his new role at the bloody Battle of Trevilian Station, defeating Philip Sheridan's cavalry, and in fact, lost no cavalry battles for the remainder of the war. In September, Hampton conducted what became known as the "Beefsteak Raid", in which his troopers captured over 2,400 head of cattle and over 300 prisoners behind enemy lines.
Hampton was promoted to lieutenant general on February 14, 1865, but eventually surrendered to the Union along with General Joseph E. Johnston's Army of Tennessee at Bennett Place in Durham, North Carolina.  He returned to his estate to find it had been burned and ransacked in Sherman's march, and his slaves freed. 
After the war, Hampton served as the Governor of South Carolina and then as a two term Senator, before dying in April of 1902.