Thomas Ewing, Jr.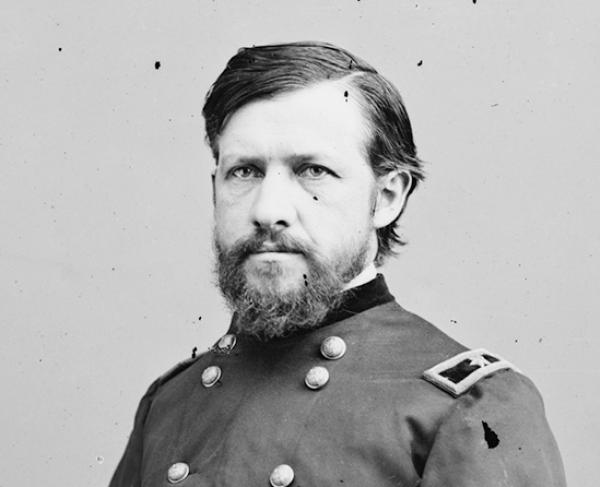 TitleBrigadier General
War & AffiliationCivil War / Union
Date of Birth - DeathAugust 7, 1829 - January 21, 1896
Thomas Ewing, Jr. was born in Lancaster, Ohio on August 7, 1829. He was the foster brother of William Tecumseh Sherman, and he became Sherman's brother-in-law when Sherman married Ewing's sister Ellen. Sherman and Ewing remained close during their years as Union army generals. Ewing attended Brown University and became the private secretary to President Zachary Taylor, while Ewing's father served in Taylor's cabinet. Ewing graduated from Cincinnati Law School in 1855 and practiced law in Ohio. He moved to Leavenworth, Kansas in 1856 and became a supporter of a trans-continental railroad through the state. Considered a moderate on the slavery issue, he opposed the Lecompton Constitution and helped gain Kansas admission to the Union as a free state, and he became Kansas's first Chief Justice in 1861. 
When the Civil War began, Ewing was elected colonel of the 11th Kansas Infantry and served under General James G. Blunt at the Battle of Prairie Grove. His successful defense of Fort Davidson in Missouri in September, 1864 helped stop an invasion of Missouri by Confederate General Sterling Price. In February, 1865, Ewing resigned his army commission and began a law practice in Washington, DC where he was asked to be one of the defendants of the Lincoln assassination conspirators. He returned to Ohio in 1870 where he practiced law and became active in politics, serving as a U. S. Representative for two terms. He was killed after being struck by a bus in New York City on January 21, 1896, and he is buried in Oaklawn Cemetery in Yonkers.