Sarah Rosetta Wakeman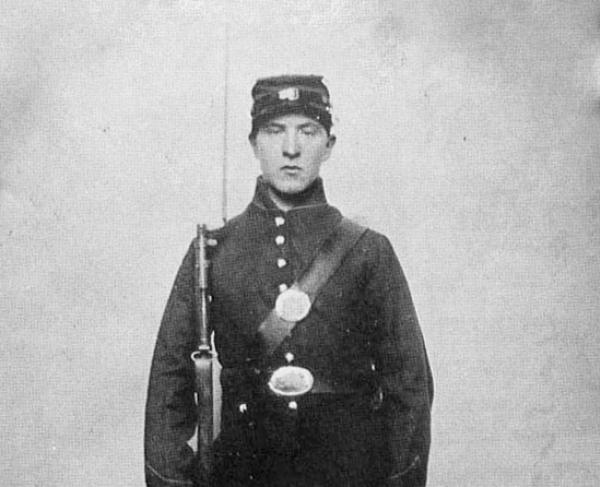 TitlePrivate
War & AffiliationCivil War / Union
Date of Birth - DeathJanuary 16, 1843 – June 19, 1864
Sarah Rosetta Wakeman was one of hundreds of women who disguised themselves as men to fight in the Civil War. Unlike most of the women however, the letters that Wakeman wrote home were preserved by her family and later published. They give a unique picture of what it was like to undertake and maintain such a masquerade.
Wakeman was born on January 16, 1843 in Bainbridge, New York, the eldest of nine children in a poor farming family. Not much is known about Wakeman's life, until August of 1862, when she decided to leave home disguised as a man. The reasons for this drastic decision can be guessed at—she had no prospects of marriage, her father was in debt, and her small earnings as a "domestic" would not have been much help to the family.
Adopting a male disguise, Wakeman signed on as a boatman doing manual labor on a coal barge traveling on the Chenango Canal. Shortly after making her first trip, she encountered recruiters from the 153rd New York Infantry Regiment. The offer of a $152.00 bounty was too good to refuse, and on August 30, 1862, Wakeman enlisted under the name of Lyons Wakeman. The regiment departed for Washington, DC on October 17.
After serving provost and guard duty in Alexandria, Virginia and on Capitol Hill in Washington, the regiment was transferred to the command of Major General Nathaniel Banks in February of 1864. On March 15, Wakeman and her regiment were sent to Louisiana to take part in the Red River Campaign. Forced to march hundreds of miles through swampy bayou country, with poor food and drinking water, Wakeman persevered while hundreds of her comrades succumbed to illness.
The regiment finally saw action at Pleasant Hill, Louisiana on April 9, 1864. Standing shoulder to shoulder with the men in her company, Wakeman fired round after round into the advancing Confederates, beating them back six times. While the 153rd fought gallantly, the Union army was forced to retreat back down the Red River, fighting another engagement at Monett's Bluff on April 23rd. Holding back the Confederates once again, the army finally reached safety at Alexandria, Louisiana in early May.
On May 3, Wakeman reported to the regimental hospital, suffering from chronic diarrhea. She was transferred to a hospital in New Orleans, arriving there on May 22. By this time she was gravely ill and on June 19, 1864, she died. There is no record of her true sex ever having been discovered, and she was buried under the name Private Lyons Wakeman at Chalmette National Cemetery near New Orleans. In one of her letters home, she had written "I don't know how long before I shall have to go into the field of battle. For my part I don't care. I don't feel afraid to go."