Robert Heriot Barclay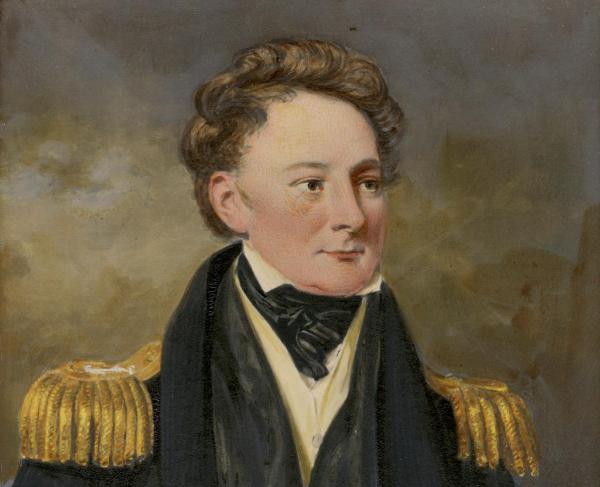 TitleCommander
War & AffiliationWar of 1812 / British
Date of Birth - DeathSeptember 18, 1786 – May 8, 1837
After hours of fighting on September 10, 1813, British commander Robert Heriot Barclay surrendered to American commander Oliver Hazard Perry. With the American victory at the Battle of Lake Erie, the British evacuated Fort Detroit, Lake Erie fell under American control, and Barclay's naval career ended.
Barclay was born on September 18, 1786, in Fife, Scotland, and entered the Royal Navy when he was only 12 years old in 1798. By the age of nineteen, he was promoted to lieutenant and took part in the Battle of Trafalgar aboard the HMS Swiftsure on October 21, 1805. Because of his leadership during the battle, he was promoted to second lieutenant on the HMS Diana. Unfortunately for Barclay, during a confrontation with a French merchant vessel in 1807, he was severely wounded in his left arm and lost the appendage.
Even with this injury, he continued to serve in the Royal Navy and was sent to the United States when the War of 1812 broke out. He arrived in the states on May 5, 1813, and took command of a detached squadron on Lake Erie. As the Americans under Oliver Hazard Perry dominated Lake Ontario, Barclay tried to maintain a blockade at Presque Isle so that American supplies and troops could not cross the sandbar there. However, he was denied reinforcements by James Yeo, the commanding naval officer in the region, and was forced to withdraw from Presque Isle, allowing the Americans to overtake the area.
After this seizure, the American forces attacked Barclay and his flotilla on September 10th. Even though the British destroyed the American flagship, the USS Lawrence, they sustained heavy damage. Once Perry punched through the British lines, and their morale broke, a wounded Barclay decided to surrender his two largest ships, the HMS Detroit and HMS Queen Charlotte.
As was customary after a loss of a ship or a defeat of that magnitude, Barclay was court-martialed. He appeared in court with bandages on his legs and over his remaining arm and was quickly exonerated with the judge declaring, "the Judgement and Gallantry of Captain Barclay […] were highly conspicuous and entitled him to the highest Praise."
Barclay returned to London and married Agnes Cosser in London in August 1815. In November of that same year, he was granted a pension of 200 pounds. While he requested another assignment in 1822, he was never given another major command. From 1824 until he died in 1837, he saw no further service.
Related Battles
Battle Facts
Ohio | September 10, 1813
Result: United States Victory