Richard Taylor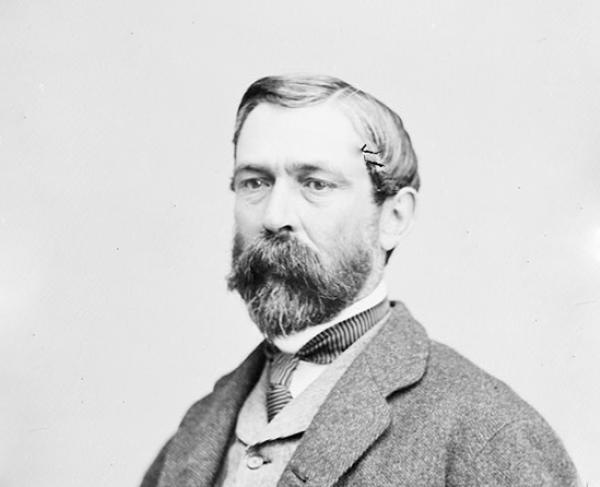 TitleLieutenant General
War & AffiliationCivil War / Confederate
Date of Birth - DeathJanuary 27, 1826 – April 12, 1879
Richard Taylor was a brother-in-law of Jefferson Davis and also a son of President Zachary Taylor. He owned a large sugar plantation and was a Louisiana senator – first as a Whig, then a Know-Nothing, and then a Democrat.  At first the Senator hoped to avoid secession.  Eventually, however, Taylor felt that secession was inevitable and served as a delegate to the Louisiana secession convention.
In 1861, Taylor helped Braxton Bragg train soldiers at Pensacola, Florida.  He was then elected Colonel of the 9th Louisiana Infantry which fought at Bull Run.  In October 1861, he was appointed Brigadier General of the Eighth Brigade (Louisiana soldiers) under Richard Ewell.  One of the regiments was the famed "Wheat's Tigers" – known for hard fighting as well as rough living. 
Taylor was skilled at leading his men at Front Royal, First Winchester and Port Republic (in the Shenandoah Valley).  The Louisianans then fought in the Seven Days' Battles.  Unfortunately, Taylor suffered from serious rheumatoid arthritis.  This left him incapacitated at times.
Promoted to Major General, Taylor was sent to command the district of West Louisiana.  Northern activities had left that region crippled; Taylor's job was to organize forces to defend the state.  Union goals at the time included establishing control of Louisiana in order to maintain a presence in Texas.  Shreveport was their target.  After an unsuccessful attempt to recapture New Orleans, Taylor embarrassed US General Nathaniel Banks during the 1864 Red River Campaign.  Banks suffered defeat at Mansfield (April 8) and Pleasant Hill (April 9) forcing Banks to abandon his plans to take Shreveport.
Because of disagreements with his superior officer, Gen. Edmund Kirby Smith, Taylor asked to be relieved of command.  Instead, he was promoted to Lieutenant General and sent to defend Mobile and Selma, Alabama.  Before long Taylor was given command of John Bell Hood's Army of Tennessee.   On May 8, 1865, He was forced to surrender his army to US General Edward Canby.  This was the last major force to surrender east of the Mississippi.  Taylor was paroled on May 13, 1865.
After the war, Taylor was vocal in his opposition to northern Reconstruction.  He published a memoir entitled Destruction and Reconstruction in 1879, shortly before his death in New York City.  Taylor was buried in New Orleans.