John L. Worden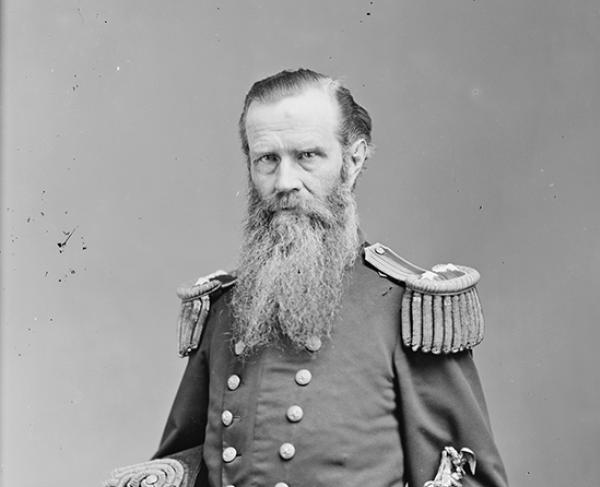 TitleRear Admiral
War & AffiliationCivil War / Union
Date of Birth - DeathMarch 12, 1818 – October 19, 1897
John Lorimer Worden began his career in the United States Navy on January 10, 1834, after he was appointed a midshipman.  He served with the Pacific Squadron from 1840 to 1842, was stationed at the Naval Observatory in Washington DC, and served on numerous ships on the west coast during the Mexican-American War.  After the war ended Worden served on several vessels throughout the Mediterranean and Caribbean. 
At the outbreak of the Civil War, Worden was sent with secret dispatches to ships in Florida.  While attempting to return to the North, Worden was captured by Confederates and held for several months before he was exchanged.  After returning from his imprisonment, Worden received orders to take command of the new Union ironclad Monitor on January 16, 1862.  He went to New York to oversee the completion of the ship, and after some setbacks sailed to Hampton Roads, Virginia, with the new ship.  On March 8, 1862, the Monitor arrived at Cape Henry, Virginia, after a Confederate ironclad ship known as the CSS Virginia, had attacked Union vessels. On March 9, 1862, when the CSS Virginia returned to Hampton Roads to attack the union navy, Worden led the Monitor in battle, forcing the first battle between iron warships in history.  The ships fired at each other for four hours, during which time Worden was wounded when a shell exploded near him partially blinding him.  The Monitor temporarily withdrew, allowing the CSS Virginia to also withdraw, bringing the battle to an end. 
After Worden recovered from his wounds, he received new orders to command the ironclad Montauk and sailed the ship to take part in blockading actions off of Port Royal, South Carolina.  He led the Montauk into action against Fort McAllister, and the bombardment of Charleston, South Carolina. 
After the war, Worden remained in the navy, overseeing the construction of more ironclads.  He was made superintendent of the United States Naval Academy for five years and retired from the navy in 1886 after commanding the European Squadron. 
Related Battles
Battle Facts
Newport News, Norfok, and Portsmouth, VA | March 8, 1862
Result: Inconclusive