Harriet Beecher Stowe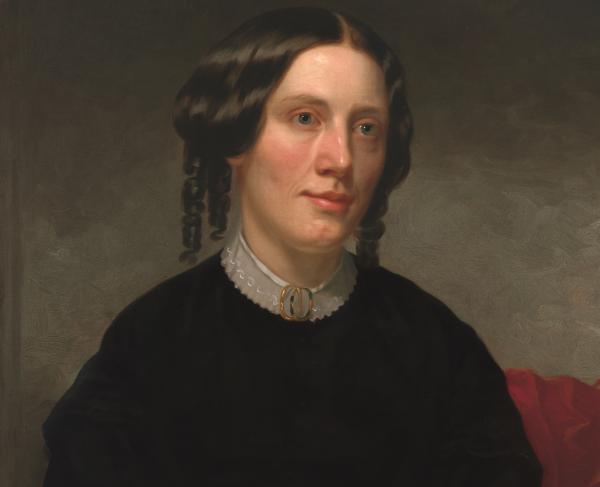 TitleAuthor
War & AffiliationCivil War / American
Date of Birth - DeathJune 14, 1811 - July 1, 1896
Harriet Beecher Stowe was born on June 14, 1811, in Litchfield, Connecticut. Born to devout Calvinist parents, Harriet grew up in a deeply religious household with many family members involved in the church. At the age of five, Harriet's mother passed away, and her older sister Catharine Beecher raised young Harriet. At thirteen years old, Harriet was enrolled in the Hartford Female Seminary, which was run by Catharine. Harriet received an academic education focusing on reading, writing, mathematics, linguistics, and the humanities, which was unusual for girls in her time due to her sister's position as president of the institution. As a young adult, Harriet moved to Cincinnati, Ohio, with her father who was appointed President of Lane Theological Seminary. Upon her arrival to Cincinnati, she joined the Semi-Colon Club, an informal writer's club. While living in Cincinnati, Harriet was exposed to a diverse range of people that came from across the country. This included formerly enslaved peoples, slave bounty hunters, and a host of immigrants traveling along the Ohio River. In February of 1834, Harriet attended Lane Theological Seminary's debates on slavery, which became an influential series of debates that were published nationally by newspapers such as The Liberator and the New York Evangelist. Harriet's father, along with other trustees of the seminary, prohibited any talk of slavery at Lane Theological Seminary. This prompted a mass exodus of both students and faculty from the seminary, and many went to Oberlin College, where both white and black students could enroll in higher education and freely talk about slavery and its dissolution. After the mass exodus, Harriet attended a literary club at Lane, and met her future husband Reverend Calvin Ellis Stowe, the widowed husband of her best friend Eliza Tyler. In 1836, the two were married.
In 1850, Harriet was inspired to write a story about the horrific institution of slavery after the passage of the Fugitive Slave Act. She took stories from many sources that furthered her interest in writing the story. One source was a slave from South Carolina named John Andrew Jackson that used her and her husband's home as a safe house to escape into Canada. Another source that she used for the book was The Life of Josiah Henson, Formerly a Slave, Now an Inhabitant of Canada (later, the same book was renamed Uncle Tom's Story of His Life in 1876). In March of 1850, Harriet wrote to Gamaliel Bailey, the head of anti-slavery newspaper The National Era, and explained, "I feel now that the time is come when even a woman or a child who can speak a word for freedom and humanity is bound to speak…I hope every woman who can write will not be silent." In June 1851, the first part of Uncle Tom's Cabin was published in The National Era. Further parts of her book were published from June 5, 1851, to April 1, 1852. On March 20, 1852, Uncle Tom's Cabin was published in book form. Originally printing only 5,000 copies, the book's popularity soared. In less than a year, the book sold a staggering 300,000 copies. The book found popularity not only in the United States but also in Great Britain. In 1853, Harriet traveled to Great Britain and gave lectures about the horrors of slavery in the United States. Domestic reactions to the book were polarizing. Southerners saw the book as a threat to the institution of slavery. Many believed that the conditions portrayed in the book were false and were only the fictitious writings of a radical abolitionist. Some southern governments went so far as to imprison individuals who owned the book. Northerners, however, reacted to the book in horror. Many in the North could not fathom that slavery was as brutal as it was. In response to the Southern critics of her novel, Harriet explained, "This work, more, perhaps, than any other work of fiction that was ever written, has been a collection and arrangement of real incident, of actions really performed, of words and expressions really uttered, grouped together with reference to a general result, in the same manner that the mosaic artist groups his fragments of various stones into one general picture. His is a mosaic of gems – this is a mosaic of facts." After Uncle Tom's Cabin, Harriet wrote five more pieces of literature leading up to the Civil War, such as Dred, A Tale of the Great Dismal Swamp. While sales for her other books were popular, nothing could beat Uncle Tom's Cabin in terms of sales numbers.
At the start of the Civil War, Harriet traveled to Washington, D.C., and met with President Abraham Lincoln on November 25, 1862. Accounts of the exact words said in the meeting are unverifiable. Harriet's son explained that Lincoln supposedly said to Harriet, "So you are the little woman who wrote the book that started this great war?" Her daughter explained, "It was a very droll time that we had at the White house I assure you…I will only say now that it was all very funny – and we were ready to explode with laughter all the while." She also claimed that Lincoln said to Harriet, "Is this the little woman who made this great war?" Harriet, herself, told her husband, "I had a really funny interview with the President." Regardless of the exact words that were said, the meaning of their meeting was about Uncle Tom's Cabin's impact on the Civil War.
Following the Civil War, Harriet moved to Jacksonville, Florida, in 1866. In 1868, she was an editor for a magazine titled Hearth and Home, which greatly appealed to women. In the 1870s, Harriet and her husband moved back to Connecticut, where she helped found Hartford Art School, later becoming a part of the University of Hartford.
In 1886, Harriet's husband Calvin Ellis Stowe passed away. Her health began to drastically decline following his death. In 1888, Harriet reportedly developed Alzheimer's, and rewrote Uncle Tom's Cabin thinking that it was a new book. Mark Twain wrote about her, saying that, "she was always softly slippered and generally full of animal spirits, she was able to deal in surprises, and she liked to do it. She would slip up behind a person…and fetch a war whoop that would jump that person out of his clothes…Sometimes we would hear gentle music in the drawing-room and would find her there…singing ancient and melancholy songs with infinitely touching effect." On July 1, 1896, Harriet Beecher Stowe, the "little woman" who wrote one of the most influential pieces of literature in American history, passed away from complications to Alzheimer's. She was buried at Phillips Academy in Andover, Massachusetts, with her husband and son.
Harriet Beecher Stowe's legacy lives on in the modern era. While Harriet is famous for Uncle Tom's Cabin, Harriet wrote a total of fifteen fiction books, a book of poems, twenty-one non-fiction books, and forty-three short stories and articles. The various homes she lived in, such as her homes in Cincinnati, Hartford, Jacksonville, and Brunswick, Maine where she wrote Uncle Tom's Cabin are all preserved sites. While she wrote over eighty pieces of literature in her lifetime, Uncle Tom's Cabin remains the one piece of literature she is remembered by. The ultimate legacy of Harriet Beecher Stowe is, however, that the pen is mightier than the sword.