George Sears Greene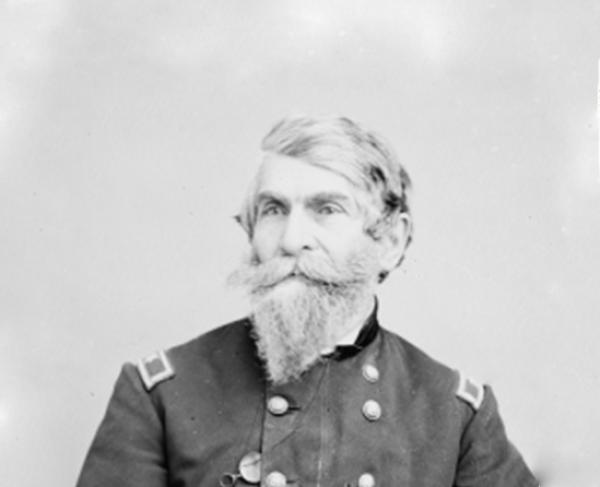 TitleBrigadier General
War & AffiliationCivil War / Union
Date of Birth - DeathMay 6, 1801-January 28, 1899
George Sears Greene was one of the oldest field commanders in the Federal army during the Civil War. He served with distinction in several key campaigns and battles, including the Northern Virginia Campaign and the Battles of Antietam, Chancellorsville, and Gettysburg.
Born in Apponaug, Rhode Island in 1801, Greene grew up in a wealthy family with deep colonial roots.  George was a cousin of Revolutionary War General Nathanael Greene. However, when George's father, Caleb, lost much of his shipping fortune as a result of the Embargo Act of 1807, the family could not afford to send George to Brown University, his choice institution, for higher education.  Instead, he ended up at West Point, where he graduated second in his class, an achievement that earned him a position as an engineering instructor at the United States Military Academy.
After working as a civil engineer, he re-enlisted in the Army at the age of sixty-one after the outbreak of the Civil War, making him one of the oldest field commanders in the service, earning him the nicknames "Old Man" or "Pap" Greene.
He quickly rose through the ranks and soon appointed to the colonelcy of the 60th New York Infantry, only to be promoted three months later on April 28, 1862 to brigadier general of volunteers. Although he could make an intimidating first impression as a disciplinarian, Greene grew to be loved and respected by his men due to his martial skills and strict discipline.  A soldier under his command described him thusly:
"[He was] an excellent officer and under a rough exterior possessing a kind heart. In the end the men learned to love and respect him as much as in the beginning they feared him, and this was saying a good deal on the subject. He knew how to drill, how to command, and in the hour of peril how to care for his command, and the men respected him accordingly."
The general's shining moments came at the Battles of Antietam and Gettysburg. At Antietam, he directed a gutsy assault that penetrated Major General Thomas "Stonewall" Jackson's defensive line near the Dunker Church.  Less than a year later at Gettysburg, Greene turned in his most celebrated performance with a stalwart defense of the Union right flank on Culp's Hill.  His engineering experience may have contributed to his decision to build breastworks atop the hill despite orders to the contrary, a decision that many historians believe was essential to holding the position.
Shortly after the Battle of Gettysburg, the 12th Corps was redeployed to Tennessee.  Greene was shot in the face at the Battle of Wauhatchie and spent three months recovering from the wound.  Upon his return in early 1865, he rounded out his war career with the capture of Raleigh, North Carolina and the final pursuit of General Joseph E. Johnston's army.
Greene mustered out of the army in 1866 and returned to engineering, working on sewer and water systems in several major U.S. cities. Three of Greene's sons sustained the family's martial spirit by serving in the U.S. military. His son Charles served as a lieutenant on his staff at Culp's Hill and subsequently lost a leg due to damage from an artillery shell. Son Samuel officered the USS Monitor, and son Francis fought in the Spanish-American War.
Greene died in 1899 at the age of ninety-eight.  He is commemorated in his family cemetery, where his gravesite is marked by a boulder from Culp's Hill, and at Gettysburg National Military Park, where a statue of Greene stands to commemorate his valiant efforts on the hill.