Franklin Buchanan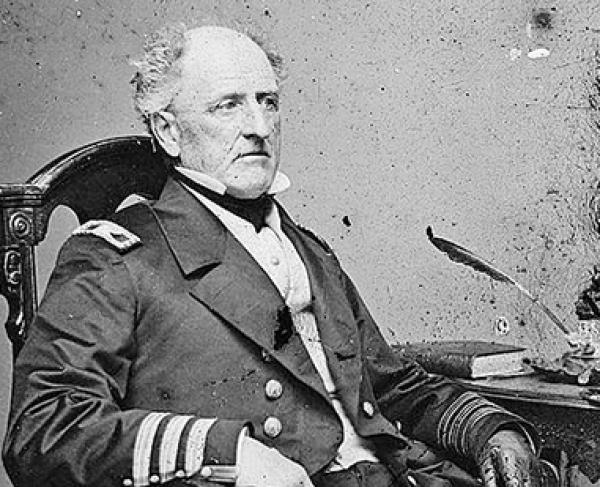 TitleAdmiral
War & AffiliationCivil War / Confederate
Date of Birth - DeathSeptember 13, 1800—May 11, 1874
Franklin Buchanan was an experienced seaman by the time he entered the Confederate Navy at the outbreak of the Civil War.  He first joined the United States Navy in 1815, and quickly rose in the ranks until he was made captain in 1855.  He sailed around the war and participated in the Perry expedition to Japan of the 1850's.  He was named the first superintendent of the United States Naval Academy, served during the Mexican-American war, and was made commandant of the Washington Navy Yard in 1859.  When the Civil War broke out, Buchanan quickly left his post and was made a captain in the Confederate Navy.
Franklin Buchanan is most known for his actions on the first day of the Battle of Hampton Roads on March 8, 1862.  During the battle, Buchanan, in command of the ironclad CSS Virginia, attacked the wooden Union warships blockading the harbor.  The Virginia was able to sink the USS Cumberland and destroy the USS Congress before nightfall forced the battle to end.  During the fighting that day, Franklin Buchanan was wounded by a gunshot to the thigh, and was unable to command the CSS Virginia the next day against the USS Monitor, the first battle between iron warships.
After he had recovered from his wounds, Buchanan was promoted to admiral and sent to Mobile, Alabama to command Confederate forces against Union Rear Admiral David Farragut.  On August 5, 1864, Buchanan was on board the CSS Tennessee during the Battle of Mobile Bay.  During the battle he was wounded and taken prisoner.  He would not be exchanged until February of 1865, and spent the rest of the Civil War on convalescent leave.