Francis Harrison Pierpont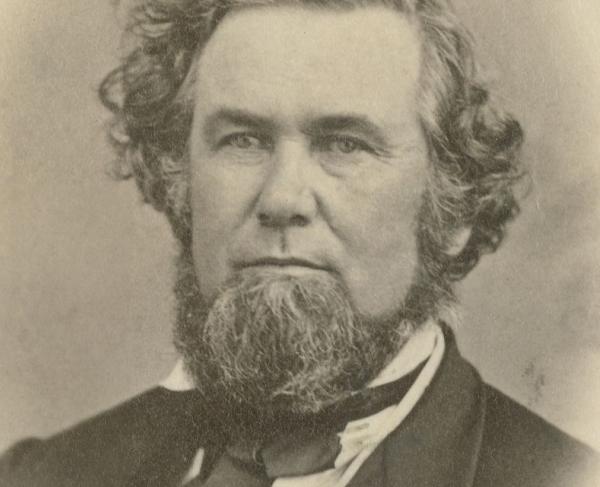 TitlePolitician
War & AffiliationCivil War / Union
Date of Birth - DeathJanuary 25, 1814 - March 24, 1899
The "Father of West Virginia" was born near Morgantown, in Monongalia County, Virginia (present-day West Virginia). He was descended from the man who founded Morgantown, Zackquill Morgan. He and his family relocated to Fairmont, Virginia, where his father ran a tannery.
Pierpont attended Allegheny College in Pennsylvania, graduating in 1839. After a brief teaching stint, he began a legal career in Western Virginia, during which he represented influential clients such as the Baltimore & Ohio Railroad. He also became one of the state's earliest coal operators. He married Julia Augusta Robertson on December 26, 1854. He also helped found the Fairmont Male and Female Seminary, which exists today as Fairmont State University and Pierpont Community and Technical College.
In 1840, Pierpont's long career in Virginia and West Virginia politics began, when he made stump speeches in the region in favor of the candidacy of William Henry Harrison, the war hero after whom he took his middle name. In the fraught election of 1860, he campaigned for the Constitutional Union candidates, John Bell and Edward Everett, who emphasized Union over the quarrels over slavery. When instead Republican Abraham Lincoln was elected and Deep South states began to secede, Pierpont traveled northwestern Virginia to give pro-Union and antislavery speeches. The western region of Virginia was much more Unionist than the rest of the state, with less reliance on slave labor, but despite this, delegates at the secession convention voted to secede on April 17, 1861.
In response, angry Western Virginians who opposed secession organized the First Wheeling Convention, which took place from May 13 to May 15. They argued that the current state government did not represent their interests and called for a complete reorganization of the government. They called for a second convention to do so. Pierpont was elected to attend the Second Wheeling Convention on June 11 to June 25, which on June 20, declared themselves the Restored Government of Virginia. Pierpont was unanimously elected governor.
Pierpont and the Restored Government claimed to be the legitimate government of Virginia, and thus Virginia had two state governments: one Union, one Confederate. However, representatives of the western counties soon began calling for statehood, especially as Union forces exhibited control of the area, which culminated with West Virginia being admitted to the Union on June 20, 1863, with the consent of the Restored Government. Pierpont was re-elected governor of the Restored Government in December of that year and moved its headquarters to Alexandria.
While governor, Pierpont worked tirelessly helping the Union war effort. He created loyal Virginian regiments, raised funds, combated Confederate sympathizers, and coordinated with the Lincoln administration. All the while, he worked to get Virginia restored to the Union. He also promoted the creation of "free schools" and supported extending rights to freedmen; in 1864, he convened a constitutional convention to abolish slavery.
In May 1865, Pierpont, at the direction of President Andrew Johnson, moved to Richmond and served as governor of all Virginia for three years. His term ended in 1868 when Congressional Reconstruction placed Virginia under military rule. He subsequently returned to West Virginia, where he served a term in the state's House of Delegates. He lost the seat as Democrats "redeemed" West Virginia's legislature and took control of the state.
Pierpont retired to private life, where he founded the West Virginia Historical Society and served as the president of the General Conference of the Methodist Protestant Church. He died on March 25, 1899. A statue of his likeness is one of two sent by West Virginia to be displayed in the Capitol's Statuary Hall.