Fitz John Porter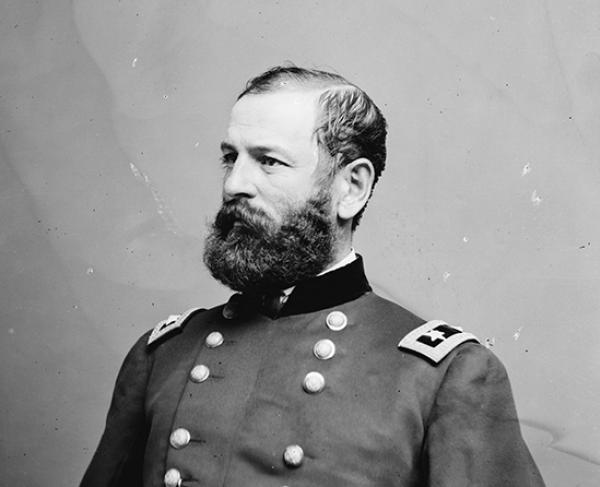 TitleMajor General
War & AffiliationCivil War / Union
Date of Birth - DeathAugust 31, 1822 - May 21, 1901
Fitz John Porter graduated 8th out of 41 from the United States Military Academy in 1845.  He served during the Mexican-American War, receiving a brevet promotion to captain for gallantry at the battle of Molino del Ray, and a brevet promotion to major for a wound he received at the battle of Chapultepec.  After the war, he returned to West Point and served as the assistant instructor of artillery from 1849 until 1855.  From 1857 to 1858, he served under Albert Sydney Johnson as an adjutant during his Utah expedition. 
At the outbreak of the Civil War, he was immediately commissioned colonel of the 15th Regular Infantry, and on May 17, 1861, was promoted to brigadier general.  He briefly served as chief of staff for General Robert Peterson before being ordered to Washington DC by General George B. McClellan to assist in training Union recruits to form the Army of the Potomac.  This strengthened his relationship with George McClellan, and would eventually lead to the ending of his career.
In 1862, Porter commanded the III Corps, serving during the siege of Yorktown.  He then commanded the V Corps through the Seven Days battles, showing an excellent skill in defensive fighting during the battles of Gaine's Mill and Malvern Hill.  For his actions during these battles, on July 4, 1862, he was promoted to major general.  He was transferred to the Army of Virginia, under General John Pope, whom Porter did not get along with.  During the battle of Second Manassas, Pope gave Porter several contradicting commands, many made when what was occurring on the battlefield was not fully clear.  These poor order led to the Union defeat at Second Manassas.  After the defeat, Pope relieved Porter of command in his army.
Porter moved back to McClellan's army, and commanded the V Corps during the battle of Antietam, where he was kept in reserve.  In November of 1862, Porter was relieved of command once again, placed under arrest, and was put on trial by a military commission for the failures at Second Manassas.  McClellan had been relieved of command by President Abraham Lincoln shortly before this, and Porter's friendship with McClellan was used against him during the trial.  On January 21, 1863, the military commission found Porter guilty and he was dismissed from the army.  Porter spent the rest of his life trying to vindicate his name and have it reinstated. 
Sixteen years after he had been dismissed, a board headed by General John M. Schofield exonerated Porter for all of his actions at the Battle of Second Manassas, and stated that Porter's actions most likely saved the army.  It would take until 1886 for then President Grover Cleveland to sign a bill that placed Porter's name back on the army roll.