Dorothea Lynde Dix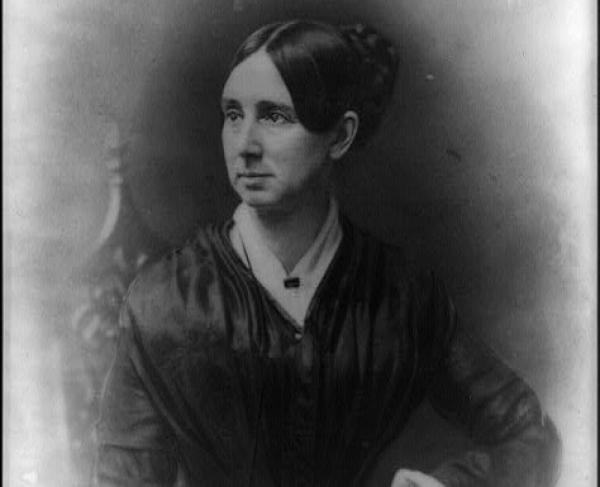 TitleSuperintendent of Army Nurses
War & AffiliationCivil War / Union
Date of Birth - DeathApril 4, 1802 - July 17, 1877
Dorothea Lynde Dix was born on April 4, 1802, in Hampden, Maine. As a young child, Dorothea moved to Worchester, Massachusetts, to live with her extended family. Her mother was gravely ill and could not care for her, and her father frequently traveled across the country for his job. As a young teenager, she was sent to live with her grandmother in Boston, Massachusetts. At fourteen years old, Dix began to teach classes in a school with a developed curriculum focusing on ethics and natural sciences. By the age of nineteen, Dix opened her own school in Boston to wealthy and poorer students. From 1824 to 1830, she wrote books for children focused on early education. After Dix's health declined due to depression, she stopped teaching and worked as a governess. In 1831 Dix opened another school in Boston which operated until 1836 when she suffered a mental breakdown. She then decided to take a trip to Great Britain and met with social reformers who inspired her to help reform the conditions of the mentally ill in the United States. When Dix returned to the United States, she became a dedicated reformer.
In 1840, Dix, now returned from Great Britain as a reformer, began to investigate the conditions of state institutions caring for the mentally ill in Massachusetts. After finding widespread abuse, she published her findings in Memorial to the Massachusetts State Legislature in 1843. In 1844, Dix investigated the conditions of institutions caring for the mentally ill in New Jersey. She gave a detailed account of her findings to the New Jersey State Legislature as well. In March of 1845, New Jersey approved the construction of an asylum to better care for the mentally ill. After her victory in New Jersey, Dix traveled across the country. She went to New Hampshire, Illinois, Louisiana, North Carolina, Pennsylvania, and Washington, D.C. to help reform the conditions of the mentally ill. Continuously, Dix convinced state legislatures to establish asylums to better care for the mentally ill population. In 1853, Dix expanded her horizons past the United States and traveled to Nova Scotia, Canada, to help the mentally ill in Canada. The following year in 1854, Dix traveled to Scotland and found the mentally ill in similarly poor conditions. Her work as a mental health reformer helped improve the lives of the mentally ill and help to establish mental health care standards in the United States, Canada, and Scotland.
After the Pratt Street Riot in Baltimore, Maryland, Dix immediately boarded a train to Baltimore to help treat the wounded Union soldiers. When she arrived in Baltimore, she found out that soldiers were already being treated, and continued onto Washington, D.C. where she offered her services as a nurse in the War Department. Despite having no formal education in medicine and no formal training as a nurse, Dix was appointed by the United States government to serve as the Superintendent of Army Nurses in June of 1861. After her appointment, she began rigorously vetting candidates to become nurses. She required nurses to be between the ages of 35 and 50, and to be "plain-looking." Nurses were required to wear long black or brown dresses with no jewelry. Dix feared that if she were to send vulnerable and attractive women to the frontline that they would be taken advantage of. Nursing was also a male-dominated profession in the Civil War, and Dix wanted to ensure that women volunteers were well cared for and protected by her. She quickly earned the nickname "Dragon Dix" for her strict hiring practices and for firing nurses that she did not personally train. Throughout the Civil War, Dragon Dix and her nurses often treated both Union and Confederate soldiers. After the Battle of Gettysburg, Dix and her nurses helped care for approximately 5,000 Confederate soldiers that were left behind. She resigned from the Union Army in August of 1865 and was a well-respected nurse because of her dedication to caring for all soldiers.
Following the Civil War, Dix began to raise funds for a monument to be placed at Fort Monroe in Hampton, Virginia. After raising funds, a war memorial was placed in Hampton Roads, Virginia. Dix resumed her life as a reformer after the Civil War. Instead of focusing on the Northern states, Dix instead turned her attention to the Southern states to inspect for any lack of care due to the Civil War and Reconstruction. In 1881, Dix moved to New Jersey and lived in the New Jersey State Hospital, a hospital that she helped build. She lived the remainder of her life in the New Jersey State Hospital in poor health, but maintaining contact with people in the United States, Great Britain, and Japan. On July 17, 1887, at the age of 85, Dorothea Lynde "Dragon" Dix passed away. She was buried in Mount Auburn Cemetery in Cambridge, Massachusetts.
Further Reading: