Dixon S. Miles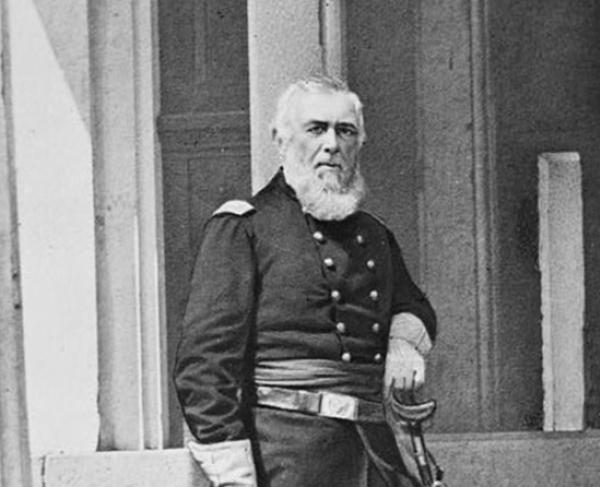 TitleColonel
War & AffiliationCivil War / Union
Date of Birth - DeathMay 4, 1804 – September 16, 1862
Dixon Stansbury Miles graduated from the United States Military Academy in 1824.  He fought during the Seminole Wars in Florida with the 4th US Infantry, until the outbreak of the Mexican-American War.  During the war, Miles fought during the battle of Monterrey, which earned him a brevet promotion to lieutenant colonel, and at the siege of Veracruz.  After the war, he continued to serve in the west and fought against Indians in New Mexico. 
At the outbreak of the Civil War, he returned to Washington, and was given the command of a division in the army of General Irvin McDowell, which he commanded during the First Battle of Bull Run, although his division was left in reserve.  After the battle, Union General Israel B. Richardson accused Miles of being intoxicated during the battle, and a military board of inquiry found the accusation to be true.  After an eight month leave of absence, Miles was reassigned to command the Federal arsenal at Harpers Ferry. 
When General Robert E. Lee began his Maryland Campaign in 1862, General Thomas "Stonewall" Jackson was sent to capture Harpers Ferry.  Miles received orders from General Henry W. Halleck to defend the town until he could be relieved by forces from General George B. McClellan.  Miles decisions in setting up the defense of the town led to the town and the Union forces within being trapped by the forces of General Jackson.  On September 15, 1862, Confederate forces began to bombard the town.  After discussing the matter with several other commanders in the town, Miles decided that he had to surrender Harpers Ferry.  Before he could officially surrender; however, he was struck in the leg by shrapnel from an exploding shell, and died the next day from his wound.  After his death and the surrender of Harpers Ferry, Miles was denounced for his actions during the campaign.
Related Battles
Battle Facts
Jefferson County, WV | September 12, 1862
Result: Confederate Victory
Estimated Casualties
12,922