David McMurtrie Gregg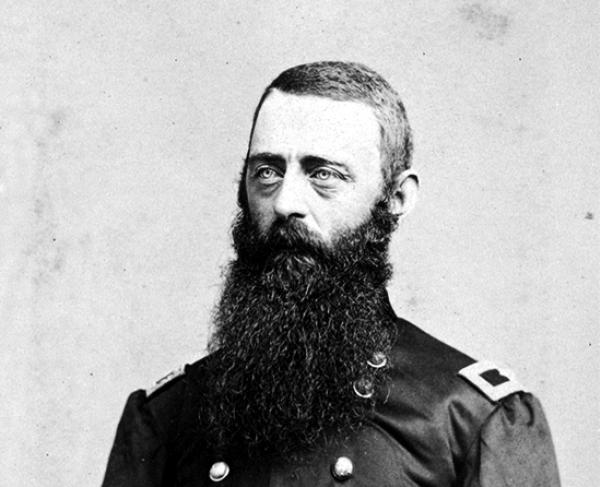 TitleBrigadier General
War & AffiliationCivil War / Union
Date of Birth - DeathApril 10, 1833 - August 7, 1916
David McMurtrie Gregg was born on April 10, 1833, in Huntingdon, Pennsylvania into a politically active family. He earned an appointment to the United States Military Academy at West Point and graduated in 1855, sharing the campus during his time there with a future cavalry comrade – Philip Sheridan – and an adversary – J. E. B. Stuart. His first assignment upon graduation was in the New Mexico territory, as a brevet second lieutenant in the 1st U.S. Dragoons. He also spent time in California and the Washington Territory, where he saw his first action.
When the Civil War broke out, Gregg was still stationed at Fort Tejon in California and returned to Washington in order to be of service to the Union war effort. He was assigned to a number of different cavalry units in the early days of the war, and in January 1862 was made colonel of the 8th Pennsylvania Cavalry, which he led with distinction during the Peninsula Campaign. In the fall, Gregg was promoted to brigadier general.  He commanded a division under Stoneman during the Chancellorsville campaign, and sparred with J. E. B. Stuart repeatedly in the lead-up to and during the Battle of Gettysburg.  At Gettysburg, Gregg shielded the extreme right of the Union line and repulsed Stuart's efforts on the third day of the battle, winning "one of the most conspicuous cavalry victories of the war."
Gregg helped the Union cavalry eventually come to terms with their Confederate counterparts, who had begun the war imperiously. During the Overland campaign in 1864, Gregg again performed admirably in command of a division of cavalry. During the early stages of the siege of Petersburg, Gregg's cavalry remained near the city while Sheridan cleared the Shenandoah Valley of all remaining Confederate presence. His division was actively involved in probing for weaknesses in the entrenched Confederate lines and fighting around the outskirts of the city. He also received another brevet promotion to major general.
In January, 1865, Gregg abruptly and mysteriously resigned his commission.  He missed the Appomattox campaign and the end of the war, settling in his wife's home of Reading, Pennsylvania. He tried farming in Milford, Delaware before President Ulysses S. Grant made him consul to Prague in 1874. After his time in service abroad, Gregg returned to Pennsylvania, where he lived the rest of his life. He was an active preservationist in his time, and was instrumental in the preservation of Valley Forge as a national shrine. He died on August 7, 1916, aged 83, and is buried in Charles Evans Cemetery in Reading.