Clara Barton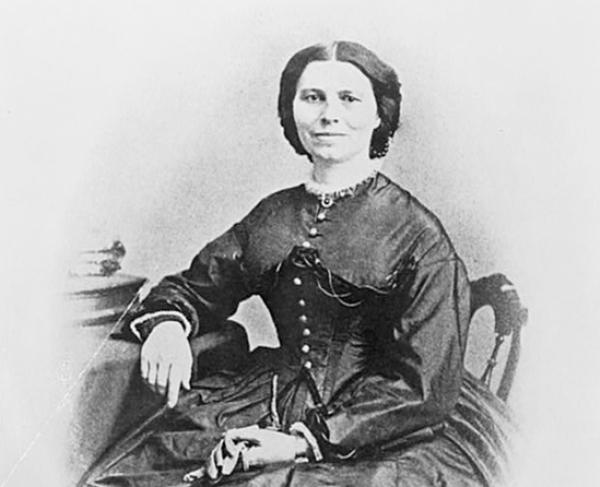 TitleRelief Organizer/Humanitarian
War & AffiliationCivil War / Union
Date of Birth - DeathDecember 25, 1821 – April 12, 1912
Born in Massachusetts in 1821, Clara Harlowe Barton was the youngest of five children. Barton supplemented her early education with practical experience, working as a clerk and book keeper for her oldest brother. She worked for several years as a teacher, even starting her own school in Bordentown, New Jersey in 1853. In 1854 she moved south to Washington, D.C. in search of a warmer climate. From 1854 to 1857 she was employed as a clerk in the Patent Office until her anti-slavery opinions made her too controversial. When she went home to New England she continued the charity works and philanthropy she had begun in Washington.
Early in 1861 Barton returned to Washington, D.C. and, when the Civil War broke out, she was one of the first volunteers to appear at the Washington Infirmary to care for wounded soldiers. After her father's death late in 1861, Barton left the city hospitals to go among the soldiers in the field. Her presence—and the supplies she brought with her in three army wagons—was particularly welcome at the Battle of Antietam (Sharpsburg) where overworked surgeons were trying to make bandages out of corn husks. Barton organized able-bodied men to perform first aid, carry water, and prepare food for the wounded. Throughout the war, Barton and her supply wagons traveled with the Union army giving aid to Union casualties and Confederate prisoners. Some of the supplies, like the transportation, were provided by the army quartermaster in Washington, D.C., but most were purchased with donations solicited by Barton or by her own funds. (After the war she was reimbursed by Congress for her expenses.)
In 1863, Clara Barton would travel to the Union controlled coastal regions around Charleston, South Carolina. On July 14, 1863 Barton moved from Hilton Head Island to Morris Island to tend the growing number of sick and wounded soldiers - a list that would greatly expand after the failed Union assault on Fort Wagner on July 18, 1863. 
Later in the Morris Island campaign, Clara Barton, working out of her tent, would seek to address the growing problem of sickness on the island by passing out fresh food and mail to the troops in the trenches.  Despite her great efforts, Barton herself would become gravely ill and would be evacuated to Hilton Head island.
"We have captured one fort - Gregg - and one charnel house - Wagner - and we have built one cemetery, Morris Island.  The thousand little sand-hills that in the pale moonlight are a thousand headstones, and the restless ocean waves that roll and breakup on the whitened beach sing an eternal requiem to the toll-worn gallant dead who sleep beside." 
- Clara Barton on Morris Island
In January 1865, Barton returned to the North when her brother and nephew died. In March, President Abraham Lincoln appointed her General Correspondent for the Friends of Paroled Prisoners. Her job was to respond to anxious inquiries from the friends and relatives of missing soldiers by locating them among the prison rolls, parole rolls, or casualty lists at the camps in Annapolis, Maryland. To assist in this enormous task, Barton established the Bureau of Records of Missing Men of the Armies of the United States and published Rolls of Missing Men to be posted across the country. It was at her insistence that the anonymous graves at Andersonville prison were identified and marked.
In 1869 Clara Barton traveled to Geneva, Switzerland as a member of the International Red Cross. In 1880 the American Red Cross was established, the culmination of a decade of work by Barton. She served as the organization's first president until 1904 and continued her tradition of philanthropy as a volunteer in Cuba during the Spanish-American War.
Clara Barton died in 1912 at the age of ninety-one.