Benjamin F. Butler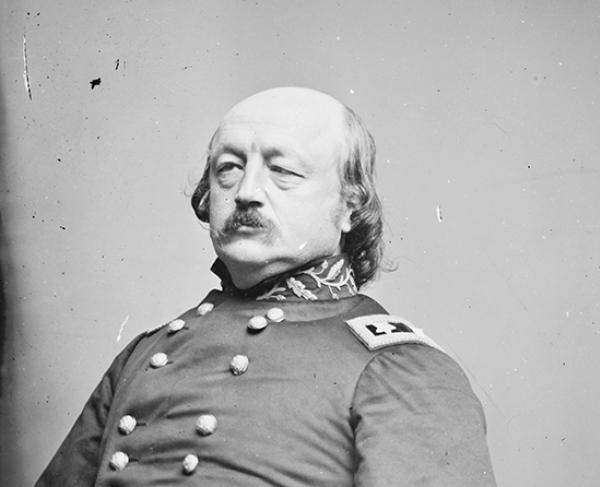 TitleMajor General
War & AffiliationCivil War / Union
Date of Birth - DeathNovember 5, 1818–January 11, 1893
Benjamin Butler became one of the most disliked generals of the war, upsetting many on both sides of the conflict.  Benjamin Butler graduated from Colby College in Maine in 1838, and was admitted to the Massachusetts Bar in 1840, where he established a large criminal practice.  He was elected to the Massachusetts House of Representatives in 1853, and then to the Senate of the Commonwealth in 1859.  While in office, he attended the Democratic convention where he voted for Jefferson Davis to run for the presidential nomination, as well as candidates such as John C. Breckinridge.  He entered the Massachusetts Militia in 1839, and was promoted to brigadier general in 1855 even though he had no formal military training.
At the outbreak of the Civil War, Butler played an important role because he and the 8th Massachusetts were some of the first troops to reach Washington DC, protecting the capital in case Maryland seceded.  He was appointed a major general on May 16, 1861, being one of the first appointed by President Abraham Lincoln.  He first saw action at the battle of Big Bethel, where he was defeated.  He then commanded Fort Monroe, where Butler became the first to identify slaves who ran away into Union lines as "contraband of war," despite the Fugitive Slave Act of 1850.  In August of 1861, Butler led a successful amphibious assault on the Hatteras Inlet in North Carolina, and moved onto New Orleans in May, after the city had already surrendered to Admiral David G. Farragut.  It was during this time that Butler would gain many of his enemies.
Once in New Orleans, he was appointed as military governor, and commanded the city in rather controversial ways.  Although he was able to bring order to the city, he became known as one who would pilfer goods of the Southern households he was watching.  He issued Order 28 during this time period, which stated that any lady in New Orleans who showed contempt for Union soldiers would effectively be treated as though they were a prostitute.  This law drew great controversy in both the North and South, caused Confederate president Jefferson Davis to label Butler an outlaw, and earned him the nickname "Beast Butler."  He was removed from this position in December of 1862, and given command of the Department of Virginia and North Carolina in November of 1863, which would become known as the Army of the James.  While commanding this force, he performed poorly during the Bermuda Hundred campaign, allowing Confederate general P.G.T. Beauregard to slow him down with an inferior force.  He went on to fail once again at Fort Fisher, North Carolina, and was ordered by Union general Ulysses S. Grant to return home to await orders. On November 30, 1865, Butler resigned his commission.
He returned to politics, and was elected governor of Massachusetts in 1882 after several unsuccessful campaigns.  In 1878, he was once again elected to Congress, and was a presidential candidate during the election of 1884.