Saving the First Day's Battlefield
Preservation at the Chancellorsville Battlefield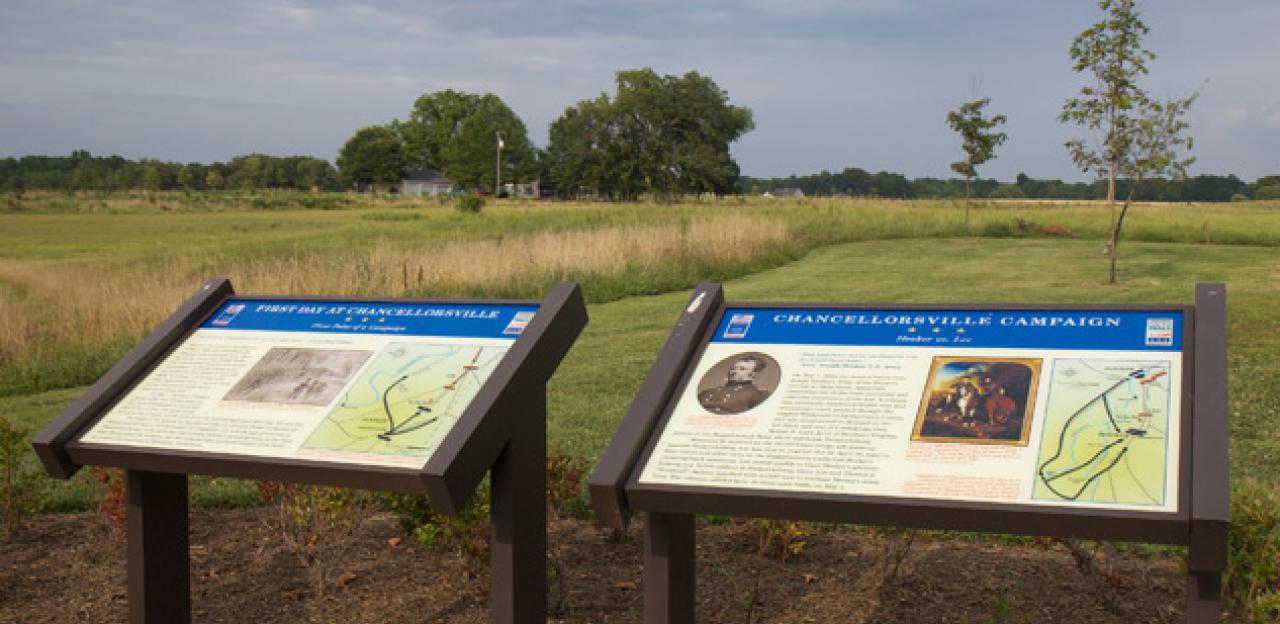 For decades, shopping centers and other sprawl have spread steadily westward along Route 3, and by the early years of the 2000s, developers had their eyes set on the land around you.  Had any of their plans come to fruition, you would now be surrounded by houses, businesses and a highway interchange.
In 2002, recognizing the unique historic significance of this site, concerned citizens joined forces with regional and national conservation groups to form the Coalition to Save Chancellorsville Battlefield.  The Coalition fought every proposal to destroy this hallowed ground, gaining significant public support for its efforts, and in March 2003, the Spotsylvania County Board of Supervisors overwhelmingly rejected the developments.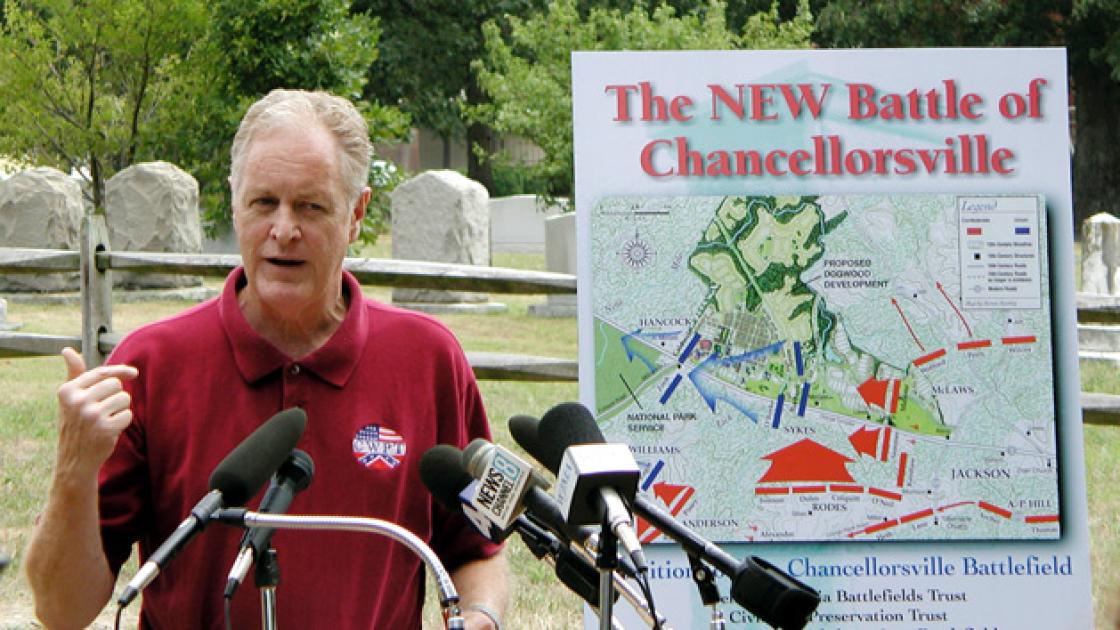 Stopping that round of bulldozers was just the beginning, however, as the coalition set out to see this landscape was protected forever.  The Civil War Trust worked behind the scenes, building strong relationships with local activists, developers and government officials.  In the fall of 2004, the Trust announced it had reached an agreement with Spotsylvania County and local developer Tricord, Inc., to acquire 140 acres where the battle's heaviest fighting occurred.  In 2006, again working with the county and a developer — this time national chain Toll Brothers — the Trust was able to expand its battlefield holdings by 74 acres, establishing the battlefield park you see today.
"Developers Plans Run into Stonewall"
A key to the success of the Coalition to Save Chancellorsville Battlefield was the broad base of support it established.  By presenting a united front, the effort was able to stem what many had considered the irresistible tide of development.  Among the groups without whom this tremendous victory for preservation would not have been possible are: Battlefield Sierra Group, Central Virginia Battlefields Trust, Concerned Citizens of Spotsylvania, Friends of Fredericksburg Area Battlefields, Friends of Wilderness Battlefield, National Parks Conservation Association, National Parks Mid-Atlantic Council, National Trust for Historic Preservation, Piedmont Environmental Council, Spotsylvania Battlefields Education Association and Spotsylvania Preservation Foundation, Inc.
In early 2005, once the most historically sensitive land was secured Central Virginia Battlefields Trust president Mike Stevens wrote to the Fredericksburg Free Lance-Star.
"Your recent editorial speaks about "the Chancellorsville lesson" to be learned from recent events, which saw the Spotsylvania Board of Supervisors, preservationists, and developer Tricord Inc., come together in a spirit of comity, cooperation, and compromise to save 140 acres of hallowed ground on the Chancellorsville battlefield.
That coming together between those three groups--groups so often at each other's throats in years past--does indeed signal a sea change in attitude and approach when it comes to the vexing question of how to balance development (which is inevitable) and preservation of battlefield land (which is vital for historical, economic, and quality-of-life reasons).
No more animosity and impugning of motives. No more personal insults and invective. No more speaking at cross purposes. Instead, a willingness to come together in a spirit of mutual respect to find common ground, a willingness to listen and to learn from one another, a willingness to give and to take.In the future there will be disagreements among the sides, of course. And sometimes differing perspectives will simply be irreconcilable. But this recent success story at Chancellorsville offers both example of and testimony to the fact that it can be done.
Related Battles
Battle Facts
Spotsylvania County, VA | April 30, 1863
Result: Confederate Victory
Estimated Casualties
30,764