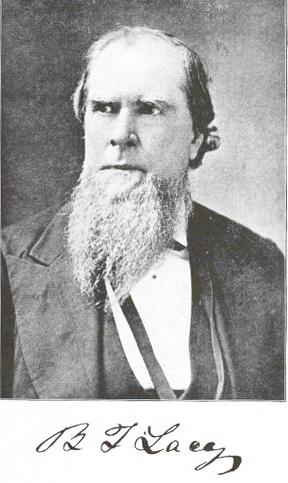 With an eye to proper military administration, General Stonewall Jackson sought to have an official Chaplin General appointed for his Corps. A minister with a roving commission who might ride the circuit of his camps, ministering where no chaplain had been. Jackson chose the Reverend Doctor Beverly Tucker Lacy for this appointment, an able, industrious, and honest Christian. He requested the Adjutant General to issue an appointment to Reverend Lacy since many regiments needed religious guidance and Lacy had special qualifications. When asked what denominations should be represented, Jackson responded that the question should be: "Does he preach the Gospel?" 
Reverend Beverly Tucker Lacy was born on February 21, 1819, to the Reverend William Sterling Lacy and Sallie Campbell Lacy in Prince Edward County, Virginia. (His grandfather, Reverend Doctor Drury Lacy, later performed the marriage for Stonewall and Anna Jackson.)  After receiving preparatory training from his father, he studied the ministry at Washington College, graduating in 1843. Lacy completed his divinity studies at Princeton Seminary, graduating in 1846. He pastored churches in Winchester and Salem, Virginia, and Frankfort, Kentucky, before coming to the Fredericksburg, Virginia area after the Civil War had begun. His brother, James Horace Lacy, owned two plantations in the area, Chatham in Stafford County, and Ellwood in Orange County.  Reverend Lacy pastored the Presbyterian Church of Fredericksburg from 1862 to 1863.
Reverend Lacy had visited Stonewall Jackson soon after his arrival in the Fredericksburg area. They must have had a sincere discussion because after the meeting he wanted Reverend Lacy to minister to his corps. Jackson made Lacy an offer, but the minister replied he had a congregation and had to consider the proposition. Jackson waited and hoped that he would be blessed with Reverend Lacy's preaching throughout the war.
Several of General Jackson's officers wrote about Reverend B. T. Lacy's sermons and prayer meetings in their books and diaries. Some of the men remembered his sermons favorably, and they were impressed with the size of his audiences. General Jackson always encouraged his men to believe in Christianity and would often sit among the soldiers during Reverend Lacy's religious services. In the Winter and Spring of 1863, a great religious revival took place in the Army of Northern Virginia in the Fredericksburg area. Reverend Beverly Tucker Lacy's powerful preaching and theological conversations paved the way for the revival in the Second Corps.  
Mr. Lacy reported to General Jackson's headquarters on March 1, 1863, and according to Jed Hotchkiss, Jackson's topographer, "to stay awhile."  Hotchkiss frequently mentioned Mr. Lacy in his diary, especially on Sundays. They seemed to become very good friends during their time together, and they both played an important role in the planning of the route of Jackson's flank attack at Chancellorsville on May 2, 1863.
Hotchkiss wrote about some of Lacy's most effective and memorable sermons in his diary:
Sun March 29th, Mr. Lacy had a good sermon on trusting to God but exerting ourselves also by crying unto him – some in the audience were much affected.  "At 6 pm we had a prayer meeting in Mr. Lacy's tent in which the general prayed fervently for peace and for blessings for our enemies in everything but war."

Sunday, April 5th, "The snow is some 6 inches deep this morning and it is quite cold.  We had preaching in Mr. Lacy's tent, from the text: All things work together for good, etc.; a good sermon.  Mr. Lacy is a very sensible man and one well qualified for a general missionary to the army."

Sunday, April 26th,

"Church service for General Jackson and Anna Jackson and the staff were joined for the occasion by General Robert E. Lee and other officers of rank, including even Jubal Early, not usually known for his piety.  Some 1500 to 2000 rank and file attended as well, and heard the Reverend Lacy, whom Jackson had appointed "Chaplain General" to the Second Corps, preach the parable of Lazarus and the rich man.  Mrs. Jackson found the sermon "earnest and edifying."

Sunday, May 17th, - Headquarters, Mr. Lacy preached the funeral sermon for General Jackson from the words of Paul in Timothy: "I have fought a good fight, I have finished my work, etc.  A very good and feeling discourse.  The audience was large, but it looked strange not to see the earnest face of General Jackson there, and to hear strange words spoken on the spot consecrated by his prayers and the services of God's house. General Ed (Allegheny) Johnson was there."
During the visit of Stonewall's wife, Mrs. Anna Jackson, and their daughter, Julia, Reverend Lacy performed Julia's baptism, which General Jackson pronounced, "Very fine, very fine."  Lacy also ensured that Anna and Julia got on the train to Richmond safely once the Union army crossed the Rappahannock River in front of Jackson's Corps at the start of the Chancellorsville Campaign.
Reverend Lacy is most remembered for his actions before Jackson's flank attack on May 2, 1863.  After General Lee decided to attack the right flank of the Army of the Potomac, he queried Reverend Lacy about the roads in the area, since Lacy had preached there, and his brother had property in The Wilderness. Lacy mentioned the road network to Lee, who went over the maps with General J. E. B. Stuart. Early the next morning, Jackson asked Lacy to talk with him about the roads.  Lacy traced a road, then Jackson said it was too close to the enemy lines.  Lacy responded that he knew Charles Wellford, the owner of Catharine Furnace, and he would know about more roads. Jackson asked Lacy to go with Hotchkiss and get the appropriate routes. They got the information and brought it back to Jackson.
During the Battle of Chancellorsville, Stonewall Jackson was wounded by his own men and had to have his left arm amputated. Reverend Lacy wrapped the amputated limb in a blanket and buried the arm at Ellwood in the family cemetery. The very next day, Hotchkiss, Lacy and three other men temporarily buried Captain James Boswell—one of Jackson's staff officers—in the same cemetery, near Jackson's arm.
Reverend Lacy accompanied Jackson to the Chandler Plantation at Guiney Station and had many theological conversations with Jackson before his death. After Jackson's death, Reverend Lacy remained with the Second Corps. Lacy is remembered as a gentleman, an extremely hard worker, and a powerful preacher, who shepherded the religious revival of Stonewall Jackson's Second Corps. Reverend Lacy died on November 3, 1900.  
Further Reading