North Anna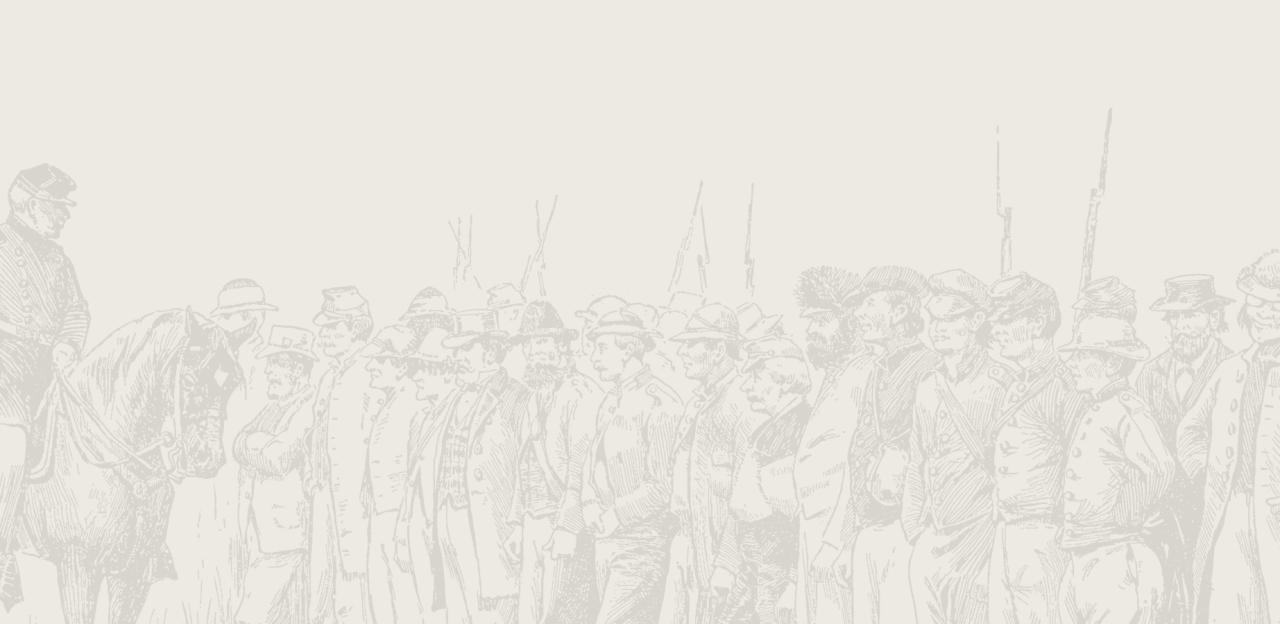 The Battle of North Anna
Facing stalemate at Spotsylvania Court House in early May, 1864, Lt. Gen. Ulysses S. Grant knew he had to force Gen. Robert E. Lee and the Army of Northern Virginia from their trenches. Despite heavy losses, Grant would not withdraw, hoping one more battle would prove a decisive Union victory. To bring the Confederates to battle, Grant offered Lee a potential prize—the entire Union II Corps. Grant ordered Maj. Gen. George G. Meade to send the corps toward Hanover Junction, a vital rail junction just south of the North Anna River, using the Mattaponi River as a shield. Lee would have to react to such a threat to his supply line and Richmond. Once Lee came out of his earthworks, Grant could strike.
Lee was puzzled by Grant's movements early on May 21, but he had no intention of attacking the II Corps. No matter Grant's intent, Lee knew he had to cover the inside route to Richmond and protect his supply line. Lee determined to fall back to a favorable defense line along the North Anna River, where the river itself would funnel Grant's army to limited crossings that were easily defendable. Meanwhile, a brush with Confederate infantry at Milford Station that same day convinced II Corps commander Maj. Gen. Winfield Hancock that he should not move any further south without additional support. Grant soon began to draw the disparate corps of the Army of the Potomac together to move south toward the North Anna.
After extricating themselves from a tremendous traffic jam, the lead elements of the Union army, Maj. Gen. Gouverneur K. Warren's V Corps followed by Hancock's corps, approached the North Anna River on May 23. Hancock moved toward Chesterfield Bridge over the river and a small redoubt manned by Col. John W. Henagan's South Carolinian brigade. Despite sending repeated messengers to the rear as they watched Union skirmishers advance, Henagan received no reinforcements, nor any orders of retreat. Shortly after 6:00 p.m., an artillery barrage prefaced an infantry attack by Hancock's men who scrambled up the Confederate defenses and chased the Rebels across the river. That same day, Warren's corps crossed the river unopposed at Jericho Mill. That evening, Lt. Gen. A.P. Hill struck Warren, nearly throwing Federals back across the North Anna. Though surprised, the Yankees rallied and the Confederates fell back. Lee's North Anna River line was breached.
The next day, using terrain and Grant's own aggressive spirit against him, Lee hoped draw the Union army into a trap. A strong salient—the "inverted V"—anchored on the dominant bluffs at Ox Ford, became the centerpiece of Lee's defensive position which was almost impregnable. Should Grant advance, he would break his army into three parts—one on the Telegraph Road, another at Ox Ford, and a third at Jericho Mills. Each flank would have to cross the river twice to reinforce the other. Grant would surely attack, giving Lee the chance to pin a large mass of the enemy army against the river.
Troubled by the lack of movement in his center, Grant ordered his only available unit, Maj. Gen. Ambrose Burnside's IX Corps, to move toward Ox Ford on May 24. Finding the Confederate defenses there too strong, Burnside sent Brig. Gen. Thomas L. Crittenden's division to cross above Ox Ford and come in from behind and another division over the Chesterfield Bridge to clear the ford from the opposite direction. With two divisions converging on Ox Ford, Burnside hoped the Confederates would withdraw. Once across, however, Crittenden discovered exceptionally strong enemy trenches—more than one division could handle alone. Unfortunately, a rash order from a drunk officer, Brig. Gen. James H. Ledlie, sent a brigade of Federals to within 100 yards of the Rebel works where they were quickly swept from the field.
That same day, Hancock pushed his entire corps across the Chesterfield Bridge. That afternoon the Federals ran into Confederate skirmishers, sparking a furious firefight that devolved into a hand-to-hand struggle near the Doswell house at Hanover Junction. Darkness ended the fighting and Grant ordered his commanders to halt and dig in.
On May 25, Grant evaluated Lee's position and admitted, "To make a direct attack from either wing would cause a slaughter of our men that even success would not justify." His army was split in three: the V and VI Corps at Jericho Mill, a lone division of Burnside's command on the north side of Ox Ford, and Hancock's II Corps at the Junction. The following evening, the Army of the Potomac withdrew in another turning movement to Totopotomoy Creek. Lee followed, and the war left the North Anna River.