Interview with American Battlefield Trust's 2016 Teacher of the Year: Phil Caskey
The Trust sits down with Phil Caskey to discuss preservation, teaching, and the Teacher Institute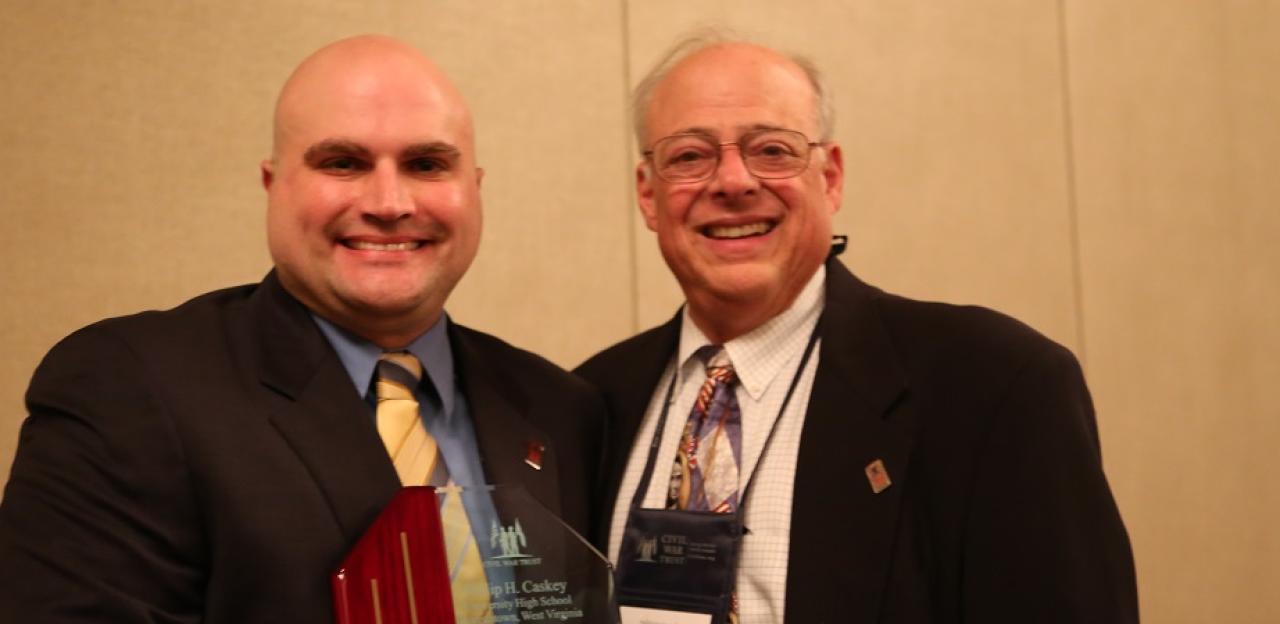 Recently, the American Battlefield Trust had a conversation with Phil Caskey, a teacher at University High School in Morgantown, West Virginia to discuss his experiences with the American Battlefield Trust, as well as history education in the modern age. Phil was named the Trust's Teacher of the Year in 2016, an honor bestowed upon the best and brightest educators annually.
Caskey, a veteran teacher with over 16 years under his belt, praised the Trust for its work with educators, as well as the various ways students are affected by the Trust's commitment to education.

Read the full interview, edited lightly for clarity and continuity, below:
What got you interested in teaching in the first place?
My father was an exceptional social studies educator, and I was looking for a career change in my early 30s. I was looking for a way to give back and pay it forward.
What's your particular passion for the Civil War?
I grew up 13 minutes from Antietam, and I still love going there. I learn something new during every visit, including recently walking in the footsteps of the 7th WV, which attacked the sunken road, and hiking Hooker's Cornfield trail. 
I love visiting battlefields and visualizing how they played out, reading primary source accounts and pondering the 'what if,' especially at places like Antietam, Spotsylvania and Shiloh.
Do you have a favorite personal memory related to the Civil War?
My great, great, great grandfather fought for Stonewall Jackson in the 2nd Va. Rgt., early war, so it makes it real for me as a teacher conveying [information] to students about the war, the struggle and what I believe is the most important chapter in the American story.
I also loved visiting Antietam as a child every chance I could get. It spoke to me then as it still does every time I visit. 
Why is learning about the Civil War important for students today?
I don't think there is a true understanding of just how close, in many instances, we were to losing this nation. I tell my students that they'd need a passport to go to Florida, or Myrtle Beach or just across the border to Virginia today, had the Confederacy won, because those places very well could be in a completely different country. That should be an eye-opener.
The war has so many layers to it, it's not just about battles, generals and logistics – there is politics, sociology, psychology, etc. It's all still relevant and relatable, and it's vital we learn from it; otherwise, we are doomed to repeat it.
How easy/hard is it to teach Civil War history in today's educational environment? Why?
I'm blessed to be able to teach the American Civil War as a full-year history elective at my school. I'm not completely bound by content standards and objectives, and I like to get hands-on knowing I have ample time. You'll see some cross-curricular ventures, field trips, hosting encampments, painting toy soldiers. It's fun to teach this specific subject.
Many critics of today's educational system say, "Teachers aren't teaching history anymore!" How do you respond to that?
You are welcome to come to my history classes any time! I'm fortunate to have county and school support to teach this awesome subject in a unique way. History can be amazingly boring if not presented in the right way. 
What are some of the things you do in your classes to teach the Civil War?
I'm a big proponent of project-based learning and running a myriad of teaching strategies to effectively teach the war. That includes primary sources, secondary sources, film, documentaries, reading The Killer Angels, painting 54mm plastic toy soldiers and simulating famous battles such as Shiloh, Antietam and Gettysburg, etc. We've hosted an encampment in years past, inviting re-enactors to campus to put on weapons demonstrations, have students partake in simulated drills and learn about soldier life.
If I relied on straight PowerPoints and memorization, I don't think I could handle it, and the students would probably be incredibly bored early on in the year. That would be a tough sell.
The Civil War Trust expanded its mission to now include the Revolutionary War and the War of 1812. How do those content areas tie into what you do?
I'm excited because I get to teach several early U.S. Honors to 1900 classes next year, so I'm looking forward to having full access to what the Trust offers across all the wars. 
How has the American Battlefield Trust supported you in the classroom?
There isn't a day that goes by the that the Trust hasn't helped in some way in my classroom. They've provided field trip funds, their War Department and In4 videos are exceptional and their Civil War curriculum is excellent. Their Teacher Institute is among the best, if not the best, in the country and they do a lot for educators to help bring the war to life. I'm indebted.
How has being named "Teacher of the Year" by the Trust helped you?
It's been one of the greatest honors of my life, to be honest. I try to live up to it daily. It's helped garner other recognitions which is nice. More importantly, it has helped fill my rosters for the Civil War class; more students are taking the course and learning about the war because of the notoriety and recognition of the award. That makes me very happy because students are interested in the Civil War, especially since West Virginia was born from the war. We're keeping history alive.
Since being named "Teacher of the Year," have you completed any new projects with your students, or are you in the process of completing any special projects?
We are working our way towards collecting 720,000 plastic bottle caps to quantify the total number of deaths that the country witnessed from the war. We are in year three of the project and are close to 450,000 caps collected. What we do with the caps once actually collected remains to be seen, but it will be something I want to share with the entire community, state, county and those interested in the war.
What sort of pitch would you make to fellow educators about the Trust's Teacher Institute?
If you want to attend an amazing institute with hands-on workshops, amazing speakers and an education department that dots their 'Is' and crosses their 'Ts' then this is the professional development of the summer to attend. The breakout sessions, the speakers, the think tanks – they're all awesome as you collaborate with like-minded colleagues from around the country and world. 
What advice would you give to a first-year educator? 
Stay one step ahead of your students if the process of planning becomes cumbersome; take each day at a time; take care of yourself and treat yourself during the year; seek advice from veteran educators; detach as best you can and don't take too much work home if you can afford it. You have an amazingly powerful job – one which you can easily burn out from.