Dramatic Events at the Chancellor House
Battle of Chancellorsville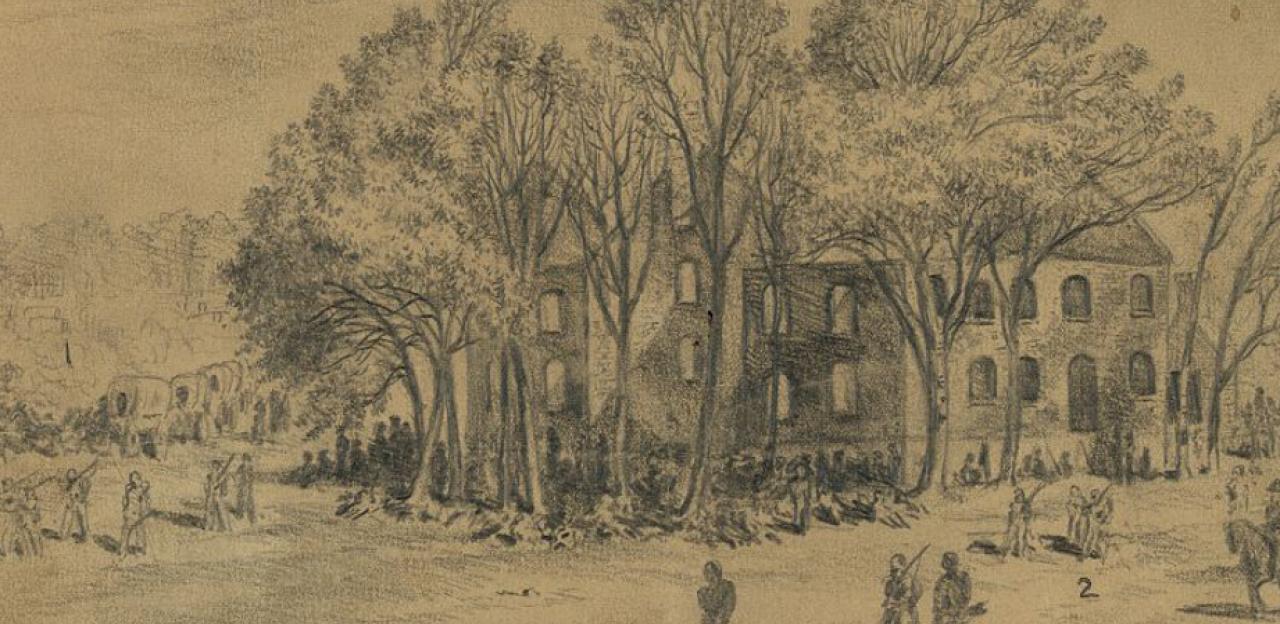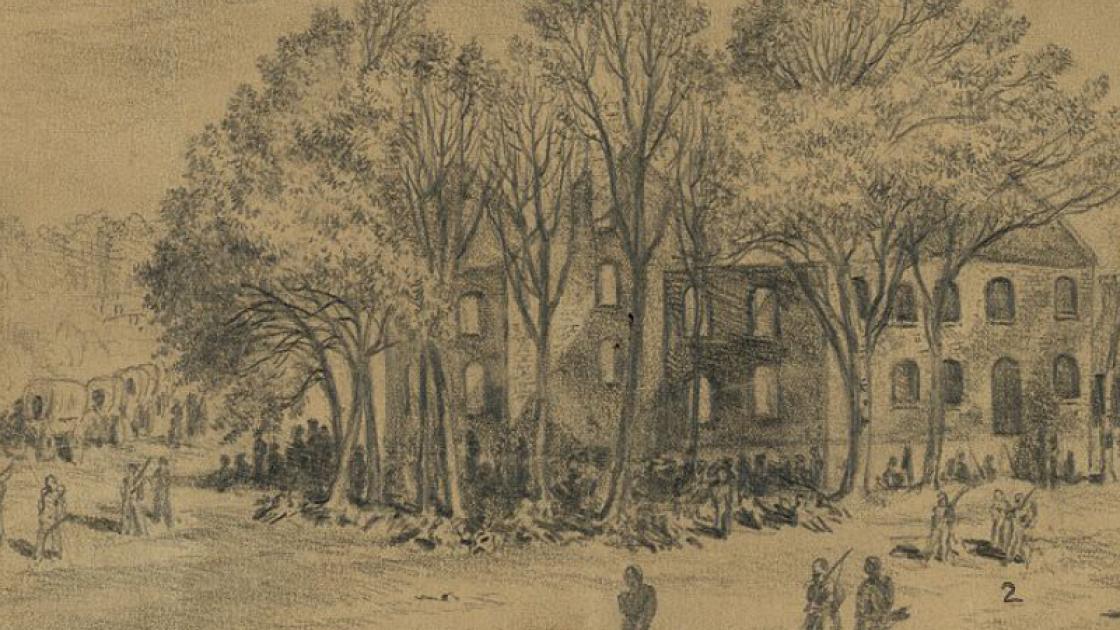 Hallowed Ground, Spring 2013
"Chancellorsville" may sound like a town, or at least a small hamlet, but it is actually the name of a single structure. By 1863 "Chancellorsville" had stood beside the Orange Turnpike for a half-century, serving as a roadside inn and tavern, then as an oversized private residence.
Through the winter of 1862 and into the spring, the Chancellor House — occupied by widowed Frances Chancellor and an extended family group of women and children — had played host to Confederates of all ranks.  Sixteen-year-old Susan Margaret Chancellor left a long, vivid account of that interlude, and then of the civilians' ordeal in the midst of violent combat. Sue fondly remembered visits from many prominent Confederate officers; J.E.B. Stuart gave one of the girls a gold coin, and a soldier gave Sue a pet lamb. When Northern invaders supplanted friendly Southern visitors on April 30, the women "scolded audibly and reviled bitterly." 
Sassing Yankees seemed good sport briefly, but gave way to deadly danger when the dusty country crossroads became the focus of operations for two mighty armies. Sixteen women and children spent a terrifying day in a room designated for their use. As the battle rolled toward — and ultimately over — their home, they retreated to the basement for shelter, despite shin-deep standing water.
Meanwhile, Union commander Maj. Gen. Joseph Hooker observed the battle leaning against one of the thick wooden columns on the second-story porch of the home. Suddenly, a shell came spiraling in — probably at long range from Hazel Grove — and smashed into Hooker's pillar with titanic force.
The projectile did not hit Hooker, nor did it break into fragments, showering the general with shrapnel. Instead, it split the wooden column in half, and one of the two huge chunks of wood knocked the general senseless.  Hooker later claimed, with characteristic bravado and dishonesty, that the first thing he heard on regaining consciousness, some 30 minutes later, "were the importunities of many of my officers to resume command." In 1973, an archaeological crew from Temple University discovered an unexploded rifled artillery shell under the front steps of the Chancellorsville Inn. The artifact, which some speculate may be the one that nearly killed Hooker, is on display in the battlefield visitor center.
At the climax of the battle on May 3, Federal soldiers tried to crowd into the basement, where the Chancellor women were hiding, to escape the fighting. Lt. Col. Joseph Dickinson of Hooker's staff routed them out and, later, conveyed the women to safety when the house caught fire. Dickinson visited the Chancellors repeatedly after the war, and came down for Frances's funeral in 1892.
 
Related Battles
Battle Facts
Spotsylvania County, VA | April 30, 1863
Result: Confederate Victory
Estimated Casualties
30,764