Buddy Secor
Speaker & Historian Biographies
Annual Conference
Learn about history from some of the nation's elite historians
American Battlefield Trust Event
Speakers & Historians
Garry Adelman
Garry Adelman is a graduate of Michigan State University and Shippensburg University of Pennsylvania. He is the award-winning author, co-author, or editor of 20 books and 50 Civil War articles. He is the vice president of the Center for Civil War Photography and has been a Licensed Battlefield Guide at Gettysburg for 25 years. He has conceived and drafted the text for wayside exhibits at ten battlefields, has given thousands of battlefield tours at more than 60 sites and has lectured at hundreds of locations across the country including the National Archives, the Library of Congress, and the Smithsonian. He has appeared as a speaker on the BBC, C-Span, Pennsylvania Cable Network, American Heroes Channel, and on HISTORY where he was a chief consultant and talking head on the Emmy Award-winning show Gettysburg (2011) and Blood and Glory: The Civil War in Color (2015).  He works full time as Chief Historian at the American Battlefield Trust.
Sarah Kay Bierle
Sarah Kay Bierle graduated from Thomas Edison State University with a BA in History, works in the Education Department at American Battlefield Trust, and volunteers as managing editor at Emerging Civil War. She has spent years exploring ways to share quality historical research in ways that will inform and inspire modern audiences, including school presentations, writing, and speaking engagements. Sarah has published three historical fiction books and her first nonfiction book, Call Out the Cadets: The Battle of New Market, is part of the Emerging Civil War series.
Dr. Thomas G. Clemens
Dr. Thomas G. Clemens holds a Doctorate in College Education-History from George Mason University and is Professor Emeritus from Hagerstown Community College. Tom is the president of the Save Historic Antietam Foundation, a capacity in which he has served since 1989. He is a Certified Guide at Antietam National Battlefield. Tom is the Editor of Ezra Carman's Maryland Campaign of September 1862, 3 Vols. 2010, 2012, 2016, and has authored numerous essays and magazine articles. 
Dan Davis
Dan Davis, Education Manager at the American Battlefield Trust. He is a native of Fredericksburg, VA where his love for the Civil War began on childhood trips to local battlefields. Dan is a graduate of Longwood University with a bachelor's degree in Public History. Dan has worked as a Ranger/Historian at Appomattox Court House National Historical Site and the Fredericksburg and Spotsylvania National Military Park. He is the author or co-author of numerous books and articles on the Civil War. 
Dennis E. Frye
Dennis E. Frye retired as Chief Historian at Harpers Ferry National Historical Park after serving 20 years in that position. Dennis has authored 11 books and 104 articles, writing for every major Civil War publication. His latest books include Confluence: Harpers Ferry as Destiny; Antietam Shadows; and September Suspense: Lincoln's Union in Peril. As a co-founder and past president of an organization preceding the American Battlefield Trust, and as co-founder and first president of the Save Historic Antietam Foundation, Dennis earned the "Shelby Foote Award." For his three-decade career as a preservationist and innovative educator with the NPS, the Department of Interior awarded Dennis its highest recognition, its "Distinguished Service Award." Dennis has appeared frequently on national television, including on the History Channel, Discovery Channel, Military Channel, Travel Channel, A&E, Fox News, CSPAN and Voice of America. Dennis also is a renowned battlefield guide, leading tours for the Smithsonian, National Geographic, and New York Times. 
Dr. James Green
Dr. James (Jim) Green is a NASA scientist and senior advisor in the Office of the Chief Scientist. He received his Ph.D. in Physics from the University of Iowa in 1979. He has worked for NASA for over 40 years managing and participating in a number of NASA planetary missions. Although his day job involves NASA activities, he has long had a passionate personal interest in the history of the Civil War and ballooning in particular. For more than 25 years Jim has conducted research into Civil War balloons and has spoken at a number of events including the 150th Anniversary of Lowe's first tethered balloon ascension on the Washington DC Mall from which the first aerial telegram was sent. He served as an advisor on the Intrepid project, an initiative to construct and fly the world's first replica of a Civil War observation balloon at the Genesee Country Village & Museum in Mumford, New York. He also has worked with the Civil War Trust by identifying locations of the balloon stations during the Peninsula Campaign for preservation.
Phillip S. Greenwalt
Phillip S. Greenwalt is the co-founder of Emerging Revolutionary War and a historian with Emerging Civil War. He is the author or co-author of five publications in the Emerging Revolutionary War and Emerging Civil War Series. He is currently a park ranger with the National Park Service in Florida but has worked at American history national park sites in Maryland, New Jersey, and Virginia.
John Hennessy
John Hennessy is the author of three books, including Return to Bull Run: The Campaign and Battle of Second Manassas (by Simon & Schuster, and a main selection of the History Book Club). He is presently the Chief Historian at Fredericksburg and Spotsylvania National Military Park. 
Dr. Chris Mackowski
Chris Mackowski, Ph.D., is the editor-in-chief and co-founder of Emerging Civil War. He is the series editor of the award-winning Emerging Civil War Series, published by Savas Beatie, and the "Engaging the Civil War" Series, published in partnership with Southern Illinois University Press. Chris is a professor of journalism and mass communication at St. Bonaventure University in Allegany, NY, and historian-in-residence at Stevenson Ridge, a historic property on the Spotsylvania battlefield in central Virginia. He has also worked as a historian for the National Park Service at Fredericksburg & Spotsylvania National Military Park, where he gives tours at four major Civil War battlefields (Fredericksburg, Chancellorsville, Wilderness, and Spotsylvania), as well as at the building where Stonewall Jackson died. Chris has authored or co-authored a dozen books on the Civil War, and his articles have appeared in all the major Civil War magazines. Chris serves on the national advisory board for the Civil War Chaplains Museum in Lynchburg, Virginia.
Mark Maloy
Mark Maloy's decade-long career in public history and archaeology has seen him explore and interpret many pivotal sites from our country's first centuries — from Pocahontas's village at Werowocomoco to his current Park Service posting at the George Washington Memorial Parkway, which administers Arlington House, the Robert E. Lee Memorial. He holds an undergraduate degree in History from the College of William and Mary and a graduate degree in History from George Mason University. A native of Alexandria, Virginia, his interest in history was sparked by visiting George Washington's Mount Vernon Estate as a child. He is an avid Civil War and Revolutionary War reenactor and living historian. An active contributor to the Emerging Revolutionary War Era community, he is the author of the book, "Victory or Death: The Battles of Trenton and Princeton."
Robert "Rob" Orrison
Rob Orrison serves as the Division Manager for the Prince William County Historic Preservation Division.  Outside of work Rob serves on the Board of Directors of the Mosby Heritage Area Association, Board of Directors of Virginia Civil War Trails; and serves as the President of the Virginia Association of Museums. His published works include: A Want of Vigilance: The Bristoe Station Campaign; The Last Road North: A Guide to the Gettysburg Campaign 1863; In A Single Blow: The Battles of Lexington and Concord and the Beginning of the American Revolution, April 19, 1775; To Hazard All: Guide to the 1862 Maryland Campaign.
Kevin Pawlak
Kevin Pawlak is a Historic Site Manager for Prince William County's Historic Preservation Division and a Certified Battlefield Guide at Antietam National Battlefield. He previously served as the Director of Education for the Mosby Heritage Area Association. He is the author of three books about the Civil War.
Kristopher D. White
Kris White is the Deputy Director of Education at the American Battlefield Trust. White is a graduate of Norwich University with an M.A. in Military History, as well as a graduate of California University of Pennsylvania with a B.A. in History. For nearly five years he served as a staff military historian at Fredericksburg and Spotsylvania National Military Park. White is the co-founder of Emerging Civil War and is also the co-creator of the Engaging the Civil War Series, which is a partnership between Southern Illinois University Press and Emerging Civil War. An award-winning speaker and editor, White has authored, co-authored, or edited nearly two-dozen books; and he frequently leads tours in the United States and abroad.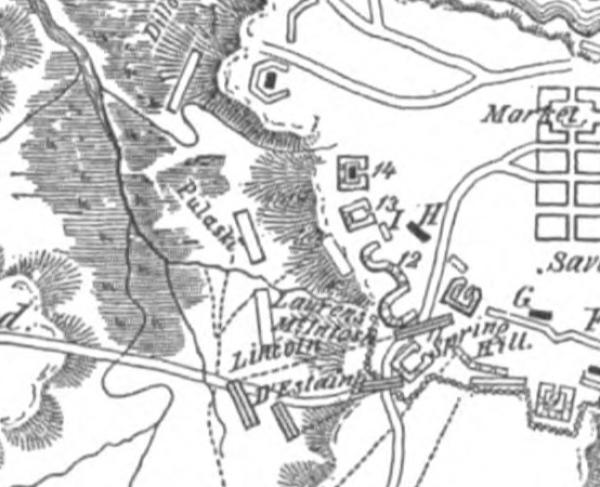 HISTORICAL MAP | The Siege of Savannah, Georgia on September 16 to October 20, 1779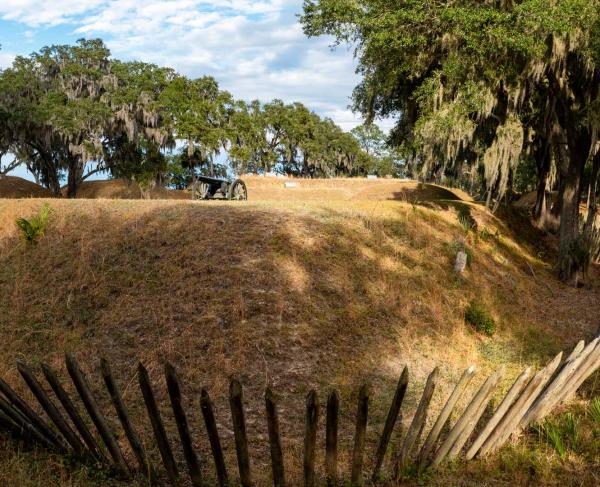 Tour Civil War Charleston and Savannah in Three Days.