Douglas Ullman, Jr.
While the original earthworks Confederate soldiers made using logs from the Gilgal Church for the Battle of Gilgal Church no longer exist, visitors can see a partial reconstruction of what those works would have looked like on the battlefield today. In addition to these works, there is also a stone marker commemorating the battle and the Kennesaw Due West School, which was relocated to the site in the 1980s.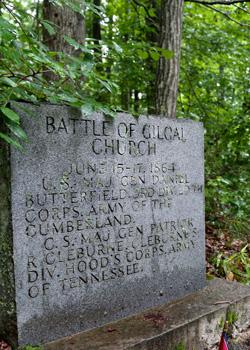 Preservation
Save 52 acres at Chancellorsville, Corinth and Gilgal Church Battlefields.
The American Battlefield Trust and our members would like to save land at Gilgal Church.
Related Battles
Battle Facts
Cobb County, GA | June 15, 1864
Result: Confederate Victory
Estimated Casualties
1,100