Preservation Champion
Warren Middlebrook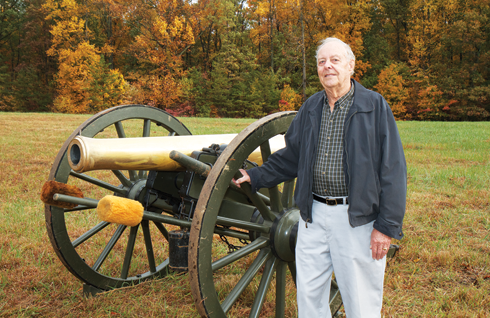 Sitting quietly in his house, Warren Middlebrook gazes out his window to the front yard, then gestures to a large painting that hangs in his living room.
"Years ago, I went to a Fredericksburg Garden Association auction, where I saw this painting of the 140th New York charging across Saunders Field. My wife knew how much I liked it, and so she gave it to me as a present a few weeks later. Now it's hanging in my living room, and I'm the only man in the world who can look at a painting and then look out my front window and see the same thing."
Looking out his front window, Warren Middlebrook sees more than a pristine and well-manicured lawn; he sees history. His front yard comprises a portion of the infamous Saunders Field, the large clearing that was the epicenter of intense fighting that raged for two days during the bloody Battle of the Wilderness on May 5–6, 1864. The fighting here was especially fierce since it was one of the only open fields where Union and Confederate forces engaged during the battle, with the rest of the action contained to the surrounding thickets and tangled woods. Many exceptional stories took place here during the fight, including the actions of Union Lt. John Henry Patterson, who trudged back onto the flame-engulfed field to rescue a fellow officer. Patterson was subsequently awarded the Medal of Honor for his bravery. These stories of sacrifice, along with the men who fought and fell here, make Middlebrook's property arguably one of the most sacred sites in the nation.
"I wouldn't trade it for any place I know of, because it's one of a kind, and I just feel like I'm fortunate to have it," Middlebrook said. "When I bought it, I had no idea, since I really didn't know that much about the Wilderness at the time. But six or seven years after I bought it, I realized I was sitting on a piece of American history."
The property originally belonged to Middlebrook's first wife's relatives, who built the house in which he now lives. Although he may not have known much when he purchased the property in 1957 — nearly a century after the whirlwind of battle engulfed Saunders Field — Middlebrook discovered the unique history of the property after taking a metal detector to it. As he uncovered numerous relics and read everything he could find relating to the Wilderness, Middlebrook's connection to the property and his reverence for its historical value only deepened. For more than 50 years, he played the part of a careful curator, keeping this national treasure in pristine condition. Thanks to his diligent stewardship, the property today remains in excellent condition — ready for its deserved integration into Fredericksburg and Spotsylvania National Military Park (NMP). Such a designation is the highest endorsement of historic significance possible for a piece of battlefield land.
For many years, the Middlebrook tract was a priority acquisition target for the battlefield preservation community since it was an "inholding" — privately held land surrounded by a public park. Middlebrook's longtime stewardship of the property and commitment to ensuring its integrity led him to sell the 49-acre property to the Civil War Trust in 2011, with the understanding that the Trust would work with the federal government to facilitate its subsequent inclusion within Fredericksburg and Spotsylvania NMP. It was a win-win situation for all involved, but Middlebrook was especially satisfied with the deal.
"I sold it to the Civil War Trust because I wanted the National Park Service to get it," Middlebrook explained. "I even had it in my will that it could never be developed, and I knew if I sold it to the Trust, then it would one day be included in the park."
The Middlebrook tract remains in pristine condition, with preservation entities having taken over care and maintenance where Middlebrook left off. He still continues to keep watch over his beloved property, having negotiated a life estate, which allows him to continue living in his home as further preservation and interpretation activities take shape. For his efforts, the Civil War Trust and the battlefield preservation community will be forever grateful to Warren Middlebrook, and Saunders Field will be forever protected as a tangible link to this pivotal moment in the nation's history.