Preservation Champion
Steve McDaniel
Public Servant, Preservationist
Although the Civil War Trust is dedicated to protecting Civil War battlefields across the country, our work simply would not be possible without the support and dedication of a variety of lawmakers and other elected officials at all levels of government. Chief among these many ardent supporters is Rep. Steve McDaniel of Tennessee, who joined the Civil War Trust for an interview in 2009.
Steve McDaniel, who serves as the deputy speaker of Tennessee's House of Representatives, credits the beginning of his intense interest in the American Civil War to, at the age of seven, his discovery of a cap and ball pistol near the Parkers Crossroads Battlefield. Over the years, his interest has grown beyond the preservation of his home battlefield at Parkers Crossroads. He has worked with other historic preservationists to save hallowed grounds across the state of Tennessee. As a member of the Tennessee House of Representatives, he promotes historic preservation among his legislative colleagues, as well as the Executive Branch. Rep. McDaniel was the House sponsor of legislation creating the Tennessee Wars Commission. He served on the Tennessee Civil War Preservation Association's advisory board, and he serves on the Tennessee State Museum Commission. He also served on the Tennessee Civil War Sesquicentennial Commission. In addition, Steve is the historian of the Parkers Crossroads Battlefield Association and is the recipient of numerous preservation awards.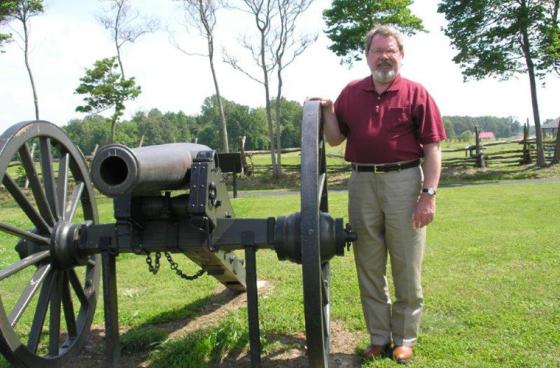 Civil War Trust: Where did your interest in the Civil War come from?
Steve McDaniel: When I was about six years old, I found Civil War artifacts near Parkers Crossroads including a rusty cap and ball pistol. I gave these items to my great uncle and from then on, my love of history continued to flourish. Although I was never a history major in college, I continued to read books on the subject of the Civil War.  
What is your favorite battlefield?
Although I visit Parker's Cross Roads daily, another one of my favorite battlefields is Shiloh. I have visited it about ten times and have enjoyed being there.
Do you read a lot of history books?
I am particularly interested in personal history rather than military history. Hence, I find myself interested in books about former presidents and soldiers during World War II. I also enjoy listening to books on tape since it allows me to maximize my time.
There are many lessons to be learned from the Civil War. What do you think is the greatest?
I think that so many people do not fully understand how the Civil War and the sacrifices made by the men and women during that time shaped the county as and attitudes we have today. Nothing has shaped this country like the Civil War. It was the most tragic time in our history. Many perceptions of war do not go into the depth and understanding of the impact they will have on the future of the United States.
What aspect of the Civil War most resonates with you?
The battlefields where the attacks took place are of the greatest interest to me. I also appreciate historical marks and stories handed down through generations. In the part of Tennessee I am from, there was Union sympathy. In fact, there is a historical marker that pays homage to two Union brothers who were murdered at the site.
Can you trace any family members back to the Civil War?
Yes, I can trace my family roots back to this area starting in the 1820's. In fact, I lived here my whole life except when I went away to the University of Memphis for school. One relative was Private Elijah Bradfield. He was captured in Tennessee and sent to a prison in Andersonville, Ga. Unfortunately for him, he died of malnutrition while serving out his time there. Another relative was Private John Wesley Fesmire. He joined the 27th Tennessee Infantry in April of 1862. He fought at Shiloh and was shot through the knee. After that, he joined Wilson's Calvary but was lame for the rest of his life due to the injury he sustained. Since he had limited mobility, he died a poor man in 1891. In addition to these Tennessee natives, I also know of Private George Kiser who was in a North Carolina regiment. He was captured during the war and imprisoned in Elmira Prison in New York. After the war, his wife moved to Tennessee and settled there.
Why is it important the young people study the Civil War?
Given all of the technological advances over the years, young people today don't understand how hard people worked during the Civil War. Some people think that everyone lived on plantations but that is far from the truth. People, wealthy or not, took great pride in what they had. There were two votes taken on secession, on the first, Henderson County voted no. However, by the time a second vote came around, President Lincoln called to put down rebellions in the South. People felt at that time, that they were defending their homeland. Hence, on the second vote we voted yes to secede. The sacrifices people made were tremendous and heart felt because they felt they were defending their own land and property. So much so that they took up arms. Just to put the devastation into perspective, in the most recent American tragedy, the September 11 attacks 3,000 people died. Hell, we had many, many battles during the Civil War where more than 3,000 people lost their lives. Even today, Civil Wars rage on in places like Rwanda, where people are killing each other. We need to learn that since it is still happening around the world it can happen again. We need to learn from the past.
If you could have been a Civil War general, who would it have been?
I am not even sure if I am worthy to say this, but I would choose Nathan Bedford Forrest. He came from a common background and cared for people. He had the ability to fight successful battles and was very brave. I also admire his ability to lead troops and was even lucky enough to survive the war. He was also Confederate commander at Parker's Cross Roads.
There are many other causes you could support. Why Parker's Cross Roads and why the Civil War Trust?
First, because I live so close to Civil War battlefields and it was the community where I grew up. I wanted to make sure that people knew what historical events occurred here. I wanted to keep the tradition alive. Through the help of the Trust, people have been good to us to assist with this mission at Parker's Cross Roads. We have maintained important partnerships to make sure this land is preserved.
Have any lessons from the Civil War helped you be so extraordinary in politics?
The lessons have consumed me!  I graduated from the University of Memphis in 1973 and returned to Parkers Crossroads for a career in the food service business for the next 30 years. While operating the Cotton Patch Restaurant, I worked to promote the history of the area as well as the need for historic preservation. People who are interested in history want to learn and if they can learn something they will come to the area. Tourists will spend money in the area as a result. This will help with the economic development of the area and will lead to heightened interest in other battlefields. I learned how to get involved with preservation and so I was also able to assist with battlefield preservation because of my interest in Civil War.      
*All facts and figures in this article are from 2009.