Preservation Champion
Douglas W. Bostick: Historian and Longtime Leader of S.C. Battleground Preservation Trust
Late Leader of S.C. Battleground Preservation Trust and Beloved Storyteller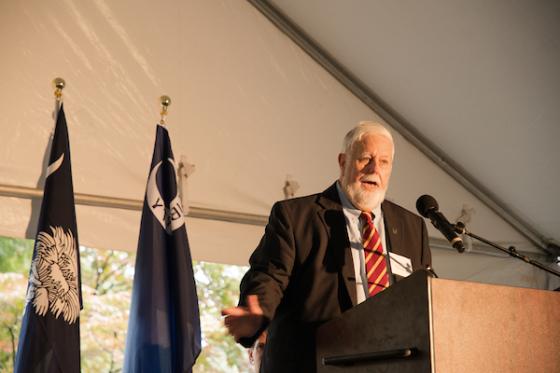 Leaving behind memories of a jovial, larger-than-life personality and a perseverance that led to the preservation of hundreds of acres in South Carolina, Douglas W. Bostick passed away on October 23, 2023. An iconic figure in the South Carolina history and preservation community and longtime leader of the South Carolina Battleground Preservation Trust (SCBPT), Bostick made his life's work safeguarding the Palmetto State's Revolutionary War legacy and imparting it to new generations. His efforts at SCBPT propelled forward the Trust's joint work to create The Liberty Trail, an initiative that seeks to protect the state's Revolutionary War battlefields and unite those disparate sites from the low country to the back country thru innovative digital interpretation. 
Doug Bostick, born in August of 1953, was a native of James Island and an 8th generation South Carolinian. His Palmetto State ancestors date back to colonial times and even include the secretary of the Sons of Liberty during the Revolutionary War. 
Dedicated to the study of history, earned his bachelor's degree from the College of Charleston and his master's from the University of South Carolina. In his long career, he served on the faculty of the University of South Carolina and the University of Maryland and authored some 26 books of nonfiction, covering topics as diverse as Revolutionary War history, South Carolina horse racing and low country foodways. 
Before his dozen years at the helm of the South Carolina Battleground Preservation Trust (SCBPT), Bostick impacted many other leading Charleston institutions through staff work, including Patriot's Point Naval & Maritime Museum and Save the Light, Inc., as well as numerous others for which he volunteered and served in an advisory capacity. His community involvement demonstrated his commitment to various causes and activities, from the public school system to student athletes and Little League baseball.  
Bostick's time with the SCBPT began in 2011. As executive director and CEO of the organization, he flourished as an interpreter and storyteller extraordinaire, served as the chief research historian for all projects undertaken, and supervised archaeologists, GIS technicians and GPS technicians during insightful research projects — such as that of the Camden Battlefield discovery and soldier burials. But his biggest contribution can be found in the hundreds of Revolutionary War acres that are now forever preserved thanks to the leadership he brought forth on The Liberty Trail.