Melissa Sadler
Saved: An Acre at Our 150th Battlefield Site
Great Bridge, Va.
Since its founding in 1987, the American Battlefield Trust has preserved more than 55,000 acres of hallowed ground — places where ordinary Americans struggled, sacrificed and persevered — at 150 sites across the nation. Our 150th site marks an extraordinary point in our war to preserve America's battlefields, but it also defined Virginia's role in the American Revolution: Great Bridge.
Sitting in today's populated city of Chesapeake, Virginia, the Great Bridge Battlefield is surrounded by development threats. The 0.66-acre tract we've saved was listed "for lease," with a sign planted on the land for the potential development of a strip shopping center on this historic spot.
On December 9, 1775, Virginia Patriots changed the course of American history in a matter of minutes when they responded to colonial governor Lord Dunmore's forces — including his "Ethiopian Regiment," made up of enslaved men who had been promised their freedom in exchange for service in the British Army. Upon British artillery firing from Fort Murray toward Patriot works, the alarm was raised by Patriot sentries on the bridge, including William Flora, a free Black man from Portsmouth.
When the British advanced, Flora strategically fired on the enemy. He was the last sentry to leave the bridge and is credited with slowing the British advance and giving the Patriot militiamen time to man their defenses.
Guarded by their works, the Patriots unleashed a surprising, sudden fire, causing the British to suffer enormously. The battle ended in less than 30 minutes in a Patriot victory that ultimately led to Lord Dunmore's departure from Virginia in 1776.
With support from the American Battlefield Protection Program, the Virginia Battlefield Preservation Fund, the City of Chesapeake, the Great Bridge Battlefield and Waterways Foundation and Trust donors, our organization halted commercial development by acquiring the 0.66-acre tract. By ensuring its preservation, the organization brought new possibilities to the small but significant property, so that it can be recognized for its role in America's story. This land will be transferred to the City of Chesapeake and incorporated into the battlefield at large, giving visitors the chance to walk in the footsteps of revolutionary Patriots.
Explore Great Bridge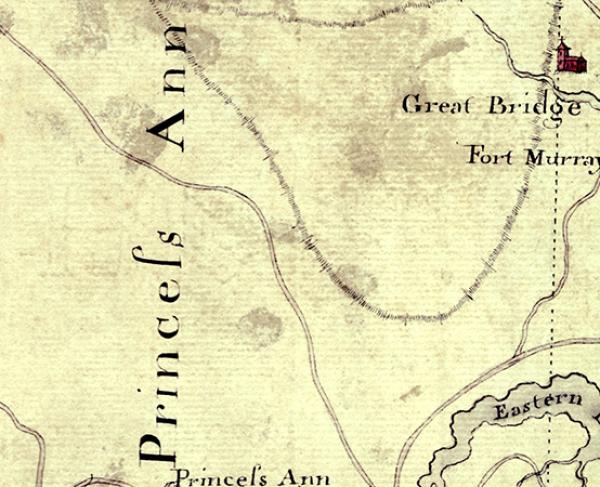 The primary approach to Norfolk, Virginia, was over Great Bridge, which spanned the Elizabeth River. On the morning of December 9, 1775, British...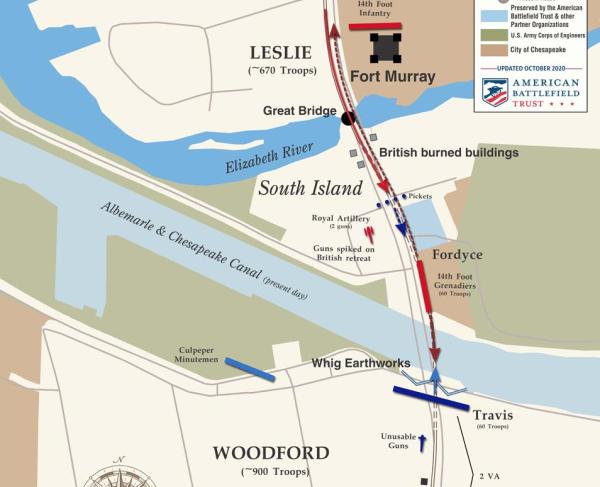 BATTLE MAP | American Battlefield Trust's map of the Revolutionary War Battle of Great Bridge, Virginia on December 9, 1775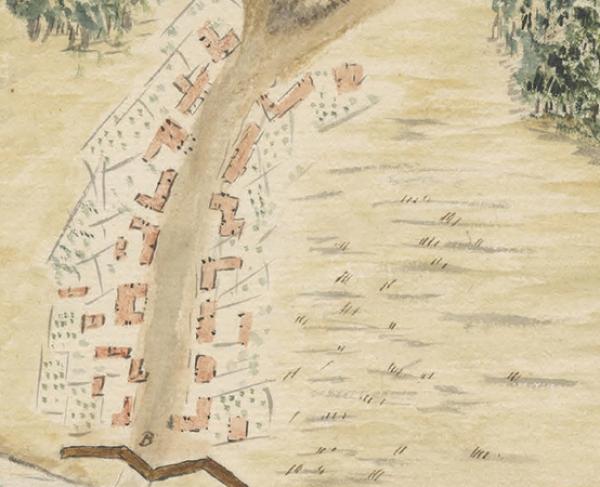 HISTORICAL MAP | Historical map of the Revolutionary War Battle of Great Bridge, Virginia on December 9, 1775.