Chase Guttman
Saved: 25 Acres at Sackets Harbor
We declare a preservation victory as 25 acres of beautiful land at Sackets Harbor, that members of the Trust helped save from 2017-20, has been acquired by New York State. More than 207 years after the May 1813 battle, the land at Horse Island and its causeway will now become important additions to the Sackets Harbor Battlefield State Historic Site.
The Trust acquired the sites with assistance from the New York Division of Parks and a grant from the federal American Battlefield Protection Program — the first time such funding was used to protect a site associated with the War of 1812.
Overlooking Lake Ontario, the site is a destination for water activities, good food, and offers a gorgeous view of the sunset in the western sky above the lake. Sitting on the shore with the winds active, you can imagine how they had an effect on the British vessels during the battle, preventing most of their squadron from joining the fight.
The amphibious assault began on Horse Island, where the Albany Volunteers attempted to stop the British landing only to be overwhelmed by superior numbers. The New Yorkers scurried across the narrow causeway—now preserved thanks to our members—to the mainland with the British in hot pursuit.
The chasing British reached the shore only to find themselves under fire from American artillery. The New Yorkers rallied briefly, firing one volley before retreating to their defenses. British and Canadian troops then assaulted the town of Sackets Harbor, but were repulsed by well-entrenched U.S. Regulars. Though the Americans torched some of their supplies in the Navy shipyard, the British raid on Sackets Harbor had largely failed and the result was victory for the Patriots.
It is also a victory for our members, partnering with the state of New York to honor the early citizen soldiers who fought to defend our infant nation.Acquiring this history land will forever protect the viewshed of the existing historic site from development, create new opportunities to interpret the history of Sackets Harbor, and tell the story of a key battle in America's second war of independence.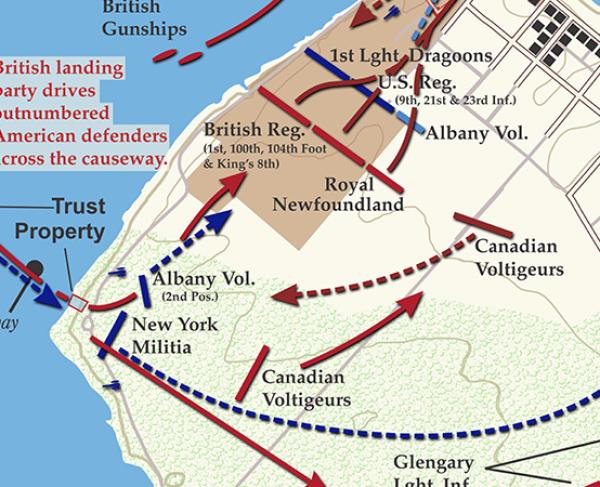 BATTLE MAP | The American Battlefield Trust's map of the Battle of Sacket's Harbor, New York on May 29, 1813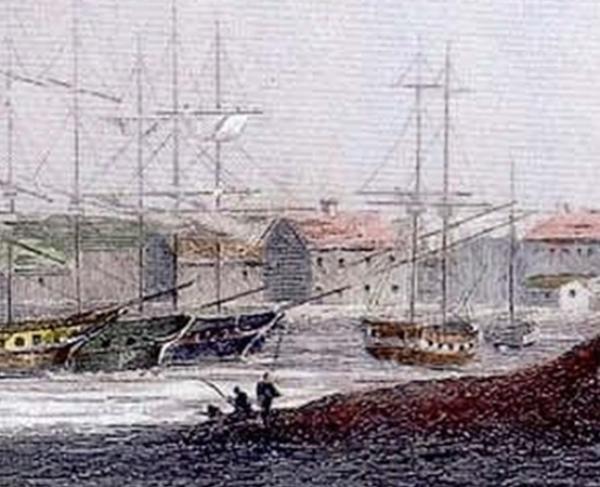 This article explains the significance of Horse Island, New York, the site of the Battle of Sackets Harbor, an American victory fought during the War