Virginia Governor McAuliffe Announces Preservation Victory at Historic Goose Creek Bridge
Governor joins Civil War Trust, NOVA Parks, and other Virginia conservation leaders to celebrate preservation of Upperville Battlefield at Goose Creek Bridge
(Upperville, Va.) – Gov. Terry McAuliffe, the Civil War Trust and NOVA Parks today heralded a preservation victory creating a Northern Virginia park that spotlights one of Virginia's architectural treasures and the Gettysburg Campaign's lesser-known stories.
The governor announced that the two land conservation groups, in concert with the Fauquier and Loudoun Garden Club and the Virginia Department of Transportation, saved 20 acres at the heart of the Upperville battlefield, around and including historic Goose Creek Bridge in Loudoun County.
Built about 1802 when Thomas Jefferson was serving his first term as U.S. president, the 212-foot-long span is one of the last four stone-arch bridges left in Virginia. It figured prominently in the artillery and cavalry duel that began the Battle of Upperville on June 21, 1863, early in the Gettysburg Campaign.
"Goose Creek Bridge is among the more than 1,000 significant sites that have been protected under my administration's Virginia Treasures initiative," McAuliffe said. "Focused on a 'quality over quantity' approach to land preservation, we have protected 1,337 natural, cultural, recreational and conservation-centered treasures across the Commonwealth — far exceeding our goal of 1,000 sites during my tenure. This includes 36 treasures in Loudoun County and 33 in Fauquier County."
McAuliffe spoke at a news conference overlooking the picturesque bridge.  He was joined by Virginia Secretary of Natural Resources Molly Ward, Civil War Trust President James Lighthizer, NOVA Parks Board Member Cate Magennis Wyatt and Loudoun County Board of Supervisors Chair Phyllis J. Randall.  The event was hosted by the national nonprofit Trust and NOVA Parks, which has protected 12,000 acres in six Northern Virginia counties and cities.
Speakers thanked former U.S. Sen. John Warner, who donated 12 acres beside the bridge to the Garden Club years ago, local preservation advocate Ann MacLeod of Upperville, and the Garden Club for their steadfast efforts to protect the Goose Creek Bridge site.  Warner had grazed cattle in the creekside meadow at today's bridge overlook.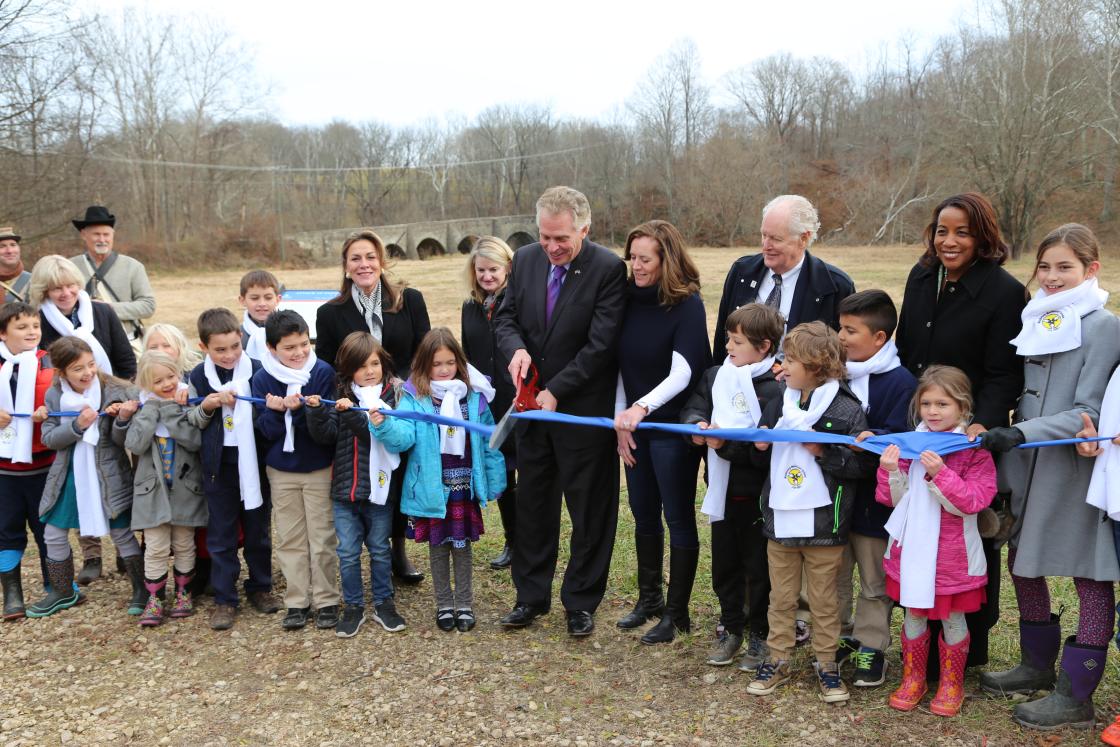 "By preserving the land where these Civil War battles occurred, we are not only protecting Virginia's unique history, but we are also conserving environmental features that millions of Virginians value immensely," Ward said.  "Moreover, nearly all the battlefield preservation work conducted in the Commonwealth has the additional benefit of protecting the vital Chesapeake Bay watershed.
"Virginia and the Civil War Trust enjoy a strong partnership to preserve precious battlefield lands across the Commonwealth that tell vivid stories of America's deadliest conflict, as only such places can," Ward said. "Befitting the state where the greatest number of Civil War battles occurred, the Trust and Virginia have saved 24,700 acres of hallowed ground in the Old Dominion."
"The Civil War Trust, NOVA Parks, the Fauquier and Loudoun Garden Club and the Virginia Department of Transportation have joined together to ensure that this beautiful and evocative landscape is preserved for generations to come," Lighthizer said.  "Together, we are creating a new, publicly accessible park here, building on the success that created a park at the Middleburg battlefield in 2012.  In this way, we are protecting key pieces of an important struggle during the momentous Gettysburg Campaign."
The Civil War Trust intends to convey Goose Creek Bridge's former Garden Club site and an adjoining VDOT parcel to NOVA Parks, the regional agency that will be their public steward. The land straddles the Loudoun-Fauquier line.  Until 1957, when it was abandoned, the site's venerable Ashby's Gap Turnpike was U.S. 50, now a busy east-west thoroughfare.
"Great things happen through partnership," said Magennis Wyatt.  "We at NOVA Parks have been honored to work with the Civil War Trust, the Fauquier and Loudoun Garden Club, and the Commonwealth of Virginia to make this new park a reality.  It has taken the cooperation and common vision of many to make this possible, and we thank all those who have helped these efforts."
"Goose Creek Bridge has a rich history.  It's been an important part of Fauquier and Loudoun Garden Club's history as well," said Aline Day, president of the club.  "For over four decades, our members have worked hard to preserve it, by securing its ownership, by raising funds through grants, donations and ongoing fundraisers, and supervising its upkeep.  We are delighted to be turning over stewardship to such a qualified new owner."
Renowned men and units — such as Col. Strong Vincent and the 20th Maine Infantry, later heroes of Little Round Top — faced Confederate cavalry at Goose Creek Bridge, whose job was to delay the Union army and prevent it from crossing into the Shenandoah Valley.  Federal forces attacked down the steep bank to cross Goose Creek and forced Confederate Maj. Gen. J.E.B. Stuart's horse soldiers to retire to the next high ground to the west.  Ten days later, many of the same players struggled in the war's deadliest battle, at Gettysburg, Pa.
"This historic battlefield will add to the network of historic sites that makes our region a great place to live and visit," said Randall. "American history was made in Loudoun County, and continues to be made.  I thank the Governor, Civil War Trust, and NOVA Parks for making this happen."
Gov. McAuliffe capped the event by firing a mountain howitzer with NOVA Parks' black-powder gun crew, dressed in Civil War period uniforms, and greeting students from Middleburg Montessori School.  Afterward, author and cavalry historian Robert O'Neill led a public tour of the site. In the bottomland and hilly terrain along Goose Creek, history and nature mix, drawing walkers, cyclists, bird lovers, motorists and heritage tourists.
The American Battlefield Trust has preserved 3,500 acres from early Gettysburg Campaign sites at Brandy Station, Aldie, Middleburg and Upperville — all in Virginia.
The American Battlefield Trust is a national nonprofit land preservation organization devoted to the protection of America's hallowed battlegrounds.  It saves the battlefields of the Civil War, the Revolutionary War and War of 1812, and educates the public about their importance in forging the nation we are today.  To date, the Trust has preserved more than 47,000 acres of battlefield land in 24 states.  Learn more at Civilwar.org.
###
To learn more about the Battle of Upperville, visit www.civilwar.org/upperville