News
Two Revolutionary War Preservation Victories Help American Battlefield Trust Achieve 57,000-Acre Milestone
Victories at Eutaw Springs and Guilford Courthouse Let the Trust Celebrate Independence Day with New Benchmark
Mary Koik, (202) 367-1861 x7231 
Melissa Winn, (202) 367-1861 x7252  
(Washington, D.C.) — As the nation approaches the Fourth of July holiday and celebrates American independence, the American Battlefield Trust marks a new milestone of 57,000 acres of America's most hallowed ground saved. The victories that have propelled the Trust to meet that mark include four more acres saved at Eutaw Springs, S.C., land that witnessed significant fighting September 8, 1781, between Continental Major General Nathanael Greene's army and British dragoons and more than a half-acre of land in North Carolina, where the Battle of Guilford Courthouse was fought, a battle many claim was "the largest and most hotly contested action" in the American Revolution's southern theater.
"We can't think of any better way to celebrate this patriotic day than to share the news of our latest Revolutionary War battlefield victories and the exciting fact they have helped us reach this unprecedented milestone," said American Battlefield Trust President David Duncan. "The permanent preservation of 57,000 acres of hallowed ground is a remarkable tribute to the soldiers who fought for our freedoms, whose memory educates and inspires future generations."
The American Battlefield Trust is the nation's leading battlefield preservation organization, having protected land at more than 155 sites across 25 states, from Massachusetts to New Mexico, since 1987.
"We are indebted to our more than 50,000 members who stand beside us in this fight to preserve and pass on these lands and their legacies," Duncan said. "We won't rest with this new milestone reached. Indeed, it only encourages us to carry on and continue our work to save more."  
More than a half-acre of land included in today's announcement played a prominent role in the Battle of Guilford Courthouse on March 15, 1781, when British General Charles Lord Cornwallis's army of 2,300 men engaged a larger force under Major General Nathanael Greene at Guilford Courthouse, near present-day Greensboro, N.C. Adopting a tactic utilized by Daniel Morgan at the Battle of Cowpens, Greene formed his roughly 4,500 men into three lines. The first line was held by North Carolina militia, the second line by militia from Virginia. Continental Regulars composed Greene's third and most formidable line. The concept, known as a defense in depth, was for the first two lines to exhaust the enemy's advance and inflict as many casualties as possible in the hopes of delivering a decisive blow at the third line.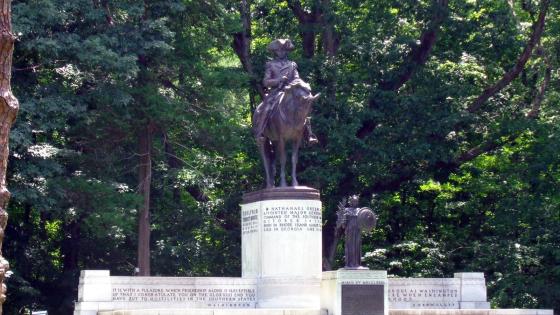 The half-acre of land now saved lies within the Historic Landmark Boundary of Guilford Courthouse National Military Park in the middle of the British advance in the battle, only about two or three hundred feet from where the British engaged Greene's first line. With the land's purchase, the park aims to better tell a holistic story of the Battle of Guilford Courthouse.
Meanwhile, the four newly protected acres in South Carolina played host to soldier encampments and fighting during the August 1781 Battle of Eutaw Springs. The property also boasts a unique feature: it retains a witness tree that has stood sentinel for centuries. In the future, visitors can seek shade under the same boughs that once offered respite to Revolutionary soldiers.
With these victories, the Trust has saved more than 1,400 acres of Revolutionary War battlefield, bringing it closer to its goal of 2,500 acres of Revolutionary War battlefield saved for the upcoming 250th anniversary of America's founding conflict.
The American Battlefield Trust is dedicated to preserving America's hallowed battlegrounds and educating the public about what happened there and why it matters today. The nonprofit, nonpartisan organization has protected more than 56,000 acres associated with the Revolutionary War, War of 1812 and Civil War across 155 sites in 25 states. Learn more at www.battlefields.org.
###