News
Trust Launches "Boots on the Ground," A Manual For Battlefield Friends Groups
User-friendly and robust analysis offers best practices for battlefield friends groups, empowering and strengthening these critical advocates
Jim Campi, (202) 367-1861 x7205
Mary Koik, (202) 367-1861 x7231
(Washington, DC) — Recognizing that even the most dynamic and well-managed park benefits from an engaged cadre of neighbors and supporters, the American Battlefield Trust has sought to codify and articulate best practices for groups supporting relevant historical parks in a new report, Boots on the Ground: A Manual for Battlefield Friends Groups." This user-friendly analysis from the Walker Collaborative, supported by matching grant funding from the National Park Service's American Battlefield Protection Program, discloses best practices for "friends groups" — typically volunteer-driven, non-profit entities that offer support to their associated battlefield park. 
"Battlefield friends groups are invaluable allies in advancing the Trust's overall mission," said Trust President David Duncan. "From acquiring sources of funding to engaging the community in history-related events, they are often key stewards of these parks, and help ensure the protection and relevance of the battlefield in their community." 
With more than 100 friends groups in 26 states directly involved at Revolutionary War, War of 1812 and Civil War sites and the number ever-growing, the manual seeks to galvanize local groups in the effort of keeping our nation's heritage protected. In recent years, development proposals that threaten the livelihood of our hallowed grounds have become increasingly prevalent and powerful – jeopardizing both preserved and un-preserved battlefield land. Due to the nature of their work, often friends group serve as the first line of defense and are the first aware of potential threats or further preservation opportunities. 
"My goal was to create a resource that was equally informative for both established friends groups and those seeking to start a brand-new organization in their community," said principal author Philip Walker. "This manual aims to provide a solid foundation to grow, sustain and improve efforts toward preservation, education, stewardship and management for groups across the country."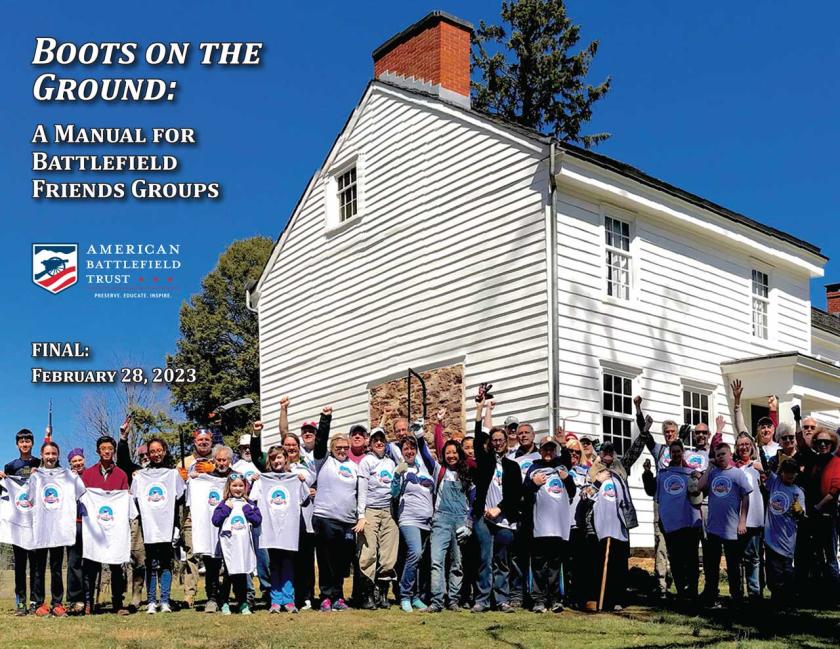 Download Boots on the Ground: A Manual for Battlefield Friends Groups
The manual, available in PDF format on the Trust's website, delves into a wide range of topics from how to build relationships and leadership to performing effective community outreach. With plenty of real-life examples from established friends groups, the best practices guide includes a survey on current active battlefield partners organizations and outlines plans to help achieve and excel in the group's mission. An inventory of friends group and results of the survey are also available in the manual. 
In support of the manual's Preservation Month launch, the Trust is hosting a webinar led by Walker at 1:00 p.m. eastern on May 8, 2023.  Participants will be led through key findings and offered the chance to network with other like-minded organizations across the nation. For more information or to register for the event, sign up via our registration page. 
The American Battlefield Trust is dedicated to preserving America's hallowed battlegrounds and educating the public about what happened there and why it matters today. The nonprofit, nonpartisan organization has protected more than 56,000 acres associated with the Revolutionary War, War of 1812 and Civil War across 155 sites in 25 states. Learn more at www.battlefields.org.    
###