News
Three Cheers for the American Battlefield Trust's First-Ever "Victory Week"  
During National Historic Preservation Month, the nation's leading battlefield preservation nonprofit delivered hefty news of 10 preservation victories
Colleen Cheslak, (202) 367-1861 x7234
(Washington, D.C.) — When the American Battlefield Trust announces "victory," the term signals the completion of a long series of actions taken to save sacred battlefield acreage. It begins with research to document the historic actions that took place on the land, and proceeds through the determination of legal underpinnings and detailed negotiations with landowners. It includes consultation with local groups and decision-makers, complex applications for matching grants and a public campaign to solicit private donations. It doesn't conclude with until all necessary funds, including awarded grants, are received and the land is fully paid for.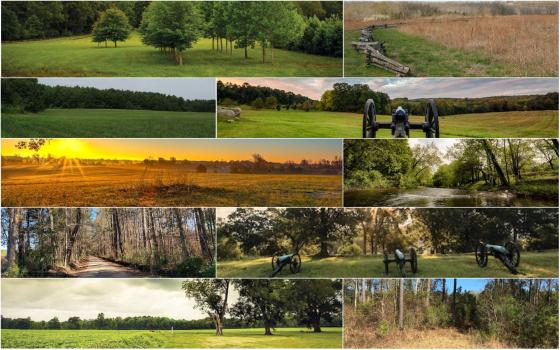 In recognition of National Historic Preservation Month, the Trust declared the period following May 10 its first-ever Victory Week. Through a series of emails and live video sessions with members, it shared behind-the-scenes glimpses of that long process and revealed a diverse round-up of recent preservation victories — some 633 acres at 10 battlefields in six states. This mighty roster included Averasboro, N.C.; Brice's Cross Roads, Miss.; Cedar Creek, Va.; Parker's Cross Roads, Tenn.; Parker's Ferry, S.C.; Port Royal Island, S.C.; Sailor's Creek, Va.; Wilson's Creek, Mo.; and White Oak Road, Va.  
To cap off the week, the organization reminded its members that claiming "victory" on a property does not simply equate to goodbye. At times, it's just the beginning of enacting a new vision for the property through stewardship operations. This can include ongoing maintenance, interpretation — either with physical on-site signs or digital products — and, in some cases, restoration to transport the land back in time to its historic appearance.  
For clarity on "What Goes into an American Battlefield Trust Land Preservation Victory?" and to learn more about these victories, visit www.battlefields.org/victory-week-2021.
The American Battlefield Trust is dedicated to preserving America's hallowed battlegrounds and educating the public about what happened there and why it matters today.  The nonprofit, nonpartisan organization has protected more than 53,000 acres associated with the Revolutionary War, War of 1812 and Civil War. Learn more at www.battlefields.org.  
###