News
Remember the Fallen this Memorial Day Weekend at Sixteen Historic Sites and Museums
Uplift the memories of those who gave their lives in service to the U.S. military, Memorial Day weekend yields a myriad of events and activities recommended by the American Battlefield Trust
Colleen Cheslak-Poulton, (202) 367-1861 x7234
(Washington, D.C.) — In a tradition that formed following the Civil War, Americans have put aside one day each spring to uplift memories of fallen friends and family members who lost their lives in service to our nation. This tradition was once referred to as Decoration Day, denoting a time to care for and decorate hallowed grave markers; officially established in 1971, the last Monday in May marks the federal holiday known as Memorial Day. The national nonprofit American Battlefield Trust — an organization dedicated to preserving battlefields as living memorials to the soldiers who fought there — suggests the following events and activities for Memorial Day weekend 2023. To seek out other destinations, visit the Trust's online events page or explore calendars maintained by the National Park Service and state parks or museums near you. 
March 31 – July 30, 2023: Morris Museum's "At Home with George" Exhibition, Morristown, N.J. 
Explore the Morris Museum's exhibition, At Home with George: Washington's Morristown Winter, 1779–1780, during the 90th anniversary of the establishment of Morristown National Historical Park as the first historical park in the National Park Service. Created with the photographer Xiomáro, who specializes in photographing iconic historical sites to raise awareness of their history, culture, and natural beauty, the exhibit is composed of photographs that capture the Ford Mansion's dual role as domestic space and Washington's 1779-1780 Revolutionary War headquarters. Learn more. 
May 20 – June 3: Flags of Remembrance at River Raisin National Battlefield Park, Monroe, Mich.  
River Raisin National Battlefield Park displays 500 flags each year in honor of all those who have answered the call of their nation to defend, protect and selflessly pay the ultimate sacrifice. Learn More.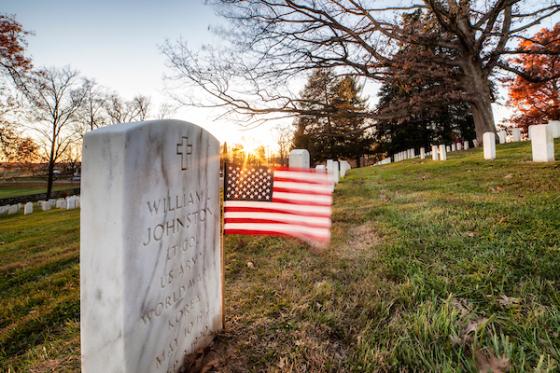 May 20 – July 4: Bedminster's 8th Annual Field of Honor®, Bedminster, N.J.
During the Revolutionary War, Major General Henry Knox made the Vanderveer House his headquarters and displayed a flag of 13 red and white stripes with 13 white stars in a blue field. The Field of Honor® will not only demonstrate how the flag has evolved, but honor modern heroes who gave their lives in service to the United States. Come walk among the 200 U.S. flags on display at the historic Jacobus Vanderveer House to remember the fallen and learn about the events which resulted in their sacrifices. Learn more. 
May 26: Memorial Day Flag Planting with Jean Lafitte National Historical Park and Preserve, Chalmette, La. 
Honor the fallen by joining fellow volunteers at Chalmette National Cemetery to place flags on more than 15,000 headstones. Sign-up is requested. Learn more.  
May 26 – 29: Symbols of Sacrifice at Fort Scott National Historic Site, Fort Scott, Kans. 
Visit the historic fort parade grounds where approximately 7,000 U.S. flags will honor service members who have made the ultimate sacrifice to keep our county free. There will also be daily guided tours that leave from the visitor center at 10 a.m. and 1 p.m. Learn More. 
May 27: A Century of Sacrifice — Stories from the Gettysburg National Cemetery, Gettysburg, Pa. 
Join park rangers at 6:00 p.m. for a free, 90-minute guided walking tour to discuss the creation and history of Gettysburg National Cemetery and highlight the stories of several service members from each of America's armed conflicts — from the Civil War through the war in Vietnam — who were laid to rest there between the years 1863 and 1971. Learn more. 
May 27: Children's Memorial Day Wreath-Making at Mill Springs, Nancy, Ky.
Visit Mill Springs Battlefield National Monument with the family this Saturday! Between 10 a.m. and 3 p.m., a ranger will be in the visitor center to discuss the story of 10-year-old Dorothea Burton and guide young visitors in creating a Memorial Day wreath of their own. Learn more. 
May 27: Symphony at Sunset at Vicksburg National Military Park, Vicksburg, Miss. 
Join the Friends of Vicksburg National Military Park and Campaign and the National Park Service for a free, outdoor pops concert from the Mississippi Symphony Orchestra in front of the park's visitor center. Learn more.  
May 27 – 29: Memorial Day Weekend Living History Event at Fort Larned, Larned, Kans. 
Watch history come to life at Fort Larned this Memorial Day weekend. From blacksmith and firing demonstrations, a 19th-century baseball game, a program at the fort's cemetery, and more, you'll walk away feeling an appreciation for the past and respect for those who made the ultimate sacrifice through service. Learn more.  
May 27 – 29: Remembering the Vacant Chair — the Civil War Origins of Memorial Day, Baltimore, Md. 
This Memorial Day weekend, Fort McHenry National Monument and Historic Shrine will offer special programs focusing on the Civil War origins of the holiday. Visitors can experience the sights and sounds of the Civil War through living history demonstrations or take a walk through the Star Fort with a ranger to learn about its controversial role in the Civil War as the "American Bastille." Learn more. 
May 27 – 29: Carronade Weekend and Memorial Day at Perry's Victory and International Peace Memorial, Put-In-Bay, Ohio 
After a weekend of firing demonstrations on an array of historic weapons, the National Park Service site will hold a Monday Memorial Day service on the steps of the memory-filled monument to honor not only the fallen from the Battle of Lake Erie — but all servicemembers who gave their lives in the pursuit of defending the United States. Learn more. 
May 27, 29: Luminaria and Memorial Day Commemoration at Fredericksburg National Cemetery, Fredericksburg, Va. 
Pay your respects to the fallen through two different events at the Fredericksburg National Cemetery this Memorial Day weekend. On Saturday, May 27, the 28th annual luminaria experience will begin at the cemetery around 8 p.m. During the event, 15,300 candles will be lit to represent each soldier buried in the cemetery and honor those who died in the service of this country. Park rangers will be posted throughout the cemetery to relay stories about some of the soldiers. On Monday, a commemorative program will be held at the cemetery at noon and include a keynote speech, concluding with a bugler performance of "Taps." During the day, park rangers will offer free guided tours of the Sunken Road, a significant part of the Fredericksburg Battlefield. Tours will start at 10:30 a.m. and 2 p.m. outside the visitor center. Learn more. 
May 28: Memorial Day at Stones River National Cemetery, Murfreesboro, Tenn.
Remember the sacrifices of soldiers, past and present, by joining the National Park Service for a Memorial Day service at the Stones River National Cemetery. Expect moving music, a wreath-laying and a three-volley salute by the Ninth Kentucky Infantry, U.S. Learn more. 
May 29: Memorial Day Ceremony at Shiloh National Cemetery, Shiloh, Tenn.  
Join Shiloh National Military Park for its annual Memorial Day observance ceremony in the Shiloh National Cemetery. This time-honored service will include music, patriotic salutes and the laying of a wreath on the grave of an unknown soldier. Everyone is invited to bring lawn chairs and blankets. Learn more.  
May 29: Memorial Day Program at Antietam National Battlefield, Sharpsburg, Md. 
Head to Antietam National Battlefield for a Memorial Day program featuring keynote speaker Dr. James Broomall, music from the Hagerstown Choral Arts, and a cannon salute by the park's volunteer group. Later, join a park ranger for an approximately three-hour guided tour of the battlefield. Learn more.  
May 29: Memorial Day Observance at the World War II Memorial, Washington, D.C. 
Pay tribute to the more than 400,000 Americans who lost their lives during World War II by joining the National Park Service and the Friends of the National World War II Memorial for a Memorial Day observance ceremony. There, you'll witness veterans of the conflict lay wreaths at the Freedom Wall in memory of their fallen comrades. While free and open to the public, advance registration is requested. The event will also be streamed live to the Friends' Facebook page. Learn more.  
The American Battlefield Trust is dedicated to preserving America's hallowed battlegrounds and educating the public about what happened there and why it matters today. The nonprofit, nonpartisan organization has protected more than 56,000 acres associated with the Revolutionary War, War of 1812 and Civil War across 155 sites in 25 states. Learn more at www.battlefields.org. 
###