News
Philanthropist and Preservation Advocate John L. Nau Receives American Battlefield Trust Lifetime Achievement Award
National preservation advocate named Trustee for Life; will be honored with permanent marker on historic Vicksburg Battlefield
Mary Koik, (202) 367-1861 x7231 
(Washington, D.C.) – Recognizing his decades of steadfast work on behalf of this nation's history, the American Battlefield Trust has presented exemplary preservationist and park advocate John Liston Nau, III, with its Lifetime Achievement Award, further taking the exceptional step of naming him a member of the organization's board of trustees for life.  Moreover, emphasizing the transformative nature of his contributions to the battlefield preservation movement through his advocacy, the organization renamed its exiting national leadership award for federal officials in Nau's honor. A permanent testament to this profound legacy will be a stone marker with bronze table placed on his beloved Vicksburg Battlefield in Mississippi.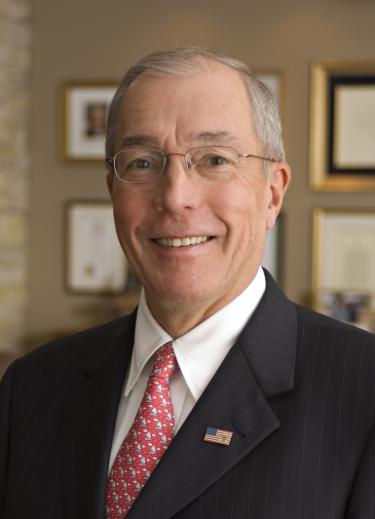 "John Nau is a giant in the field of historic preservation, not only because of his personal generosity over the past 25 years but for his game-changing advocacy on both the federal and state levels," said Trust President David Duncan.  "His efforts have led to the creation of historic parks, the expansion of existing park boundaries to include highly significant battlefield land, and continued funding for battlefield preservation in Washington and throughout the country." 
The Trust presents its lifetime achievement award infrequently and bestows the distinction of Trustee for Life even less so. The Trustee for Life designation has only been given two times previously in the organization's 35-year history: to Edwin C. Bearss – wounded World War II veteran, historian emeritus of the National Park Service and legendary battlefield guide (1923-2020) – and James Lighthizer, who served as president of the Trust for 22 years.  
In summarizing his personal commitment to battlefield preservation, Nau cites not only the hallowed nature of this ground and its impact on American history, but points to the unique perspective of many early preservationists. "The veterans themselves initiated the original battlefield preservation movement and spearheaded the creation of parks at Chickamauga and Shiloh, Gettysburg and Antietam, which has since become a larger effort," said Nau. "They themselves knew it was important, not only for the memory of those comrades who didn't survive to return home, but for the generations moving forward." 
A number of significant improvements to National Park Service (NPS) infrastructure with regard to battlefields and military history units have taken place since Nau's tenure with the organization began.  These include the expansion of the successful American Battlefield Protection Program matching grants to cover interpretation and restoration efforts, as well as the acquisition of landscapes at Revolutionary War and War of 1812 sites.  Moreover, new park units were established at Camp Nelson National Monument (Ky.), Fort Monroe National Monument (Va.), Mill Springs Battlefield National Monument (Ky.) and River Raisin National Battlefield Park (Mich.), among others. He was also instrumental in advocating for major park boundary expansions at Kennesaw Mountain National Battlefield Park (Ga.), Petersburg National Battlefield (Va.), Shiloh National Military Park (Tenn.), Vicksburg National Military Park (Miss.) and Wilson's Creek National Battlefield (Mo.) and numerous other measures that enable a more robust and nuanced telling of American history on the places central to that story. Nau also worked toward passage of the Great American Outdoors Act to address maintenance and upkeep needs on public lands in 2020.  
"By creating an incredible network of public-private partnerships, John Nau has successfully transformed privately owned battlefield land into national parks," said Sen. John Cornyn (R-TX). "These parks bring textbook pages to life for countless Americans and will continue to educate future generations on important moments in our history." 
Nau also extends significant personal generosity to individual projects at battlefield parks. In 2022, he facilitated $2 million in contributions from the American Battlefield Trust and National Park Foundation toward largescale rehabilitation projects at Gettysburg National Military Park. Recognizing the necessity of having strong local support for vibrant parks, he's helped endow the creation of battlefield partner groups including the Manassas Battlefield Trust and Friends of Vicksburg National Military Park and Campaign. 
"This is an award John Nau richly deserves for all of his work: for saving our battlefields, for creating parks, for moving government to create a private-public partnership to invest in these," said Speaker of the House of Representatives Kevin McCarthy (R-CA). "This effort is so the next generations can understand our history and can enjoy the beauty of our country. It is an investment not just for our children, but for our children's children."   
A veteran of the U.S. Marine Corps, Nau has spent a lifetime studying American military history, developing a special fascination with the Civil War, even as his extraordinary corporate career progressed. He first became involved in historic preservation issues in his adopted home state of Texas, before rising to the national stage by virtue of the same professional acumen. In 1999, he was first elected to the Board of the American Battlefield Trust, rising to a term as chairman from 2009-2011. He was appointed by President George W. Bush to chair the federal Advisory Council on Historic Preservation, serving from 2001-2010. In 2008, he joined the National Park Foundation Board of Directors, a position he still maintains.  
Nau's passion for American history and his commitment to service are evident in the broad spectrum of organizations with which he is involved. He is the current Chairman of the Texas Historical Commission, Regent of the Andrew Jackson Foundation, member of the board of directors for Abraham Lincoln Presidential Library Foundation, Gilder Lehrman Institute of American History, Friends of Vicksburg National Military Park and Campaign, National Park Foundation and The Admiral Nimitz Foundation. Nau formerly served on the Board of Visitors of his alma mater, the University of Virginia, where he is the chief benefactor and namesake of the John L. Nau III Center for Civil War History.
The American Battlefield Trust is dedicated to preserving America's hallowed battlegrounds and educating the public about what happened there and why it matters today. The nonprofit, nonpartisan organization has protected more than 56,000 acres associated with the Revolutionary War, War of 1812 and Civil War across 155 sites in 25 states. Learn more at www.battlefields.org.  
###