News
Nonprofit's Third Annual "Victory Week" Lauds Preservation of 441 Historic Acres Across Four States
Amidst National Preservation Month, the American Battlefield Trust's 2023 Victory Week puts a spotlight on recent preservation success stories, including at the famed Antietam Battlefield
Colleen Cheslak-Poulton, (202) 367-1861 x7234
(Washington, D.C.) — One of the most fulfilling tasks the American Battlefield Trust carries out is sharing news of its preservation victories when the sometimes-complicated efforts cross the finish line. Through its third annual "Victory Week," the leading battlefield preservation nonprofit joyously conveyed that 441 acres of hallowed ground across eight properties on five different battlefields — associated with the Civil War's Eastern and Western Theaters — have been deemed "preserved forever." Included in this mass accomplishment are projects at Antietam, Md. (one acre), Belmont, Ky. (one acre), Chattanooga, Tenn. (eight acres), Mill Springs, Ky. (239 acres), and Upperville, Va. (190 acres).
"This week allows us to not only celebrate — but illustrate all that it entails to accomplish our preservation mission," said Trust President David Duncan. "The phrase 'it takes a village' comes to mind when thinking about the extensive efforts of dedicated Trust staff members, partners and donors, that come together to generate what we call 'preservation victories.'"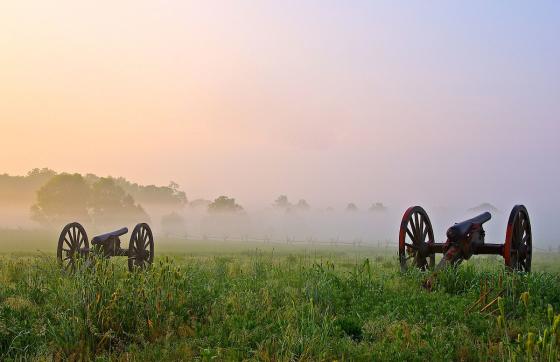 Taking place amidst National Preservation Month, Victory Week provides an opportunity for the organization to celebrate its success by sharing a diverse roster of preserved properties, plus exercise transparency among its membership by detailing the steps taken to reach the status of "victory" on such properties. The Trust's use of the term signifies the conclusion of its long and arduous process to save, and often restore, battlefield acreage. From researching and confirming the historic actions that unfolded upon the pinpointed soil, to  negotiating with landowners and performing full due diligence, to consulting local groups and decisionmakers, to hunting down all possible funding sources and sharing preservation opportunities with donors, to finalizing the legal transaction and having the full array of funding sources (ex. grants, partner pledges, donor contributions) in hand, these operations depend on collaboration.
Demonstrating the strength that collaboration can provide, Victory Week's newly saved acreage at the Antietam Battlefield in Sharpsburg, Md., was enabled through the Trust's long-standing relationship with the Save Historic Antietam Foundation (SHAF), as well as the American Battlefield Protection Program (ABPP). The site where Confederate artillery engaged in actions to repulse Maj. Gen. Ambrose Burnside's final attack during the single bloodiest day in American history, the nearly one-acre property at Antietam was preserved in perpetuity through a grant the Trust provided to SHAF, with additional financial support stemming from ABPP. Teamwork of this nature has led to the Trust's preservation of approximately 468 acres at the legendary battlefield.
Together, the 441 protected acres within this year's Victory Week roster hold connections to the past that can augment interpretation and the overall visitor experience at these battlefield sites. Such a possibility would not be enabled without the support of the following partners: American Battlefield Protection Program, Commonwealth of Kentucky, Kirkby Farms, LLC, Old Dominion Land Conservancy, Save Historic Antietam Foundation and Tennessee Civil War Sites Preservation Fund via the Tennessee Wars Commission.
The Trust continues to seek out preservation opportunities at a variety of properties, whether they be threatened by imminent development, diverse in terms of history and geography or beloved staples in local communities. Learn more about current preservation campaigns at www.battlefields.org/give/save-battlefields. 
The American Battlefield Trust is dedicated to preserving America's hallowed battlegrounds and educating the public about what happened there and why it matters today. The nonprofit, nonpartisan organization has protected more than 56,000 acres associated with the Revolutionary War, War of 1812 and Civil War across 155 sites in 25 states. Learn more at www.battlefields.org.
###