Nonprofit Preservation and Archaeology Groups Join Forces to Help Veterans Readjust To Civilian Life
American Battlefield Trust and American Veterans Archaeological Recovery team up with National Park Service to support veterans and help bridge the divide between military service and civilian life
(Stillwater, N.Y.) — The American Battlefield Trust and American Veterans Archaeological Recovery (AVAR) announced today that they are teaming up with Saratoga National Historical Park to bring veterans together and utilize their unique skillsets to reveal buried secrets of American Revolutionary War history.  Together, the nonprofit and National Park Service (NPS) will undertake an archaeological survey of the Barber Wheatfield, a historic site associated with the 1777 Saratoga battlefield, set for late Spring 2019.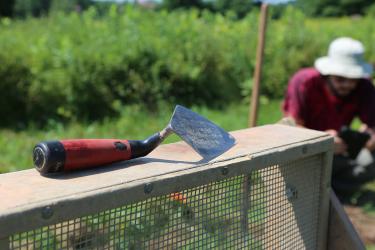 Alongside exceptional community support, the project is partially funded by a grant from the American Battlefield Trust and will consist of two phases; first will be a metal detector survey and limited excavation, followed by artifact cataloging and documentation. Iraq, Afghanistan and Vietnam veterans will participate under the guidance of NPS archaeologists and Advanced Metal Detecting for the Archaeologist (AMDA) — a special agreement between NPS, AVAR, and the Trust ensures use of modern preservation methods and makes the project possible.
"Just as the American Revolution was central to our nation's founding, supporting our veterans is crucial to our future," said Jim Lighthizer, Trust president. "Through this partnership, we have a unique opportunity to recognize today's veterans while discovering the lost secrets of those who fought and fell at Saratoga. We are proud of our role and thrilled to provide a bridge between modern and historic military."
"Saratoga National Historical Park is honored to host American Veterans Archaeological Recovery," said Amy Bracewell, Superintendent of Saratoga NHP. "This project will give us a better understanding of the battle and events that unfolded at Saratoga. Connecting modern veterans to this sacred battlefield and getting their help with this archeological study brings our nation's history full circle and emphasizes the importance of this project."
"This important project allows us to empower veterans as they reconcile the differences between military and civilian life," said Stephen Humphreys, AVAR Chief Executive Officer. "Our priority is to provide veterans with opportunities to highlight their skills and work toward something bigger. Together, we can bring people together and contribute to our understanding of American history."
The project's goal is to investigate the artifact patterning from the Second Battle of Saratoga — a turning point in America's fight for independence — while providing veterans with lifelong support systems, transferable skills, a therapeutic outlet, and an opportunity to participate in something larger than themselves. AVAR projects build a community for participants and help bridge the divide between military service and civilian life by giving veterans high-level training and a sense of belonging. Archaeology projects like the Saratoga survey let veterans see how their contributions make a difference to a mission that matters; the results of this work has the potential to change our understanding of history, a parallel to missions performed while serving.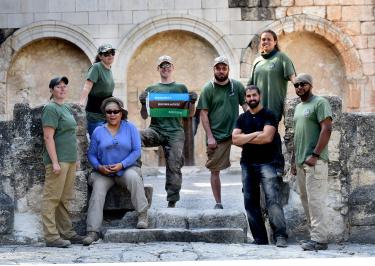 AVAR's work can also provide important historical insights. The project's site, Barber Wheatfield, was host to the second battle of Saratoga and the veterans' findings could help clarify the events that occurred as American and British forces clashed on the battlefield. While this project is integral in the analysis of the archeological record at Saratoga, the work is also invaluable to the wellbeing of our nation's veterans and the preservation of our history.
The Trust, AVAR, and Saratoga National Historical Park are pleased to participate in this strong partnership, along with the support of the Wounded Warrior Project and AMDA and look forward to future results and additional projects. 
Earlier this year, the American Battlefield Trust was recognized for its commitment to preserving American history through its selection by the Department of the Interior to serve as the national nonprofit partner to the United States Semiquincentennial Commission. The Trust will work in tandem with the Commission to plan and coordinate the 250th anniversary of America's founding.
About the American Battlefield Trust
The American Battlefield Trust is dedicated to preserving America's hallowed battlegrounds and educating the public about what happened there and why it matters today. The nonprofit, nonpartisan organization has protected more than 50,000 acres associated with the Revolutionary War, War of 1812, and Civil War. Learn more at www.battlefields.org.
About the American Veterans Archaeological Recovery (AVAR)
American Veterans Archaeological Recovery (AVAR) uses archaeology projects to help veterans find a new sense of mission and purpose, build community, and learn vocational skills. AVAR has put over 60 veterans on excavations in the USA, UK, and Israel since inception, thanks to a National Geographic Education grant. Learn more at www.americanveteransarchaeology.org.   
About Saratoga National Historical Park
Saratoga National Historical Park is a unit of the National Park Service and was established in 1938 by Franklin Delano Roosevelt to commemorate the decisive American victory at the battles of Saratoga in 1777. Known as a critical turning point in the War for American Independence, the American victory at Saratoga became the first time in world history that the British army surrendered to the opposition. This victory also influenced France to provide support to the new nation for its independence. Visit us at www.nps.gov/sara.