News
Modern Technology Provides Viewers With a Taste of Life as a Revolutionary War Soldier
The American Battlefield Trust and Wide Awake Films lean on virtual reality to unleash new understanding of the nation's founding conflict
Colleen Cheslak, (202) 367-1861 ext. 7234
(Washington, D.C.) — Once again, the American Battlefield Trust has merged the past with the present by mixing traditional historical narratives with modern-day technology. The organization's newest virtual reality (VR) experience, Soldier Life of the American Revolution, places viewers in a 360-degree perspective of what daily life would have looked like during that founding conflict. This captivating experience will show viewers the atmosphere of a military camp, the chaotic nature of woodland fighting and the perilous horrors of late 18th-century medicine and warfare.  
"Preservation, education and innovative technology all go hand-in-hand, as demonstrated in this latest virtual reality project," said Trust President David Duncan. "We hope that, through the immersive experience, viewers will see the Revolutionary War in eye-opening new ways."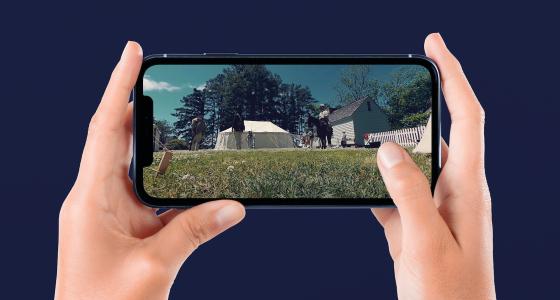 The American Battlefield Trust, the nation's premier heritage land preservation organization, has long worked to educate individuals by building bridges into the past through historically rich experiences. In recent years, the nonprofit has made use of groundbreaking VR technology to transport viewers to another time and place, conveying a sense of up-close emotion that other methods cannot. Following the success of Civil War 1864: A Virtual Reality Experience — which has amassed 40 million YouTube views since its November 2019 launch — the Trust recognized an obvious opportunity to take its audience even further back in American history. Thus, the idea for Soldier Life of the American Revolution took root.
In this Revolutionary-era VR iteration, audiences are met with panoramic views of camp life, battle and the painful aftermath of fighting. Not only through the eyes of Patriot soldiers does the audience witness these occurrences — but also through the perspective of British troops and female nurses. Those using a virtual reality headset or cardboard viewer can take advantage of the product's directional sound, while mobile devices enable users to pinch-and-zoom for a closer look at specific details. Either method gives viewers a degree of control to explore the scenes from the angle that most interests them while tuning in to the narrator's insightful commentary. While not every student of history can grasp the reality of life amid the Revolutionary War from a book, many will find the sensory-filled digital resource to be a refreshing tool that enhances history education.
Seeking to pursue, experiment, and build a foundation for an education-oriented VR collection, the Trust turned to its longtime partners at Wide Awake Films, a Kansas City, Mo.–based creative media group focused on innovative, efficient execution of historical, commercial and corporate films. With their expert skillset proven time and again, the media group remained dedicated to producing footage with an authentic feel.
"We really try to assemble the scratch-golf level reenactors of any era that we depict. They bring a richness of clothing, possessions, knowledge and attitude to our sets that really lends itself to the pace of VR viewing experiences," said the company's founder Shane Seley. "Each shoot we do like this lets us help to magnify the amazing craft put on display by our reenactor participants. It's inspiring to have that privilege."
As Wide Awake Films simultaneously shot other 4K and drone footage, they strategically positioned VR cameras around the period sets and let them roll. What viewers of Soldier Life of the American Revolution see is the product of reenactors in character, bringing the past to the present.
Soldier Life of the American Revolution is only one video in what the Trust hopes will become an extensive catalogue of virtual reality experiences.  It is clear by numbers alone that the expansion of the Trust's VR library holds great potential for pushing the world of history education into new, pivotal directions. Those who are eager for more VR content can soon expect a new experience that details the Battle of Antietam.   
The Soldier Life of the American Revolution: A 360 Virtual Reality Experience can be found on the Trust's YouTube channel, where it is listed alongside the organization's collection of more than 900 videos.  
The American Battlefield Trust is dedicated to preserving America's hallowed battlegrounds and educating the public about what happened there and why it matters today. The nonprofit, nonpartisan organization has protected more than 55,000 acres associated with the Revolutionary War, War of 1812 and Civil War. Learn more at www.battlefields.org.
###