News
The Liberty Trail Celebrates the Groundbreaking of Walking Trails at Four Battlefield Parks
The American Battlefield Trust and South Carolina Battleground Preservation Trust's Liberty Trail continues to blaze forward, so that visitors may soon engage with South Carolina's Revolutionary story at the places it unfolded
Jennifer Howard, 843-709-4192
Steward Terra Communications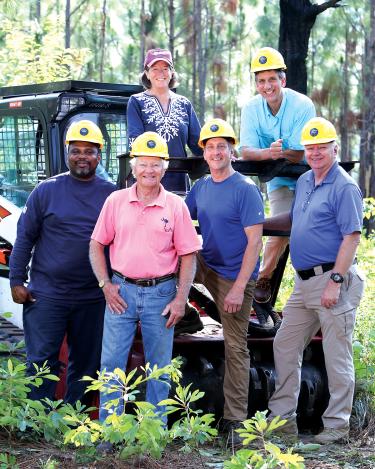 (Washington, D.C.) – The Liberty Trail, a project of the American Battlefield Trust and South Carolina Battleground Preservation Trust, and its local and state partners have broken ground on trails at four significant Revolutionary War sites across South Carolina: Fort Fair Lawn, Camden, Waxhaws and Hanging Rock. These sites, along with Eutaw Springs, will be battlefield parks in the first phase of The Liberty Trail.
"The creation of new trails at parks across the state will draw visitors young and old to step back in time and imagine what life was like during the American Revolution," said American Battlefield Trust President David Duncan. "The philosophy that there is power in place is at the very heart of The Liberty Trail."
More than 200 battles and skirmishes occurred in South Carolina during the war, from the Lowcountry to the Midlands and Upstate.  The Revolutionary War touched nearly every county in the state. The Liberty Trail is a unique initiative that combines land preservation, cutting edge digital interpretation and traditional on-site tourism infrastructure to create a unified narrative of the Revolutionary War in South Carolina.
"Through The Liberty Trail, we are working to preserve and interpret the most significant Revolutionary War sites in South Carolina," commented Doug Bostick, executive director, South Carolina Battleground Preservation Trust. "This work would not be possible without close coordination with and support of local and state governments, nonprofits and Friends groups that allow us access and help us maintain these sites."
Partnerships with the following organizations have made these groundbreakings possible: Lord Berkeley Conservation Trust, Berkeley County, Berkeley Museum, former state Senator Vincent Sheheen, Lancaster County, Friends of Buford Massacre, Historic Camden Foundation, Kershaw County, Town of Heath Springs, and numerous other organizations and volunteers.
###
About The Liberty Trail
The Liberty Trail is a joint effort of the South Carolina Battleground Preservation Trust and the American Battlefield Trust, assisted by numerous partners at the local, state, and federal levels.  The statewide driving tour functions as a one-of-a-kind educational and heritage tourism resource through which key battlefields of the Southern Campaign of the American Revolution will be preserved, interpreted, and promoted. For more information on The Liberty Trail initiative, including historic background and a list of those sites that are part of the Initial Phase of the project, visit www.thelibertytrail.org. As The Liberty Trail takes shape, partners, friends, and history enthusiasts are invited to follow its progress on social media using the hashtag #TheLibertyTrail.