News
Generations Youth Event At Lee's Headquarters Kicks Off Gettysburg 160th Anniversary Commemoration
American Battlefield Trust and Seminary Ridge Museum to Encourage Young People to Learn About This Pivotal Battle Ahead of Anniversary Events
Contact: Mary Koik, (202) 367-1861 x7231 
(Gettysburg, Pa.) — As the 160th anniversary of the Battle of Gettysburg approaches, young history lovers will join the American Battlefield Trust and Seminary Ridge Museum at General Lee's Headquarters on Friday June 30 for a hands-on and family-friendly way to kick off a weekend of commemorative events on the battlefield. The Battle of Gettysburg marked a turning point in the Civil War, July 1-3, 1863.       
"Exploring the soldiers' experience through our Generations program helps fuel students' curiosity and passion," said Trust President David Duncan. "We hope they'll carry these attributes into the classroom and their lives."    
Generations programs are free to adult participants accompanying a young person with whom they'd like to share their interest in America's past — whether that is a son, a granddaughter, a nephew, or a friend's child (the ideal ages are 6-17). After assembling at 4:30 p.m., groups choose their side and are issued uniforms and wooden muskets. From then until 6:35 p.m., they'll learn how to march and fire cannons, gaze at historic photographs through 3D glasses, explore how Civil War soldiers lived and fought, learn how Civil War doctors saved lives, and explore the history behind those three critical days in July 1863.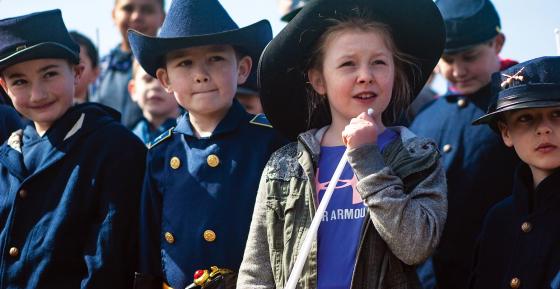 "The opportunity to instill in kids a lifelong interest in history is especially poignant as we commemorate this crucial battle of the Civil War on the very ground it occurred," said Garry Adelman, the Trust's director of history and education. "We're going to learn how Civil War soldiers fought and lived as we walk the very ground ourselves that they did 160 years ago."  
Commemorative activities for the battle anniversary continue through July 3, as Trust historians partner with or participate in events hosted by the National Park Service, the Seminary Ridge Museum, the Adams County Historical Society and more.  
On the evening of July 1, Trust Chief Historian Garry Adelman and Deputy Director of Education Kristopher White will participate in the panel discussion "From Gettysburg to Normandy and Beyond: The Next Generation of History on YouTube" at the Adams County Historical Society's Beyond the Battle Museum.   
The museum will also be exhibiting rare artifacts associated with the Battle of Gettysburg from the West Point Museum in New York on July 1 and 2, from 1 p.m. to 4 p.m.  
On Sunday evening, Adelman will be on hand with legendary photo historian William Frassanito and other colleagues from the Center for Civil War Photography for the unveiling of a never-before-seen photograph showing the aftermath of battle and treatment of wounded at Camp Letterman.  
Stay tuned also to the Trust's YouTube Channel and Facebook page for LIVE coverage of events and happenings for the duration of the anniversary period.    
The Trust and Seminary Ridge Museum have enjoyed a long partnership, offering an array of educational opportunities to Gettysburg visitors, including battlefield tours, exhibits, historian talks and more. The Seminary Ridge Museum, in the Lutheran Seminary's 1832 Schmucker Hall, became a Union observation post on the battle's first day and then a field hospital that tended to the battle's wounded soldiers.       
The American Battlefield Trust is dedicated to preserving America's hallowed battlegrounds and educating the public about what happened there and why it matters today. The nonprofit, nonpartisan organization has protected more than 56,000 acres associated with the Revolutionary War, War of 1812 and Civil War across 155 sites in 25 states. Learn more at www.battlefields.org.     
###