News
Battlefield Parks Fuel Local Economies and Boost Heritage Tourism, New Analysis Finds
For Veterans Day, Civil War Trust releases report on value to U.S. communities of preserving historic sites from various American wars
(Washington, D.C.) – On Veterans Day each year, the nation honors the men and women who serve, and have served, in the U.S armed forces. The day is an annual testament to every American who has worn their country's uniform.
The Civil War Trust is proud and privileged to honor America's servicemen and women every day through preserving the battlefields where soldiers fought and fell. Our preservation of these storied sites directly benefits the local communities that steward these places from the Civil War, Revolutionary War and War of 1812.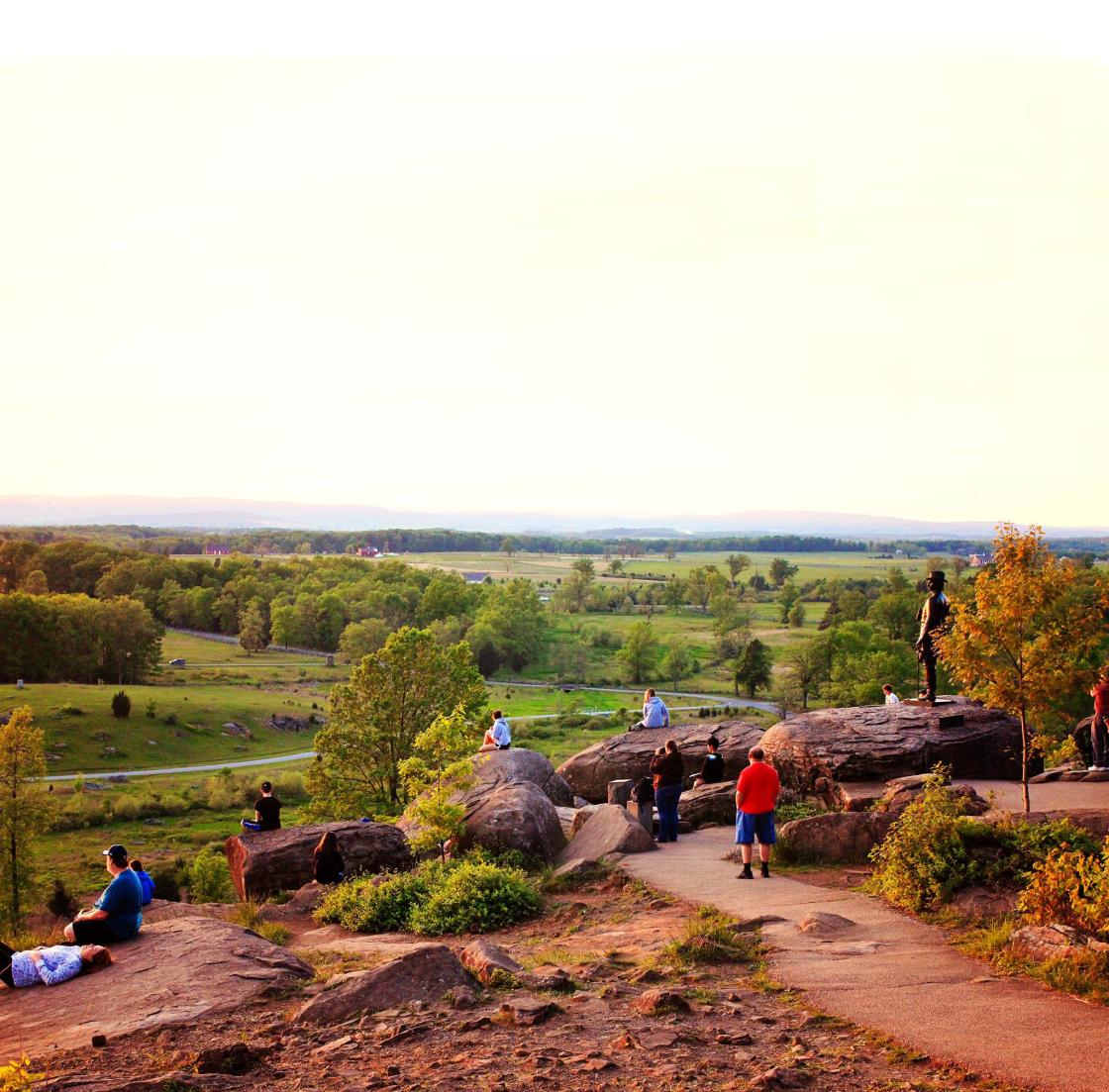 This week, the Trust is pleased to release an exciting new look at the nature and scale of these benefits in geographically diverse locations ranging from Virginia to Hawaii and battlefields from Gettysburg to Little Bighorn. These historic sites support jobs, attract visitors, create opportunities for local business, and contribute to state and local coffers.
Battlefields' benefits pack a wallop, directly affecting residents and enterprises nationwide, said Michele Archie, a principal and economic analyst at The Harbinger Consulting Group.
At the request of the Civil War Trust, Harbinger reviewed academic research and survey data, analyzed trends, crunched numbers and collected anecdotes to determine how Civil War and other battlefields affect local economies across the country. Its "Battlefields Mean Business: Economic Benefits of Battlefield Preservation" study highlights more than 20 battlefield parks from the Revolutionary War, War of 1812, Indian Wars, Mexican War, Civil War and World War II, examining 10 of them in depth.
"Battlefield tourism is better known in Europe, where people take guided tours to commemorative sites from two world wars, but is also vibrant in the United States," Archie said. "American battlefield sites deliver a major economic boost, and our findings clearly prove that."
Nationally, the report found that one in three out-of-town guests to battlefield communities said seeing the battlefield park was their main reason for traveling to the area. Further, the study revealed the extent of cultural tourism's economic benefits in such places.
In 2015, the study's 10 focal battlefields hosted 9.7 million visitors. Tourism at the 10 sites generated $569 million in sales in local communities, supported nearly 6,800 local jobs and added $15 million in state and local tax revenue.
In Virginia, prior research by other analysts determined that Civil War sites attract visitors who stay longer and spend twice as much as average tourists.
"From April to September, visitors are here primarily for the battlefields," John Mitchell, owner of Fredericksburg's Made in Virginia Store, told Archie. "We help them make a personal connection with the Civil War."
The Harbinger report summarizes the economic rewards of visitation to those 10 American battlefield parks, by visitor numbers, local sales, jobs, and hotel and sales taxes.
"Heritage tourism is a prosperous business," Civil War Trust President James Lighthizer said. "It focuses national attention on towns and counties and delivers dollars to localities without requiring more spending for schools, housing and infrastructure.
"Preservation efforts are key to growing that economic impact," Lighthizer said. "The more travelers have to see and do, the longer they will stay in a historic community, increasing the economic footprint of their visit."
The "Battlefields Mean Business" report illuminates what enhances the economic benefits of battlefields tourism — engaging with visitors; collaborating with businesses and other historic sites; commemorating events and anniversaries; supporting rural areas; and preserving the story-telling landscapes.
Finally, the report demonstrates that when more land is preserved, the more powerful an economic engine such sites can become.
Richmond National Battlefield, for instance, has grown from 754 acres in 1996 to 3,700 acres in and around Virginia's capital today. The additional land — and the multi-faceted tales it tells — has transformed Richmond from a "windshield park" that was just a quick stop or drive-by visit to a more interactive, dynamic experience that draws and interests many more people, Superintendent Dave Ruth said. Preservation has helped make Richmond a bigger travel destination, the report shows. The park's visitation has more than doubled, from 78,000 in 1996 to 184,000 in 2015.
And in Tennessee, where the local preservation community and the Civil War Trust have partnered to reclaim urbanized battlefield from modern strip centers and other development, visitation has doubled in the past decade. Franklin, not far from Nashville, is the scene of a doomed Confederate assault that was larger, longer and deadlier than Pickett's Charge at Gettysburg.
The scenic, instructive landscapes and authentic stories preserved in places such as Franklin, Richmond, Gettysburg, Pearl Harbor and Little Bighorn offer lessons about what makes battlefields distinctive among visitor attractions, "Battlefields Mean Business" explains.
The sites detailed in the report are Colonial National Historical Park, Fort McHenry National Monument and Historic Shrine, Fredericksburg and Spotsylvania National Military Park, Gettysburg National Military Park, Little Bighorn Battlefield National Monument, Minute Man National Historical Park, Richmond National Battlefield Park, Vicksburg National Military Park, Wilson's Creek National Battlefield, and World War II Valor in the Pacific National Monument.
The Civil War Trust is a national nonprofit land preservation organization devoted to the protection of America's hallowed battlegrounds. It saves the battlefields of the Civil War, the Revolutionary War and War of 1812, and educates the public about their importance in forging the nation we are today. To date, the Trust has preserved over 47,000 acres of battlefield land in 24 states. Learn more at Civilwar.org.