Animated Map Dramatizes Civil War's Pivotal Peninsula Campaign and Seven Days' Battles
American Battlefield Trust unveils 12-minute video depicting Union's 1862 attempt to capture Richmond and Robert E. Lee's defense of Confederate capital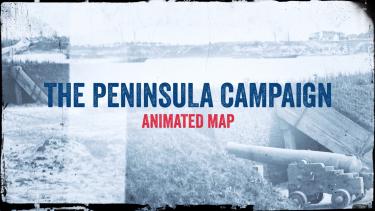 (Washington, D.C.) — "On to Richmond!" The phrase rang again and again in the Civil War's newspaper headlines and editorials across the North, and in thousands of letters written by soldiers and citizens.
Now, it is the theme of a new animated map being rolled out by the American Battlefield Trust on its website and YouTube channel and, before long, at the National Park Service's busiest facility in Richmond.
In one gripping, 12-minute video, The Peninsula Campaign Animated Map helps people visualize and grasp the significance of the intense and costly fighting that thwarted the Union's bold attempt in 1862 to capture the capital of the Confederacy.
Created by the Trust with Richmond National Battlefield Park and Wide Awake Films of Kansas City, Mo., the fast-paced video combines historic photos and sketches, live-action footage, narration, and three-dimensional motion graphics.  The map depicts the Union army's 5-month-long Peninsula Campaign and the resulting Seven Days' Battles, which dashed Northern hopes of ending the war that spring and, some historians argue, doomed Southern hopes of ending the conflict with slavery intact.
Spanning two campaigns from March 1862 through July 1862, the animation depicts the Union army's movement on Richmond, first by boat, and then on foot up the Virginia Peninsula.  It extends from the early battles of Yorktown, Williamsburg and Fair Oaks/Seven Pines to the last combat at Gaines' Mill, Savage's Station, Glendale and Malvern Hill.
"This map covers a momentous sweep of history in a readily accessible form that everyone can appreciate," Trust President Jim Lighthizer said. "Until the spring of 1862, the Union army's grand movement toward the Confederate capital had been stymied by overland routes, so McClellan moved his giant force to Fort Monroe. It's hard to overestimate the promise that this held. He was in a great position to attack and capture Richmond, to attack smaller armies, to become the hero of the North. But none of those things happened."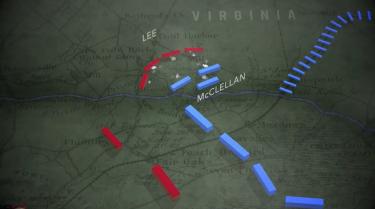 Union warships could not get all the way to Richmond. Union infantry couldn't get closer than seven miles from the capital.  McClellan's mighty Army of the Potomac was forced back from the gates of the city to some 20 miles away, with no more offensive options against a smaller army under an audacious new commander.  Thus began Robert E. Lee's rise to fame, and with it, the military hopes of the Confederacy.
The Peninsula Animated Map is available free of charge for anyone to watch, including the thousands of schools that already use Trust animated maps and other short videos in their classrooms.
In a related project due to bear fruit soon, Wide Awake Films will use materials from the Trust's Peninsula and Overland Campaign animated maps to create eight "mini-maps" for exhibition at Richmond National Battlefield Park's visitor center at Tredegar Iron Works in downtown Richmond.
Forty-five to 90 seconds long, these bite-size maps will orient visitors and help them understand troop movements during the battles on historic landscapes that the park protects and interprets, such as Cold Harbor, Gaines' Mill, Malvern Hill and Fort Harrison.
"Animated maps are our most popular digital product," said Garry Adelman, the Trust's director of history and education. "Our Gettysburg map has gotten 391,000 views on YouTube alone, not including our website, in the past 20 months."
No other entity produces animated maps with realistic battle sounds, a good musical track, and narration by a professional voice artist, Adelman said.
The American Battlefield Trust is dedicated to preserving America's hallowed battlegrounds and educating the public about what happened there and why it matters today.  To date, the nonprofit, nonpartisan organization has protected more than 50,000 acres of battlefield land associated with the Revolutionary War, War of 1812, and Civil War.  Learn more at www.battlefields.org.