News
American Battlefield Trust Welcomes Its 2023-2024 Youth Leadership Team
As the school year begins, these 10 teenagers will dedicate the next year to advocating for historic preservation and education
Colleen Cheslak-Poulton, (202) 367-1861 x7234
(Washington, D.C.)  —  After receiving applications from numerous eager students, the American Battlefield Trust has identified and trained a talented group of teens to serve as the organization's 2023-2024 Youth Leadership Team (YLT). This enthusiastic group has begun a year-long advocacy experience to share historic preservation philosophies in their own communities. The 10 participants of this latest cohort are ready to engage classmates, neighbors and local decisionmakers by pursuing custom-designed projects that promote history education, historic preservation and heritage site visitation in their communities.
"The Trust recognizes the significance of not just including but empowering the next generation to have their voices heard in the battlefield preservation movement," said Trust President David Duncan. "We are proud to support these emerging leaders as they advocate on behalf of American history in their own corners of the country."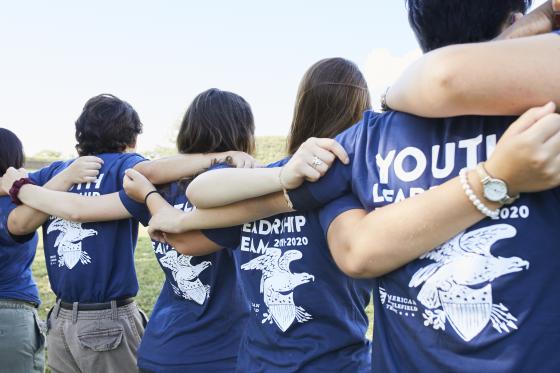 Participants were selected through a competitive application process and successful candidates underwent training in many aspects of the organization's mission — from the mechanics of land transactions to the philosophies of place-based education — and in advocacy skills, like interacting with the media and petitioning support from public officials. Trust staff will work with and mentor each student, as they craft a project to be undertaken in their local community, tailored to fit their passions and interests.
Isabella Hernandez, 15, from Eastvale, Calif., was drawn to the Trust and this youth-centered program because she sees battlefields as a "perfect representation of our country and its history." Hernandez aspires to ignite an appreciation for America's hallowed grounds in others.
The Youth Leadership Team program has been wildly successful, attracting the attention of the Pipkin Charitable Foundation. The group issued a generous grant, investing in the advocacy work that each YLT member will bring to their community. The support also enabled the program to grow its membership and issue a base stipend for each member to put toward their capstone project.
The academic year is expected to feature several projects, including a local battlefield cleanup, the creation of a museum exhibit centered on War of 1812 participants, an expanded narrative of Native American voices during the Civil War in Texas, the installation of interpretive signs at a local battlefield and an exhibit profiling individuals who participated in the Revolutionary War, among others.
YLT participant, Tanisha Parikh, of Katy, Texas, decided to apply to the program because she saw an opportunity to make a positive impact on her community and meet other teens who share her passions. Parikh says, "By taking steps to preserve the battlegrounds of our nation and their sacred tales, we are securing a future for subsequent generations."
The full roster of the 2023-24 Youth Leadership Team includes: Maurya Bonu, 17, of Buffalo Grove, Ill.; Alex Chayriques, 16, of Concord, Mass.; Daniel Gleason, 17, of West Suffield, Conn.; Isabella Hernandez, 15, of Eastvale, Calif.; Nathan Mercer, 17, of Macon, Ga.; Wynton Nama, 17, of The Woodlands, Texas; Tanisha Parikh, 16, of Katy, Texas; Lila Phipps, 15, of Scottsdale, Ariz.; Leo Tadikonda, 16, of Rhinebeck, N.Y.; and Yujin Wu, 16, of Flushing, N.Y.
The American Battlefield Trust is dedicated to preserving America's hallowed battlegrounds and educating the public about what happened there and why it matters today. The nonprofit, nonpartisan organization has protected more than 57,000 acres associated with the Revolutionary War, War of 1812 and Civil War across 155 sites in 25 states. Learn more at www.battlefields.org.
###