Kentucky's first national monument served as an important training center for African-Americans serving in the Union Army and fighting for their freedom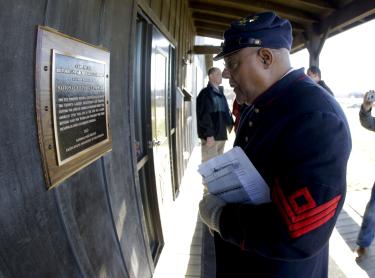 (Camp Nelson, Ky.)— The American Battlefield Trust today applauded the designation of Camp Nelson National Monument in historic Jessamine County, Kentucky.  A Union supply depot, training ground and hospital during the Civil War, Camp Nelson grew into a busy recruitment center for African-American soldiers and an emancipation site for them and their families.  Designated by President Donald J. Trump on Friday, the move establishes the first national monument in the Bluegrass State.
American Battlefield Trust President James Lighthizer praised the announcement.
"Camp Nelson played an important and often forgotten role in the Civil War, and its addition to the national park system will broaden the interpretation of America's history," Lighthizer said.  "This site was among the nation's largest recruitment and training centers for African-American soldiers during the Civil War and shines a light onto the legacy of these soldiers.  In few other places are the stories of these soldiers and their families, journeying on the difficult road to freedom, so well told."
The American Battlefield Trust and the National Park Foundation helped facilitate the 380-acre donation of the site — previously known as Camp Nelson Civil War Heritage Park, a National Historic Landmark near Nicholasville in central Kentucky — to the National Park Service.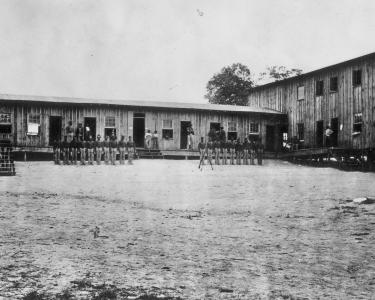 The fortified camp began in 1863 as a Union Army supply depot, training ground and hospital.  As Union policy changed to allow enlistment of black soldiers, it grew into the third-largest recruitment and training center for African-American regiments — referred to as United States Colored Troops — during the Civil War. 
By the end of 1865, when ratification of the U.S. Constitution's 13th Amendment ended slavery in Kentucky, some 10,000 African-American men had enlisted and been emancipated at Camp Nelson. Crucially, it served as a sanctuary for these soldiers' wives and children — more than 3,000 by war's end — as they found freedom in what was a slaveholding state.
Events at the camp encouraged many more African-American soldiers to enlist in Kentucky and other border states critical to the Union, which prompted Congress to emancipate the families of all black Union soldiers, and led the Union army to reform how it cared for refugees at its posts.
After the war, former slaves were issued their emancipation papers at the camp, and many men and women considered Camp Nelson to be their cradle of freedom.  In postwar years, the U.S. Sanitary Commission operated a soldiers' home in former barracks there.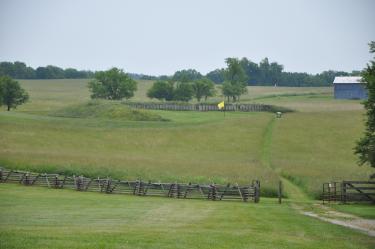 Today, the historic site includes earthen fortifications, entrenchments, a depot magazine, building foundations, historic road remnants, and the pre-war Oliver Perry House (now a museum).  Together with Jessamine County Fiscal Court, the Camp Nelson Restoration and Preservation Foundation — a local not-for-profit organization — has played a key role in the site's restoration and interpretation, encouraging and enabling visitation.
The American Battlefield Trust is dedicated to preserving America's hallowed battlegrounds and educating the public about what happened there and why it matters today.  The nonprofit, nonpartisan organization has protected more than 50,000 acres associated with the Revolutionary War, War of 1812, and Civil War, including 2,476 acres in Kentucky.  Learn more at www.battlefields.org.