American Battlefield Trust Debuts Animated Graphic Novel to Mark 250th Anniversary of Boston Massacre
Event is remembered as one of the key moments on the American Colonies' journey to revolution
(Washington, D.C.) — When British soldiers fired into a mob on Boston's King Street, killing five American colonists and wounding a half-dozen more, it galvanized many behind the Patriot cause. Now, to mark the anniversary of this pivotal event — the first historic landmark in the leadup to 2026, when America celebrates its 250th birthday — the American Battlefield Trust has released a short animated video explaining the moment's significance.
Watch the piece at www.battlefields.org/boston-massacre-250.
"In many ways, a discussion of the American Revolution begins with a discussion of the Boston Massacre," said Trust chief historian Garry Adelman. "As we remember the road that led to our independence, it is important to commemorate the milestones along the way. And, in the words of Founding Father John Adams, March 5, 1770, was when the 'foundation of American independence was laid.'"  
The Trust, the nation's premier battlefield preservation organization, is committed to offering innovative products designed to bring the past alive for modern audiences. The Boston Massacre video is the first in a series taken from the art of a forthcoming graphic novel the Trust will produce to tell the story of American history in an accessible format. Last year, the Trust released "Civil War 1864: A Virtual Reality Experience," an acclaimed video series that put viewers into the action of camp and combat scenarios.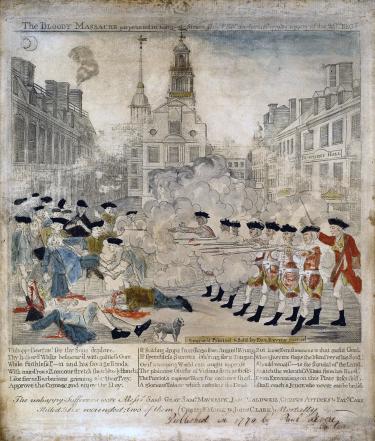 Also in commemoration of the Boston Massacre anniversary, the Trust's social media channels are being "taken over" for the day tomorrow by the Massachusetts Historical Society, which will showcase highlights of its collection related to the event. Look for these special posts on Instagram, Facebook and more.
The Boston Massacre occurred during an era of escalating tensions in the American colonies, after British troops were stationed in Boston to enforce unpopular laws and taxes. On the evening of March 5, a crowd harassed a British sentry, who was soon supported eight more soldiers. The mob attacked the troops with snowballs, stones and clubs until — despite not receiving clear orders — they fired into the crowd. Three colonists were killed instantly, two mortally wounded and six injured. Among the dead was Crispus Attucks, a patriot of mixed African and Native American descent. Eight soldiers, an officer and four civilians were arrested on charges of murder; but after a spirited defense by future President John Adams, only two were convicted of manslaughter. 
The American Battlefield Trust is dedicated to preserving America's hallowed battlegrounds and educating the public about what happened there and why it matters today. The nonprofit, nonpartisan organization has protected more than 52,000 acres associated with the Revolutionary War, War of 1812 and Civil War.  Learn more at www.battlefields.org.
###