News
Ambitious Teens Nationwide Put a Spotlight on History With a Slew of Innovative Efforts
Members of the American Battlefield Trust's Youth Leadership Team spread awareness of historic preservation and history education to a new generation
Colleen Cheslak, (202)367-1861 x7234
(Washington, D.C.) – With the arrival of summer, students around the country are celebrating another school year's end. But for the student leaders that make up the American Battlefield Trust's 2021-2022 Youth Leadership Team, this time is also being spent rejoicing over the completion of capstone projects that highlight battlefield preservation, education, or visitation. While the COVID-19 pandemic continued to create challenges, these students stayed the course and let their passion drive them toward success. 
Through the Youth Leadership Team program,the Trust challenges young minds to seek out adventure, creativity, an expanded network, and a greater understanding of both the American past and the present-day efforts to preserve it. The capstone project component presents an ideal opportunity for participants to check off each of these boxes while gaining new skills and engaging with their communities. Through the generosity of the Pipkin Charitable Foundation, team members receive a stipend to serve as project seed money.  
Each student leader tuned in to their interests and surroundings during the capstone component of the Youth Leadership Team experience. And, over the course of their months-long involvement in the program, they developed an appreciation for historic preservation that will extend far past their roles with the American Battlefield Trust.  
Olivia Bucs, Columbus, N.J. 
"We as a population, and a generation, need to care," declared Bucs. "The history of this nation is something to be studied, and it's on us to make sure our whole story is told." She collaborated with two townships, their respective historical societies, the Revolutionary War Alliance of Burlington County and her state representatives to further awareness and inspire preservation efforts at the Petticoat Bridge skirmish site, where Patriot forces clashed with Hessian-led foraging parties in December 1776.  
Joseph Candelas, Harker Heights, Texas 
"After receiving the opportunity to visit several battlefields, I now have a fuller appreciation for the historic preservation movement and want to take on a greater role in ensuring future generations have such opportunities," said Candelas. He channeled his deep passion for the American Revolution into in-person community discussions of lesser-known battles, supplemented by a widely available podcast.  
Justin Chung, Anaheim, Calif. 
Chung enlisted digital artists, video editors and historians to produce a suite of digital content aimed at attracting young audiences to battlefield preservation through an awareness campaign. "Among my peers, history isn't the most popular subject. This seems to be the case among others as well, as historic land and buildings continue to be pushed aside for other purposes. The Trust understands that this is a critical threat, and I wish to do everything I can to spread awareness about their mission in my community."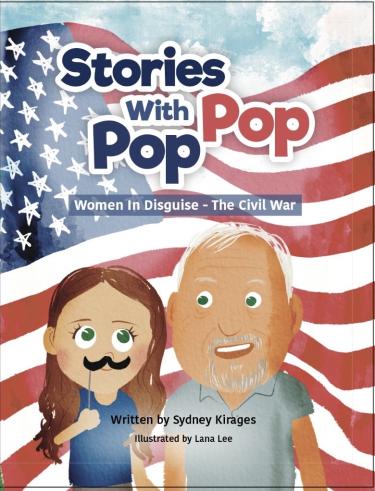 Sydney Kirages, Lake Forest, Ill. 
"Talking [about] a battlefield is one thing," realized Kirages. "But seeing a battlefield allows you to truly consider the weight on a soldier's shoulders — as they fought for not only their life but the lives of their friends, family and neighbors." She wrote the children's book Stories with Pop-Pop: Women in Disguise in the Civil War, which revolves around Jenny, whose grandfather tells her tales of disguised female soldiers during the nation's bitterly divisive conflict. She also enlisted an illustrator to pair her text with eye-catching visuals.  
Joseph Martin, Richmond, Mo. 
Martin created a middle school lesson plan about the Missouri-Kansas Conflict (or "Bleeding Kansas") that profiles 30 individuals who lived during 1854–1865, from the passage of the Kansas-Nebraska Act to the end of the Civil War. "Be it the smallest artifact dug up in someone's back yard or thousands of acres of America's most significant land, preserving things and places allows people to better connect with the past," emphasizes the enthusiastic young leader.  
Rory Moran, Davidson, N.C. 
"Historic preservation, especially at our battlefields, is critical in teaching people of all ages and backgrounds about not only American history — but also about such concepts as sacrifice," said Moran. Rory used a combination of primary sources and recent scholarship to build a diorama of the 1781 Battle of Guilford Courthouse that reflected real-life accounts from the figures directly involved in the battle. He even hand painted 500 28mm figures!  
Catherine Slavich, Lanett, Ala. 
Slavich is a natural preservationist, noting, "I've grown up in a historic home — an 1858 Greek Revival — that sits below a Civil War fort, so historic preservation has always played a role in my life. There are even marks from Civil War artillery in my sunroom wall." Her project took her to Fort Tyler in West Point, Ga. There, she led the charge to restore five historical markers with the help of the Fort Tyler Board, a graphic designer, a signage company and community volunteers.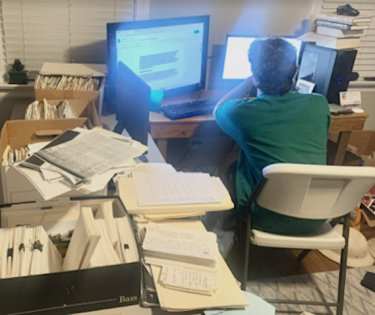 Hank Thompson, Richmond, Va. 
Thompson was mentored by historian Dr. Bruce Venter, a Trust collaborator, to produce a video explaining the events tied to the 1864 Kilpatrick-Dahlgren Raid — through imagery collected during site visits, animated maps and other various graphics. "Many incredible moments of heroism and perseverance — that unfolded on local street corners and quiet fields — would be forgotten if not for organizations like the American Battlefield Trust," he said.  
Stephanie Wang, Katy, Texas 
Wang found that "American history is rich — full of trials, tribulations and complexities that cannot be fully captured simply by a textbook or website." She developed a project-based curriculum for students to explore lesser-known Civil War figures, especially women and minorities, and create a digital memorial after performing research on a pre-selected historical figure.  
Other members of the 2021-2022 Youth Leadership Team include: Alexis Ellis of St. Rose, La., Abbie Hasty, Alton, Ill., Sean Myers, Church Point, La., and Rachel Walters of Brunswick, Ga.  
To learn more about the Trust's Youth Leadership Team, please visit www.battlefields.org/youth-leadership-team.  
The American Battlefield Trust is dedicated to preserving America's hallowed battlegrounds and educating the public about what happened there and why it matters today.  The nonprofit, nonpartisan organization has protected more than 55,000 acres associated with the Revolutionary War, War of 1812 and Civil War. Learn more at www.battlefields.org.  
###